The inspiration for this recipe came from its name. Say it with me: Mallow mallow tallow. Now a little faster: Mallowmallowtallow. It's just so much fun to say out loud! ♥
In addition to marshmallow and blue mallow, the Malvaceae family (aka the mallows) also includes a number of familiar plants such as the hibiscus, cotton, okra and cacao.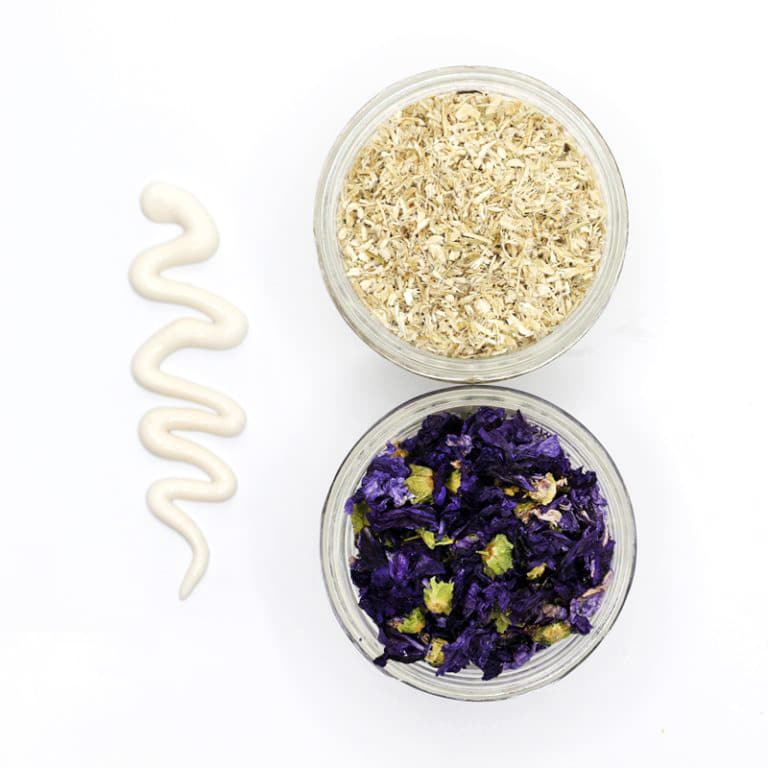 Mallow mallow
I've already written quite a bit about the benefits of my favorite demulcent herb, the marshmallow root (Althaea officinalis) here and here. Infusion of the root in water results in an amazingly soothing, restorative mucilage that I use just about everyday in one form or another, be it topically and/or internally. It makes a wonderful tea that's healing to the digestive tract and capable of soothing a scratchy, sore throat in a jiffy.
Like its marsh-y cousin, the buds and leaves of blue mallow, aka common mallow (Malva sylvestris) is considered to be a cooling, mucilaginous herb. Both herbs' constituents include mucilage, pectin and flavonoids, and their mildly astringent, skin softening properties make them great choices for soothing to dry, rough skin. Their flavonoids are effective at reducing inflammation and relieving skin conditions like eczema and dermatitis.
The blue mallow will tint the water infusion a lovely deep purple, but I was disappointed that it wasn't enough pigment to show up in the final emulsion. As you can see in the photos above and below, the lotion is pretty much white, despite the deep purple tinted water phase. Boo. 
If you'd like a bit of color, you can keep it in the family and use a pinch of hibiscus flowers in the infusion to tint the lotion a pale pink. Alternatively, a smidge of butterfly pea flowers will create a lovely lavender-blue color.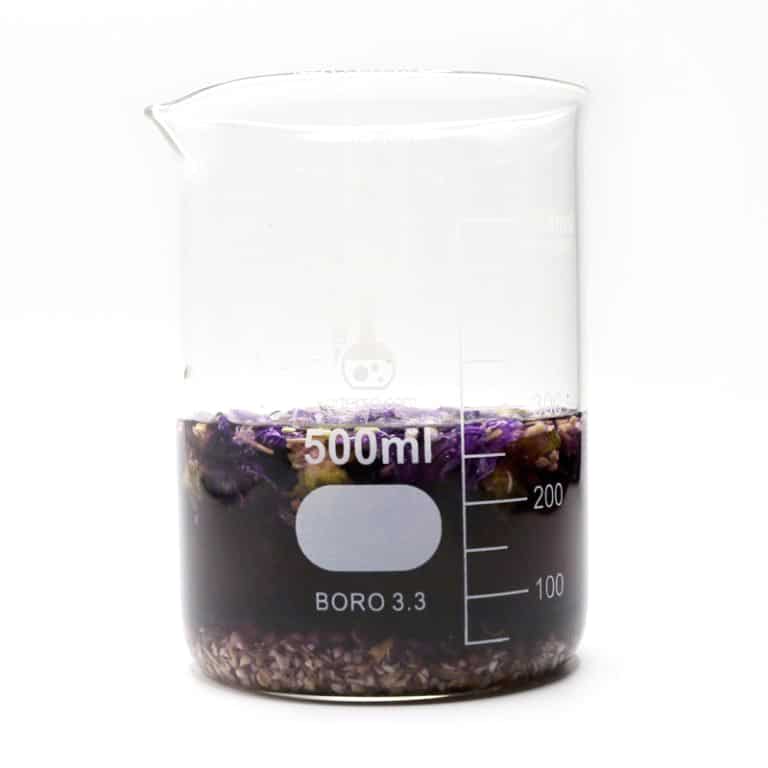 Emulsifiers
Emulsifiers are still a work in progress for me. I'd prefer to use something simple, natural and accessible – like lecithin and xanthan gum — for everything, but sometimes the textures of these emulsions don't quite suit the project.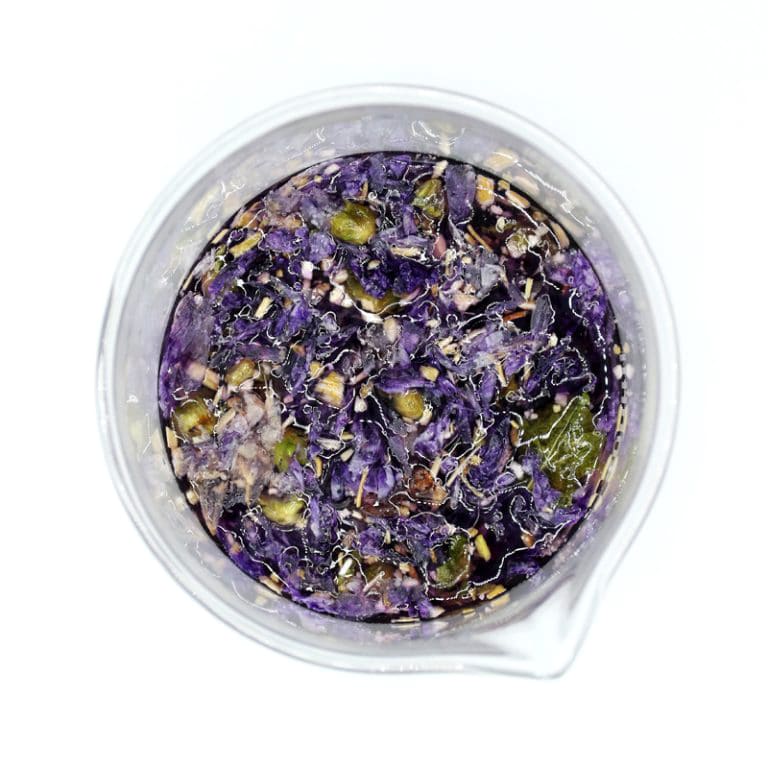 I've had good luck with lecithin in thinner lotions and serums with a lower oil content, but thicker lotions are trickier, and tend to require a co-emulsifier or thickener to boost lecithin's weaker emulsifying powers. A lot of organic lotion brands use a combo of xanthan gum and lecithin, but I'm not a fan of the slight stickiness xanthan leaves behind on the skin. I haven't tried a lecithin/sclerotium gum blend yet, so that may need to be a future experiment.
For now, I'm using a vegetable-based emulsifying wax (e-wax) from Mountain Rose Herbs that works wonderfully well. According to MRH, their emulsifying wax is a "fatty acid and ester isolation from plant fats prepared from cetostearyl alcohol containing a polyoxyethylene derivative of a fatty acid ester of sorbitan."

Update! I've ordered a sample of a new "green" emulsifier I stumbled across: Organic Emulsifier Blend 60. According to Formulator Sample Shop, Organic Emulsifier Blend 60 is an intriguing blend of rice bran extract and guar gum. Supposedly, the emulsifiers works by harnessing rice bran's lipase, an enzyme that hydrolyzes lipids into free fatty acids. Stay tuned!
Print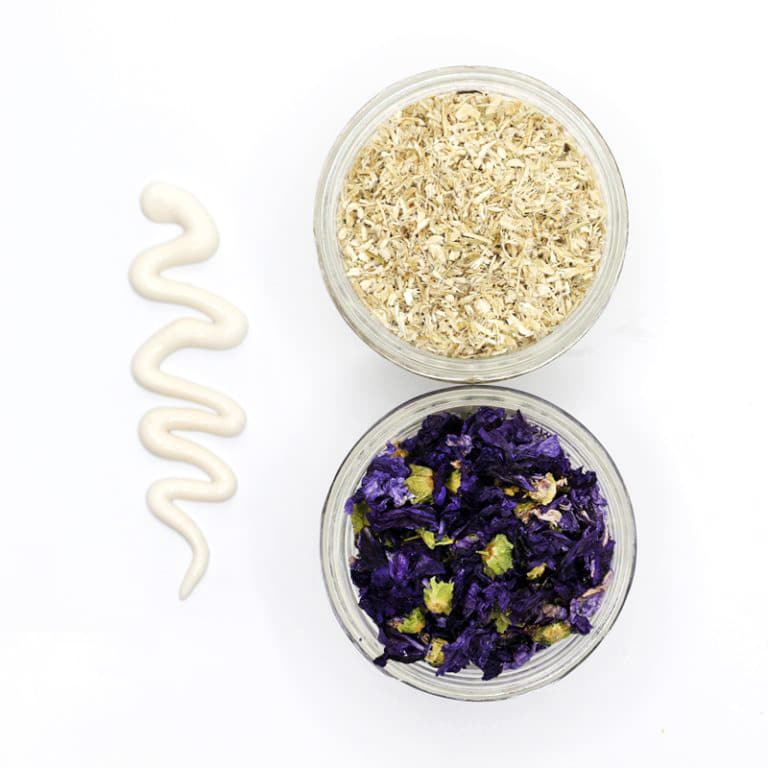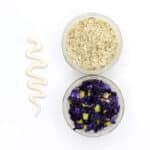 Mallow Mallow Tallow Lotion
---
---
Instructions
In a small bowl or mason jar, combine marshmallow root, blue mallow flowers and hibiscus flowers (if using) with 150 g distilled, room temperature water. Cover and allow herbs to steep 4 hours or up to overnight for maximum extraction.
Strain out the herbs, squeezing as much liquid as possible out of the herb pulp. The discarded herbs can be used as a poultice on dry or inflamed skin or composted.
Top up with distilled water until you have 150 g again.
Add lecithin granules to the water infusion, and allow them to hydrate for about 30-60 minutes.
After about an hour, your water phase should have fully hydrated the lecithin granules. Blend briefly with an immersion blender to better distribute the lecithin.
Using double boiler, heat tallow and emulsifying wax until liquified. Stir in jojoba and squalane oils.
Slowly drizzle heated oil phase into the water phase, and continue mixing until well emulsified and smooth.
Finally, add your preservative and essential oil(s), and blend once more until fully incorporated.
The lotion will continue to thicken slightly for an hour or two before it reaches its final viscosity. ♥
Notes
If you choose not to use a broad spectrum preservative, you must store lotion in the refrigerator and use within a few weeks.
I recommend glass containers for storing homemade lotions and potions. Glass doesn't leach chemicals and it's easier to clean/sterilize after the product is used up and you're ready to refill.
If you do choose to use a plastic container, be aware that essential oils tend to react with plastic, so even if you can get it "clean," your container will likely not be reusable.