I would argue that there's a world of difference between anti aging and healthy aging. Healthy aging is not about seeking the Fountain of Youth, and it's not afraid of a few wrinkles. The goal is simply to nourish and support healthy skin as we age, enabling it (and us) to look our best!
This recipe piggy-backs off of my Not-Petroleum Jelly recipe, a super-rich, nourishing salve that's amazing at turning dry, cracked, sad skin into supple, moisturized, happy skin.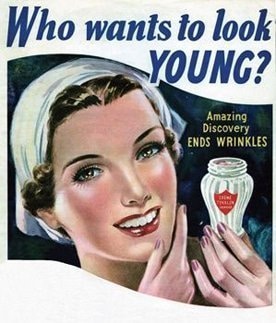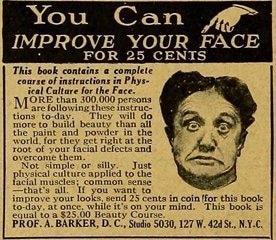 Using my three favorite sebum-mimicking oils as a base, this serum has a much lighter and silkier skin feel than the salve, thanks to a much lower percentage of oil and a healthy dose of hyaluronic acid. And because this variation is lighter on oil, emulsifying wax can be omitted. The hyaluronic acid and lecithin come together to create a silky-smooth and stable emulsion that feels just incredible. Add to that an infusion of calendula, lavender and frankincense essential oils, and we've got one supercharged healthy-aging formula that works equally well as a nighttime moisturizing serum and as a primer under makeup.
Simulating sebum
As I may have mentioned once or twice, jojoba oil and squalane are easily my favorite stand-alone botanical oils. Both are lightweight, absorb well and feel gorgeous on the skin. There's a good reason for this! Between the two, squalane and jojoba are almost 40% similar to human sebum, approximating sebum's wax monoester and squalene components. Combining them with pastured tallow rounds out the recipe, since the tallow does an excellent job of mimicking the remaining ~60% triglyceride/fatty acid portion of our own natural skin lipids. The synergy of these three oils together seems to work better than any one of them on its own.
Carotenoids
Carotenoids exist naturally in the outer layer of skin as a vital component in its protection against free radicals and oxidation. They're soothing and protective against environmental stressors, which are key in helping your skin to look healthy and youthful. Carotenoid-rich calendula (Calendula officinalis) may help improve skin's appearance, reducing the appearance of crow's feet and soothing dry, red patches.
There are a several of ways to incorporate calendula into your lotion. The easiest way is probably to make a strong tea with calendula flowers, and use that tea in place of the water in the recipe.
However, if you go the tea route, you will only capture the water soluble saponinins and polysaccharides from the plant. To extract the oil soluble carotenoids, which are responsible for most of calendula's yellow-orange color as well as the bulk of its healing properties, you will also need to infuse your oil with calendula.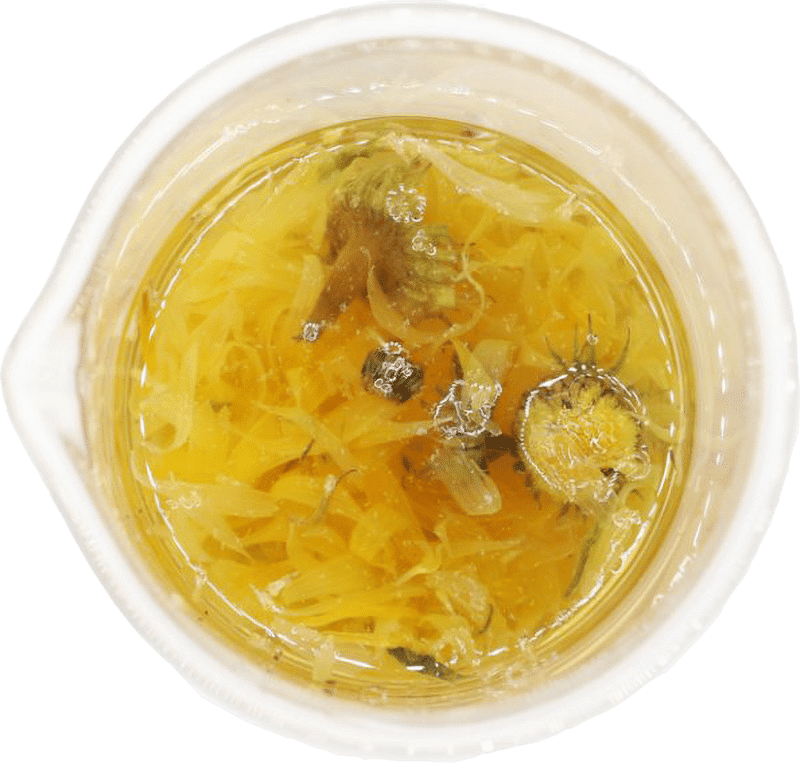 Fortunately, calendula infused oil is easy to make. It just takes a bit of planning ahead. Simply fill a clean glass jar about half full with dried calendula flowers/petals and then fill to the top with jojoba or squalane oil. Cover the jar tightly and shake well. Place the jar in a warmish place out of direct sunlight for 4-6 weeks. Shake the jar whenever you think about it. That's it! In about a month's time, you'll have a beautiful light yellow oil that you can use in your lotions and salves.
If you'd rather not wait a whole month, you can speed up the infusion process considerably by using a mini slow cooker on the warm setting or by placing the jar in a dehydrator (with the shelves removed) at ~110-115F. The added heat accomplishes in a matter of days what takes weeks without the heat. For more info on infusing oils with herbs, see Making Herbal Oil Infusions and Alcohol Intermediary Herb-Infused Oils.

Humectants
A naturally-occurring polysaccharide found in the human body, hyaluronic acid is an incredibly effective humectant, capable of holding a whopping 1,000 times it's weight in water. It strengthens the skin's moisture barrier and creates a temporary plumping effect, reducing the appearance of wrinkles and minimizing flaky, rough skin.
When sourcing ingredients for this recipe, be sure to look for sodium hyaluronate, a water-soluble salt form of hyaluronic acid with a much smaller molecular size, which is better capable of penetrating the skin than hyaluronic acid.
As with so many things, there is a catch… Like all humectants, hyaluronic acid/sodium hyaluronate attracts and binds to water from its immediate environment. If you live in a very dry climate, it will steal moisture from where it can – from your skin! For this reason, hyaluronic-containing formulas are best applied after a shower to damp skin, to ensure adequate hydration.
Emulsifiers
You've heard the old saying: Oil and water don't mix. Well, actually they do, but they need a bit of persuasion. In order to get them to come together into a stable product, you'll need some sort of emulsifier.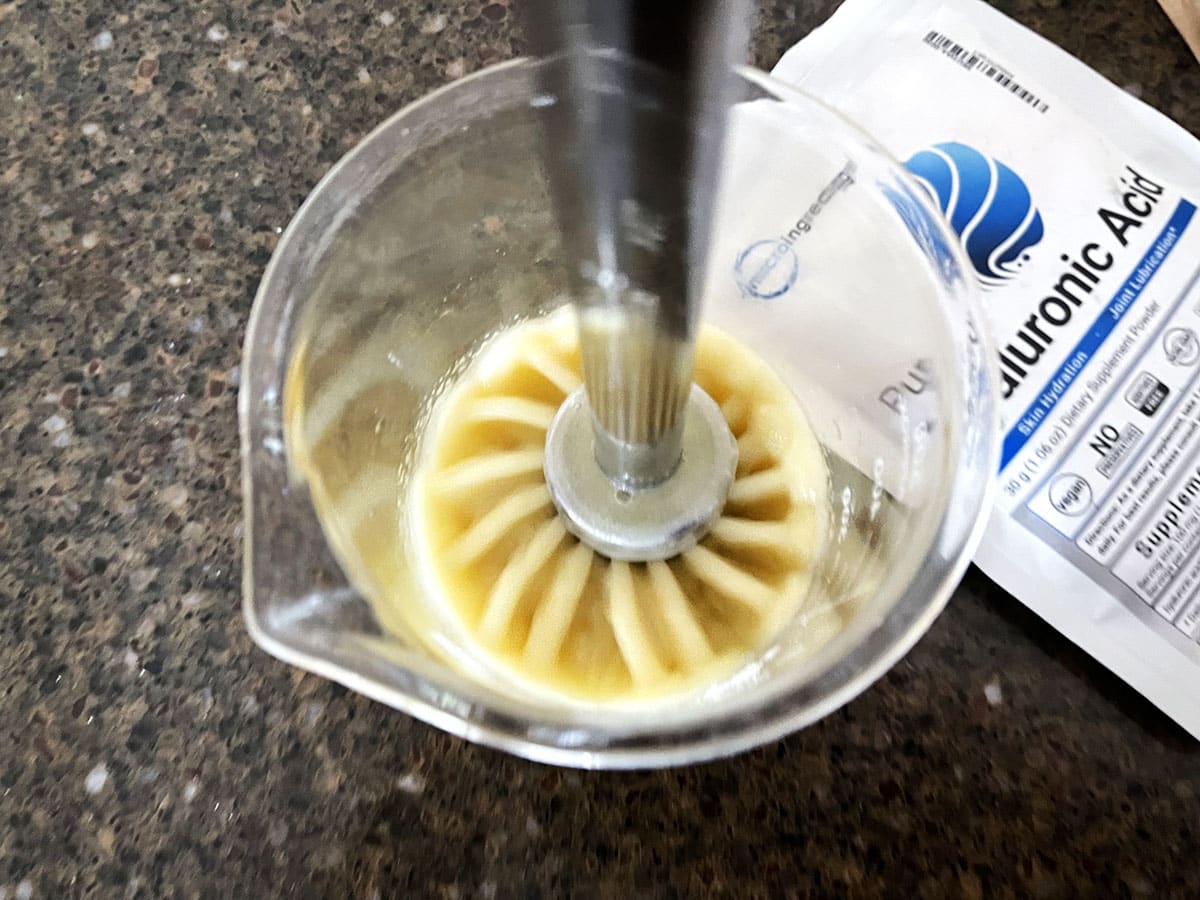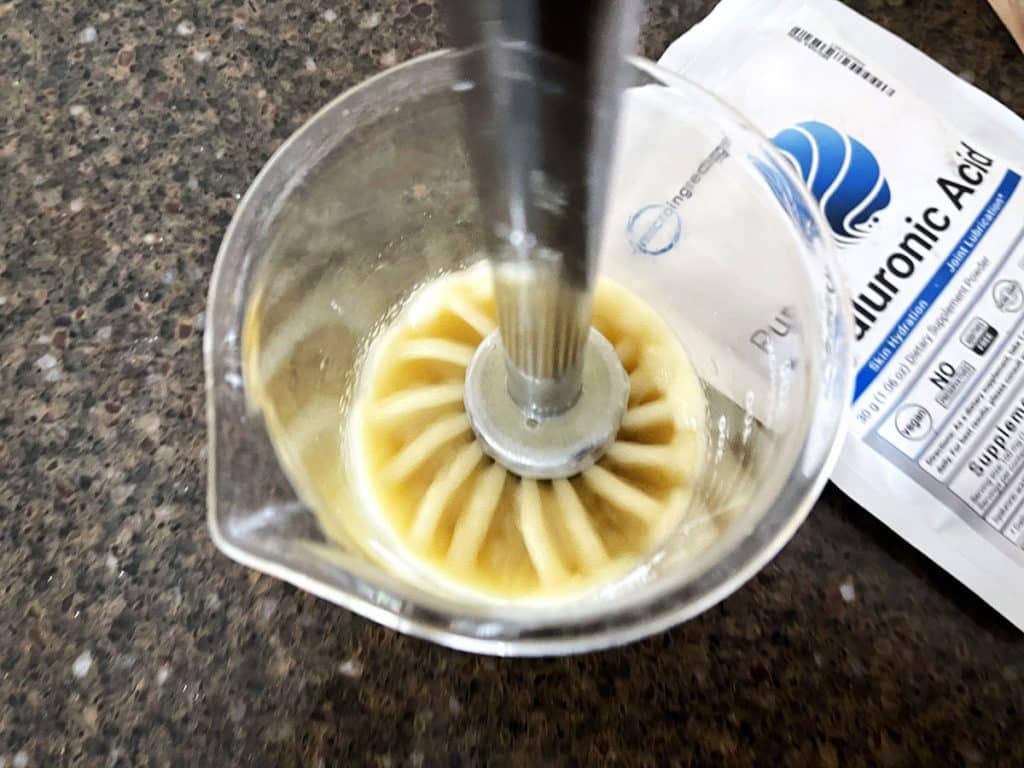 I chose sunflower derived lecithin as the emulsifier in this recipe for its availability (I already had a tub of it in the closet) and for its versatility as an emulsifier, (lecithin is appropriate for both water based and oil based emulsions) as a thickener and as an antioxidant. It's also an effective humectant, attracting water to the skin, and working to prevent moisture loss.
We also have a freebie hiding in this recipe… tallow contains it's own natural waxes and approximately 14% stearic acid built right in, so these serve as additional stabilizing agents for our formula. Three cheers for tallow!
Essential oils
An optional but lovely addition to our recipe is several drops of mature skin supporting essential oils. For this recipe, I've chosen a blend of frankincense and lavender, which also happen to smell incredible together.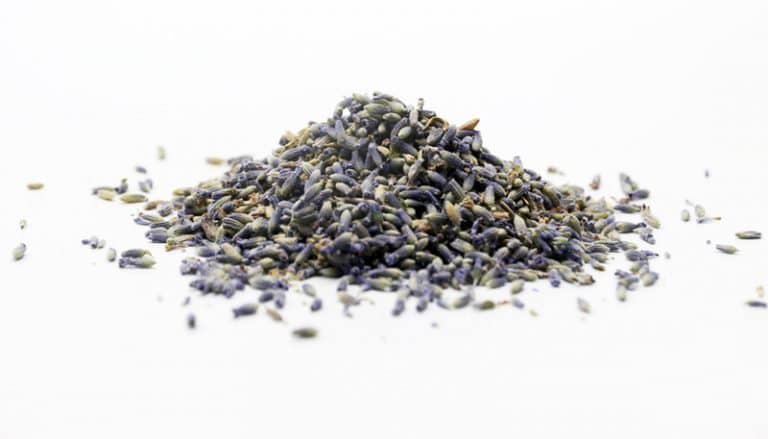 Frankincense essential oil has a long history, and is known as one of the most valuable of oils — once more valuable than gold. Burned by the Egyptians and used in religious ceremonies, frankincense is sourced from the resin of the Boswellia tree commonly grown in Somalia and regions of Pakistan. Frankincense is known for its anti-inflammatory properties and its ability to strengthen skin and protect skin cells. Frankincense can reduce the appearance of wrinkles, surgery scars, stretch marks and age spots, evening overall skin tone.
Lavender essential oil, extracted from the flowers of the lavender plant (Lavandula angustifolia), is famous for its ability to reduce stress and anxiety and promote a feeling of calm. It's not a one-trick pony, however; it also has other notable superpowers like wound healing, balancing sebum production and improving skin's cellular function. According to a study by the Journal of Phytomedicine, simply inhaling lavender essential oils aids in the body's production of three critical antioxidants: superoxide dismutase (SOD), catalase and glutathione, all of which are essential to reducing the oxidative stress that contributes to the aging process. Danish researchers published in the Journal of Biological Chemistry found that SOD binds directly to collagen, which it protects from oxidation.
Note: You should always look for high quality, natural, and 100% pure essential oils from a reputable company. I prefer to source my essential oils from Mountain Rose Herbs because of their impressive selection of certified organic and ethically wild harvested oils. Consider how incredibly concentrated essential oils are, and you'll understand why organic is important here. Mountain Rose Herbs is also a great source for the jojoba oil in the recipe. Their quality and transparency standards are high, providing quality reports and material safety data sheets upon request. I also appreciate that they sell direct and not through a MLM/multi-level marketing model.
About preservatives
As with our previous recipe, because this recipe contains water, you'll need to add a preservative to prevent it from becoming contaminated. Bacteria, mold and fungus can form in any product containing water. Geogard ECT is an effective, broad spectrum preservative and meets the COSMOS and ECOCERT standards. If you choose not to include a preservative, you must store this serum in the refrigerator or use it within a couple of weeks.
On a personal note
I've tried many a moisturizer and facial serum over the years, ranging from inexpensive to not-so-inexpensive, and I gotta say, I'm really impressed with this formula.
Besides feeling gorgeous on the skin and keeping it soft and moisturized without greasiness, it's also been surprisingly effective at minimizing excess oil production. I believe this could be a result of how compatible the serum is with our own skin. Its compositional similarity to human sebum nourishes skin from the outside in, and supports its natural balance by holding onto moisture while curbing the overproduction of sebum. The result is just healthy, happy, baby-smooth skin that doesn't feel like it's been drowned in lotion.
I've been using a version of this serum exclusively for about 3 years now, and I may never buy moisturizer again. Try it! I promise you will not be disappointed!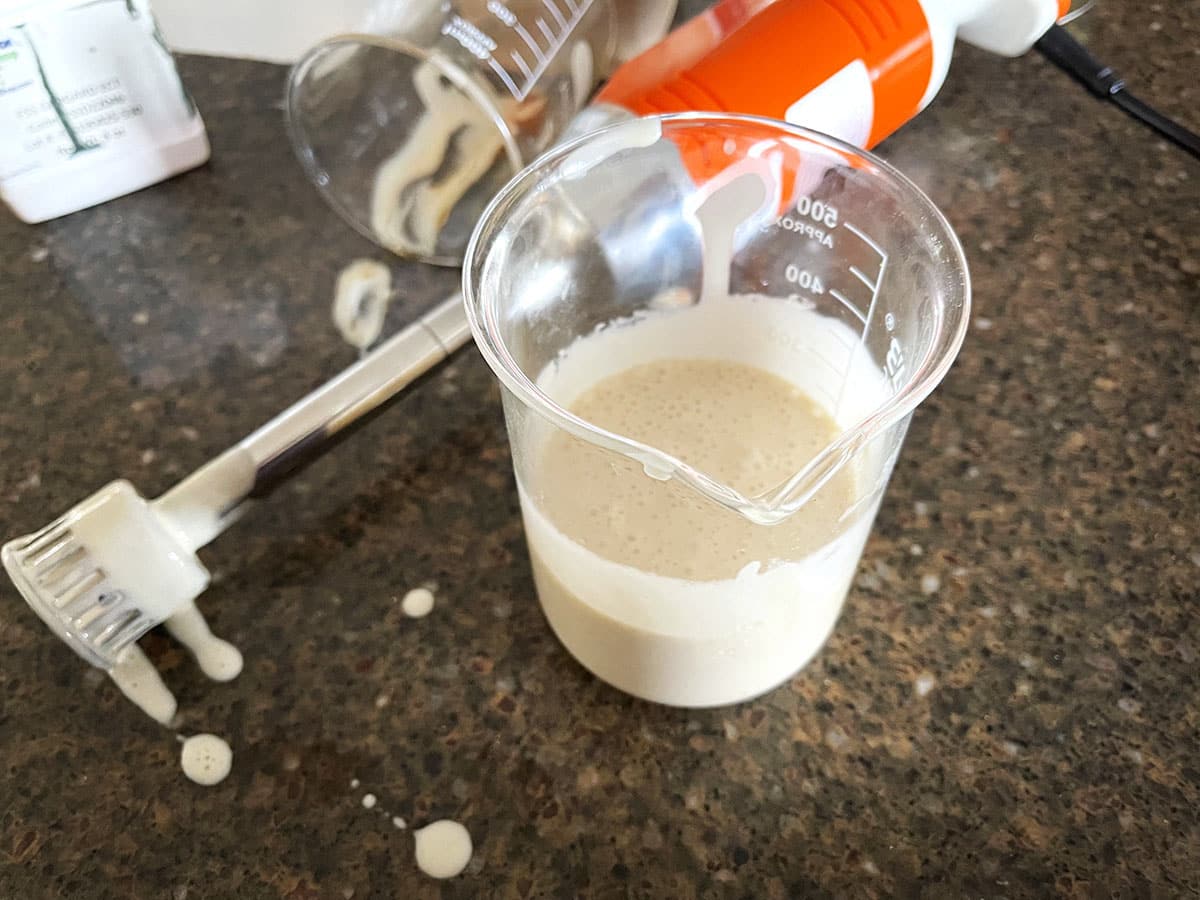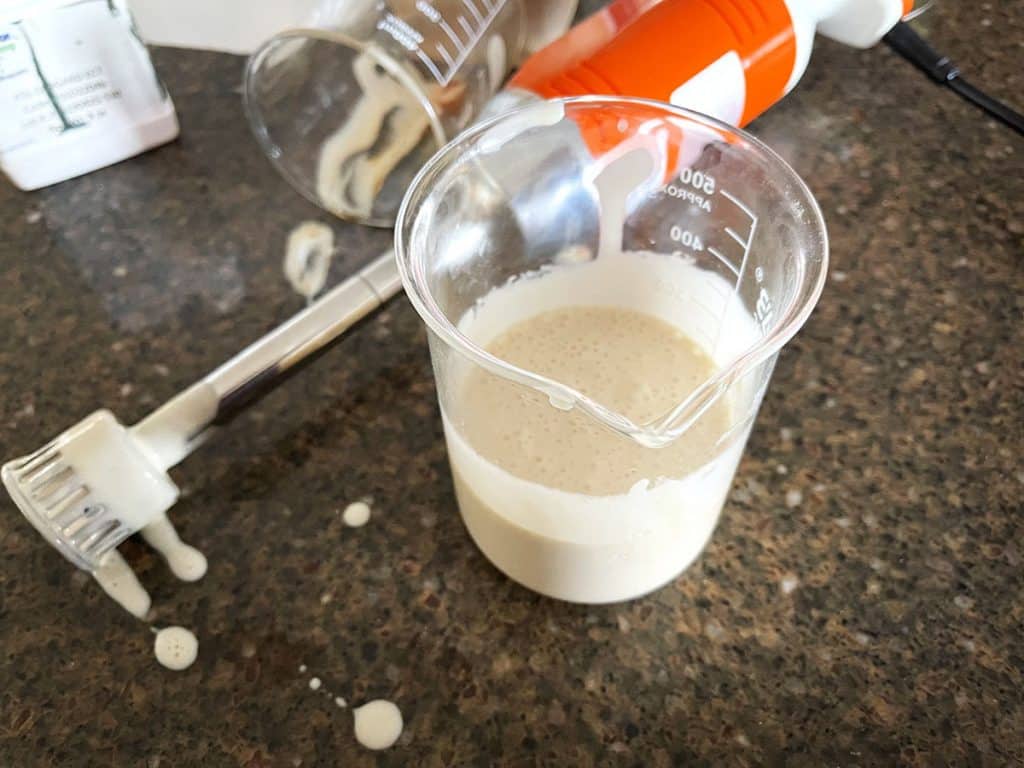 Print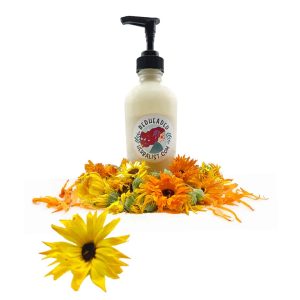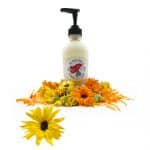 Healthy-aging Serum with Calendula
---
---
Instructions
Add calendula to a glass Pyrex-type bowl or beaker. Pour hot distilled water, just off the boil over the flowers as though you were making tea; allow infusion to steep for 5-10 minutes
Strain out all plant matter and discard.
Weigh your strained water/calendula infusion; top up with distilled water until you have 140 grams again.
Sprinkle lecithin granules into the cooled water; cover and set aside. The lecithin needs to hydrate in the water for 30-60 minutes before it will be ready to blend with your oils.
After your lecithin has had a chance to fully hydrate, sprinkle hyaluronic acid powder onto the surface of the water; using an immersion blender, blend briefly to better distribute the lecithin.
Using double boiler, heat tallow, jojoba and squalane oils until liquified.
While running the immersion blender, slowly drizzle oil phase into the water phase, and continue mixing until well emulsified and smooth.
Add your preservative and essential oil(s), and blend once more until fully incorporated. The serum will continue to thicken slightly for a couple of hours before it reaches its final consistency.
You're done! Go smear some on your face and let me know what you think. ♥
Notes
Makes approx. 8 oz of face serum.
I recommend glass containers for storing homemade lotions and potions. Glass doesn't leach chemicals and it's easier to clean/sterilize after the product is used up and you're ready to refill.
If you do choose to use a plastic container, be aware that essential oils tend to react with plastic, so even if you can get it "clean," your container will likely not be reusable.