I had originally planned to make an eye gel, but was forced to rename it a "face gel" when I found myself regularly smearing it all over my face, neck, chest and hands — in addition to my eyes. The cushiony gel makes a really lovely lightweight moisturizer for the warmer summer months, when you don't want to be weighted down by a bunch of heavy oils.
I recently made this marshmallow root gel for a dear friend who is undergoing a painful treatment for actinic keratosis on her face. The topical prescription creams are essentially burning the upper layers of her skin to remove the precancerous spots and her face is covered in bright red chemical burns. She reports that this is helping! At the very least, I hope it's providing some relief while it heals up. ♥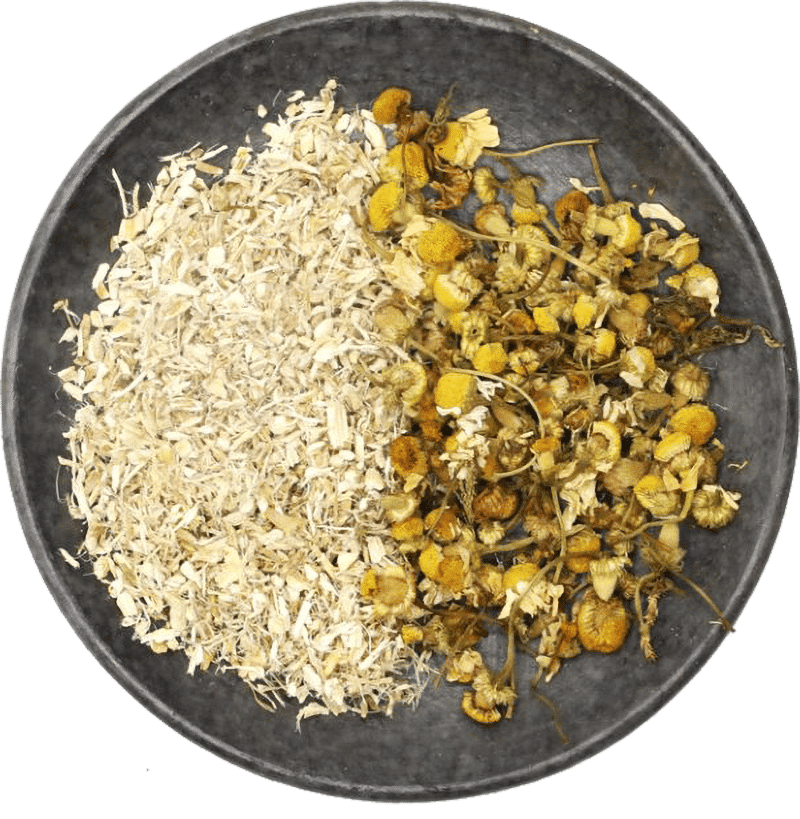 I've also made several variations of this formula for another friend who suffers from rosacea. Like me, she's become a huge fan of the marshmallow root. It's not a magic bullet, but she believes it helps to calm the flare-ups.
To create our facial gel, we first need to look at our options for making a suitably thick and creamy, water-based gel. Commonly used gelling agents in commercial cosmetics include synthetics like carbomer and acrylates copolymers, which are both petrochemical derivatives. While there's no doubt these ingredients will do the trick and it's debatable how bad they are for your skin, I prefer to err on the side of greener options and use natural (or naturally derived) polysaccharides whenever possible. There are quite a few to choose from, all with slightly different properties.
Based on the results of the recent 'Great Gel Experiment', testing different gelling agents in various combinations, we're going to use a blend of 50% sclerotium gum, 25% xanthan gum and 25% gum arabic for this recipe. This formula is designed to stay on the skin, so we want it to feel silky and soft with no trace of tackiness.

Xanthan gum
Xanthan gum is a polysaccharide derived from the fermentation of sugar by the bacterium Xanthomonas campestris. It works well as a thickening agent and emulsion stability enhancer with great conditioning properties. Gram for gram, it xanthan gels have more body and structure than sclerotium and acacia gums. A drawback of xanthan gum is its tendency to pill or ball up if too much product is used. In higher concentrations, it can also feel a bit tacky on the skin.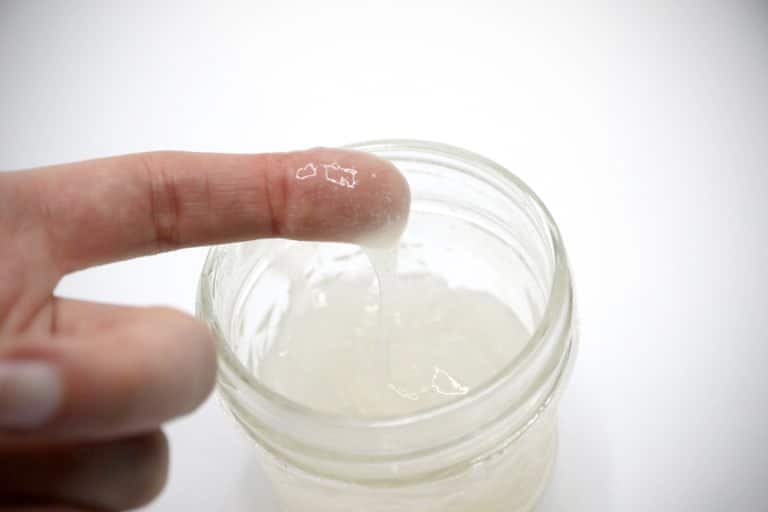 Sclerotium gum
Sclerotium gum is a polysaccharide produced by fermentation of the filamentous fungus Sclerotium rolfsii on a sugar medium. Similar to xanthan gum, sclerotium is used as a thickening agent with natural skin moisturizing, softening and smoothing properties. Unlike xanthan gum, it is also an emulsifier and has high thermal stability. Easily my favorite gum for improving the sensory characteristics of cosmetic formulations, sclerotium gum creates a fluid gel without that tacky skin feel that xanthan sometimes has.
Acacia senegal gum
Acacia senegal gum, aka gum arabic, has a long history in cosmetics and skin care, said to have been used by both Cleopatra and Queen Elizabeth I! Produced from the hardened sap of the African acacia tree — a member of the pea family — gum arabic is a complex mixture of  polysaccharides (multi-chain starches) and glycoproteins, which give it good film-forming properties, helping products adhere to the skin. In skin care, gum arabic is said to improve skin's texture, plumping fine lines and wrinkles, leaving skin smooth and supple.
Optional extras
Since I really want the soothing, anti-inflammatory, healing properties of this gel to knock it out of the park, I'm including a few optional ingredients in the formula. Any or all of these ingredients are totally optional if you do not have them and would rather not have to purchase them. They're not exactly the sort of thing most people have hanging around in their pantry! Fear not, the recipe will still work just fine without them.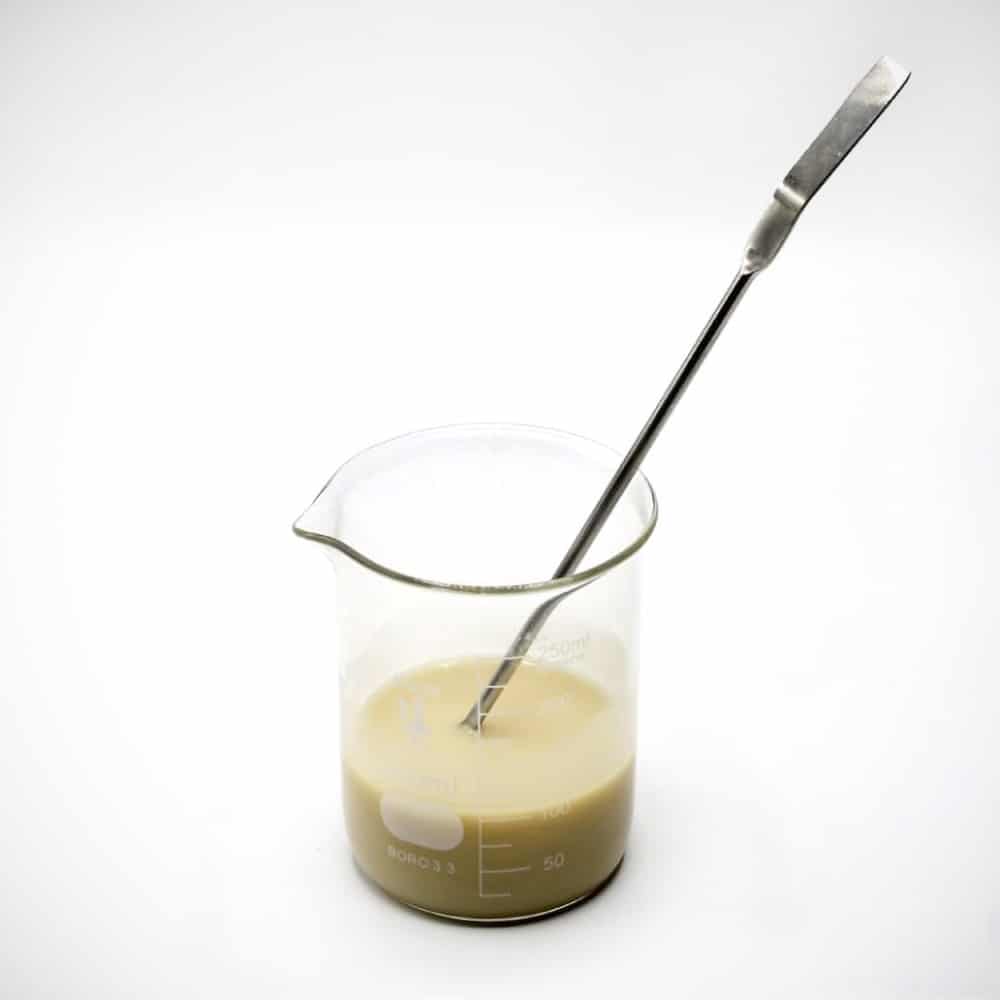 Aloe 200x is a super-concentrated powder processed from the inner fillet of the aloe leaf stripped of its pulp and fiber to create a water soluble ingredient. The 200x refers to the fact that it takes 200 pounds of the aloe vera inner fillets to create 1 pound of this powdered extract. It's ridiculously concentrated, and a cost effective way to include aloe in your formulations (or just mix up your own aloe gels). Just remember the 200:1 ratio and don't add too much!
Allantoin is a naturally occurring protein found in the roots/leaves of the comfrey (Symphytum officinale) plant that has occlusive, skin protectant, humectant and keratolytic (keratin softening) properties. It can also promote rapid cell regeneration/proliferation and tissue healing. Extracts made from comfrey roots have been found to contain about 0.8% allantoin, while leaf extracts may contain about 0.4%.
For the record, it is my opinion that the fears about comfrey's potential toxicity are overblown. The herb has a safety record going back centuries, and the controversy stems from studies done on isolated pyrrolizidine alkaloid (PA) administered to lab rats in unrealistically enormous quantities, causing the rats to develop tumors. One study was bombarding baby rats with several times their body weight in the isolated alkaloid. Seriously. They would have gotten negative results from that study if the chemical in question had been H20. As far as I'm aware, no problems have ever been reported in humans using the whole leaf or root. Depending on its age at harvesting, (young plants contain more) dry comfrey leaves may contain anywhere from 0.003% to 0.2% pyrrolizidine alkaloids, while the dried roots may contain from 0.2% to 0.4% PAs.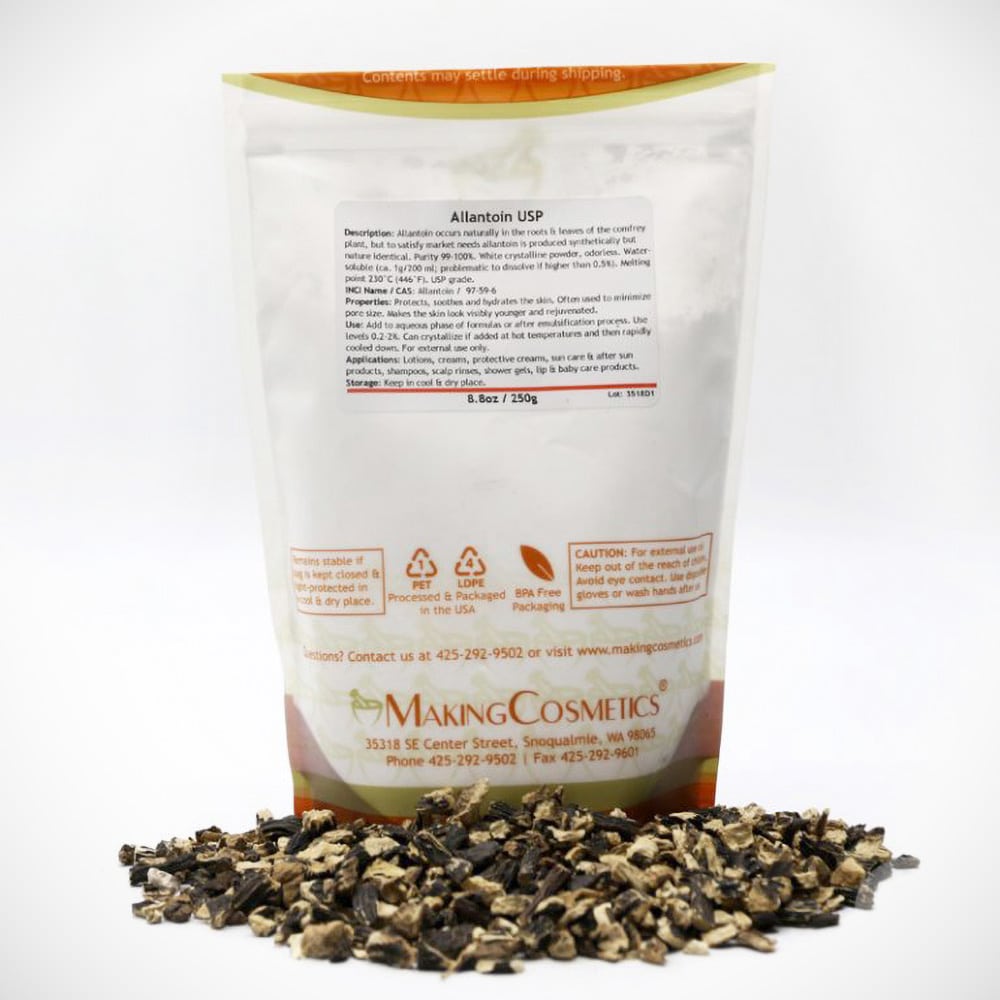 If you are uncomfortable with using comfrey leaf in topical applications such as this, cosmetic allantoin powder is available and is an FDA recognized skin protectant. This is what I used in my recipe below, primarily because I did not have any comfrey on hand. If you'd like to use comfrey leaf in this recipes, I would add a tablespoon or two when you make the chamomile infusion in the first step of the recipe below. 
Colloidal oatmeal is whole oat kernels that have been processed, micronized and pre-solubilized into a particle size capable of forming a homogeneous suspension in water-based products. It's a soothing addition to cosmetic applications that can help relieve dry, irritated, itchy skin associated with eczema, rashes and other skin conditions. Like allantoin, colloidal oatmeal also is recognized by the FDA as a skin protectant.
BTW, if you include colloidal oatmeal in your gel, take care that you source it from a reputable supplier. As Lisa Lise points out in her blog on the subject, it's simply not a term that's very well defined. The INCI name for colloidal oatmeal — Avena Sativa (oat) kernel flour — is identical to simple oat flour, despite processing differences and very different particle sizes. 
When adding colloidal oatmeal to a water-based, emulsified product such as a lotion or a gel, you'll want the particles to be small enough to allow for a smooth, homogeneous suspension to avoid a gritty, clumpy end-product. 
Colloidal particles, by definition should be under 1 micron in size, but this is definitely not the case with any "colloidal" oatmeal I've found. Making Cosmetic's colloidal oatmeal is a product I've worked with and like. Its particle size of 44 microns, while still not a true colloidal, is undetectable if used at the recommended rate (5-30%).
A bit confusing, no? Sorry for the detour. *Squirrel!*
Oil phase
Because this is a water based formula and essential oils are not soluble in water, we will need a small amount of carrier oil and something to emulsify it into the water base. For this recipe, we're using squalane, a lightweight, non-comedogenic hydrocarbon that will soak into the skin instantly — thanks to its similarity to our own skin's squalene content — keeping this formula light as air. Our gum blend will act as co-emulsifiers to suspend the tiny addition of oil in your water base, giving the formula body and lending the gel the spreadable, silky texture that we're looking for in an eye, facial anywhere gel.
By the way… 
If you're interested in doing a deeper dive into the world of medicinal and "cosmeceutical" herbs, check out Rosemary Gladstar's Medicinal Herbs, A Beginner's Guide. She covers the basics of growing your own herbs, making medicinal infusions, syrups, decoctions, tinctures, etc. and the last half of the book is organized like an encyclopedia of useful herbs, what they are and what to do with them, complete with beautiful, full-color photos and recipes.
Print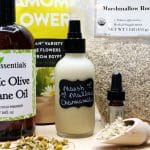 Marshmallow Root Soothing Repair Gel
---
---
Instructions
In a small sauce pan, bring distilled water to a simmer. Add chamomile flowers, and steep for 10-15 minutes. Strain out the flowers and discard or compost.
Place marshmallow root in a pint-sized mason jar, and pour the cooled chamomile infusion over the herbs. Cover and allow to infuse at room temperature for 4-8 hours or overnight. Strain out the herbs, squeezing them to release the mucilage. Make sure there is no remaining plant matter in your infusion. The discarded herbs can be used as a poultice on dry or inflamed skin or composted.
At this point, you will have about 25%-40% less liquid than you started with, thanks to evaporation. Top up the distilled water until you have 200 g again.
Add aloe, allantoin and colloidal oatmeal if using, Blend will with a whisk or immersion blender.
Sprinkle sclerotium, gum arabic and xanthan gum powders over the surface of the chamomile/marshmallow infusion, and blend well.
In a separate small jar or pinch bowl, dissolve essential oils (if using) in the squalane carrier oil. Once the essential oil droplets are no longer visible in the oil, add the squalane to the water base and continue to blend until it resembles a thick, creamy milkshake.
Finally, add your Geogard ECT or preservative of choice. Blend once more until your gel is completely smooth and well combined. The gel will continue to thicken for a couple of hours before it reaches its final consistency.
You're done! Go smear some on your face and let me know what you think. ♥
Notes
I recommend glass containers for storing homemade lotions and potions. Glass doesn't leach chemicals and it's easier to clean/sterilize after the product is used up and you're ready to refill.
If you do choose to use a plastic container, be aware that essential oils tend to react with plastic, so even if you can get it "clean," your container will likely not be reusable.