Over the past year, I have gifted my tallow-based St. John's wort salve to quite a few friends — some with and some without the added CBD, depending on their preference and needs. 
In the last couple of weeks, I heard from three different friends that they believe the salve helped to remove suspicious skin growths. None of these people knew each other, and I didn't tell any of them that St. John's wort had the potential to help with that sort of thing. Honestly, I was a bit skeptical of the claims myself!
Friend #1 was using my St. John's wort CBD salve to ease hip pain and sciatica when she developed a dark raised mole on her chest. It was a bit tender and had gotten a larger and changed shape slightly, so she knew she needed to have it looked at. Unfortunately, her doctor was booked out four months, so while she waited for her appointment, she decided to put some of the St. John's wort salve on the mole. I didn't hear about it until she'd been using the salve for a couple of months, but the spot has since disappeared and she thinks the salve was responsible.
How cool is that? Anecdotal evidence to be sure, but she's thrilled.
Then that same week, I heard from friend #2, whose husband works in construction and deals with a lot of aches and pains thanks to the hard physical labor he does every day. Awhile back, my husband talked him into trying the St. John's wort salve with CBD, and they're now on their third jar. He spends a lot of time working outdoors and had developed a worrisome dark spot on his nose that his doctor said needed to be removed. Not a big fan of medical procedures, he instead started putting the SJW salve on the spot. A few weeks later, the spot had disappeared and his doctor agrees that he no longer needs the excision.
Hmmmm.
Friend #3 is a fellow student in my herbal apprenticeship who was aware of the benefits of St. John's wort beyond nerve pain management. She asked me for a sample of the SJW salve (without CBD) to try on a few sun spots that she'd developed and was monitoring in case they changed or got worse. After only a couple of weeks, she called to let me know that she was already noticing a reduction in the raised spots where she applied the balm.
Yes, the above is all absolutely anecdotal and not proof of anything, but it's still intriguing, no?

My personal paradigm shift
These anecdotes got me thinking about sun protection and what I thought I knew about the subject. The thinking morphed into a whole lotta reading. My reading notes morphed into an essay.
Read "To Sunscreen or Not to Sunscreen?" to better understand why I'm shifting my focus away from sunscreens and SPF products in favor of a more holistic UV management approach combining responsible sun exposure, food, botanicals and cosmeceuticals. What I learned changed my mind about the wisdom of wearing any kind of sunscreen — even the "natural" and "safe" mineral ones. 
I've come to believe that a better strategy is one that supports the skin's ability to withstand normal UV exposure, fortifying it against UV damage while still allowing the good aspects of sunlight to get though.
So today we're going to make a sunny yellow "sunshine" lotion infused with a number of botanicals and antioxidants that, in theory at least, should offer modest photoprotective benefits with daily use. ♥
St. John's wort
Herbalist Rosalee de la Foret also talks about Hypericum Perforatum as prophylactic sun protection. Her "case study" stories about St. John's wort's effects on pre-cancerous spots rhyme with my friends' experiences too.
In a small but well designed randomized, double-blind, vehicle-controlled study, a cream made with St. John's wort extract significantly reduced UVB-induced erythema vs. placebo. 
"Vehicle controlled" refers to the solution or carrier used to administer the substance being tested. So in the case of this study, the ingredients that made up the cream were identical in control and placebo, minus the St. John's wort extract.
A double-blind, placebo-controlled study measured radical formation from visible/near infra-red radiation on the forearms of 11 volunteers against (ex vivo) observations on excised porcine ear skin. The results attributed about 80% protection to St. John's wort infused cream vs. 60% protection from the control. 
Another small study found that topical application of a St. John's wort infused cream inhibited radical formation caused by visible and near infrared radiation up to nearly 80% compared with 45% for placebo.
Tallow & CLA
I find it intriguing that the placebo creams used in the previous studies also provided a degree of protection against free radical formation, even without the SJW extract. Some oils have natural SPF properties, but this hints at the importance of keeping the skin's barrier function as healthy as possible. As the best line of defense for our largest organ, it clearly plays an important role in protecting us from environmental pollutants, sun damage, viruses, bacteria and more.
I believe that pastured tallow could be an ideal oil for this purpose. Tallow as a foundation for skincare is unique because, in addition to its compatibility with our own natural skin surface oils, tallow contains conjugated linoleic acid (CLA) that has impressive anti-cancer and anti-inflammatory properties all its own. CLA is found almost exclusively in the milk, meat and fat of ruminants, and it's particularly high in pastured (grassfed) animals. Topically, CLA has been found to improve inflammatory skin conditions, modulate skin barrier repair and increase overall skin hydration.
Not a bad start!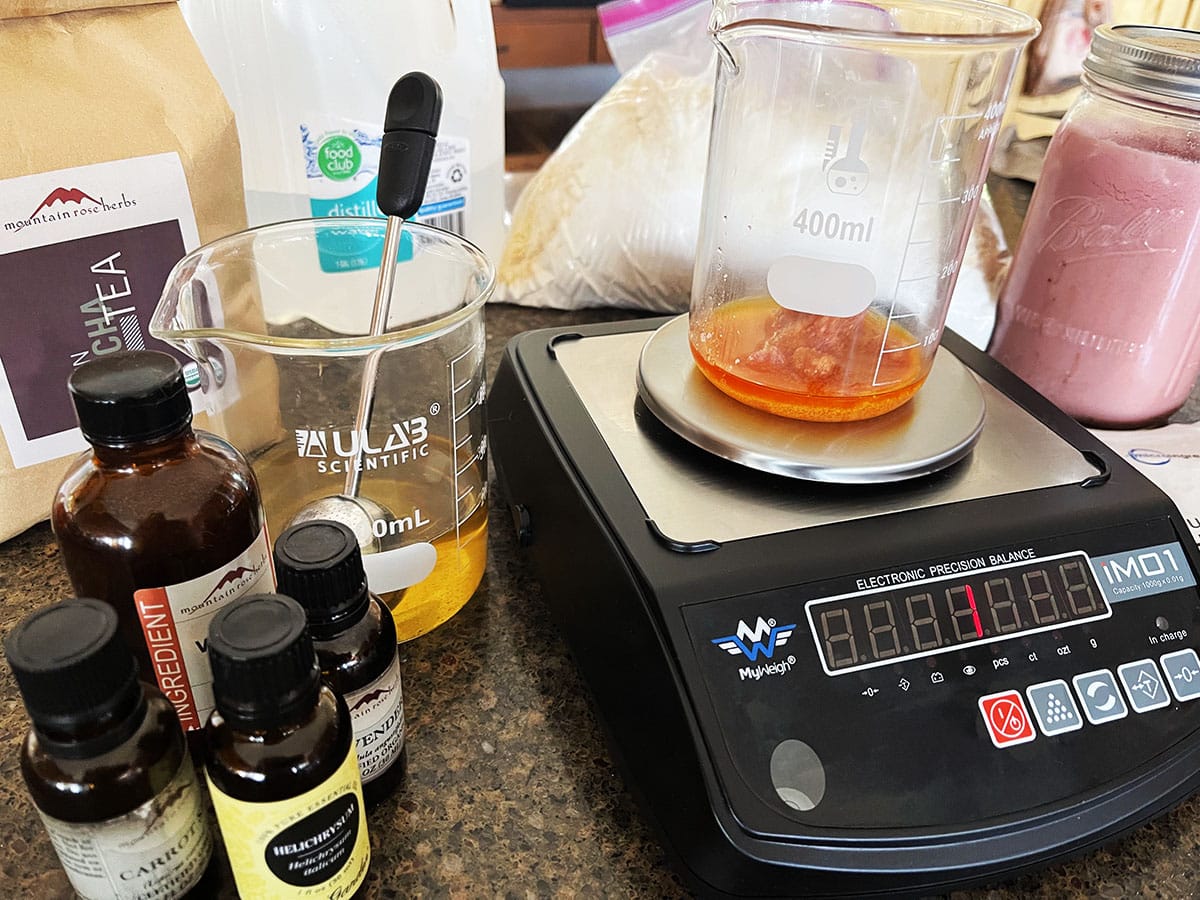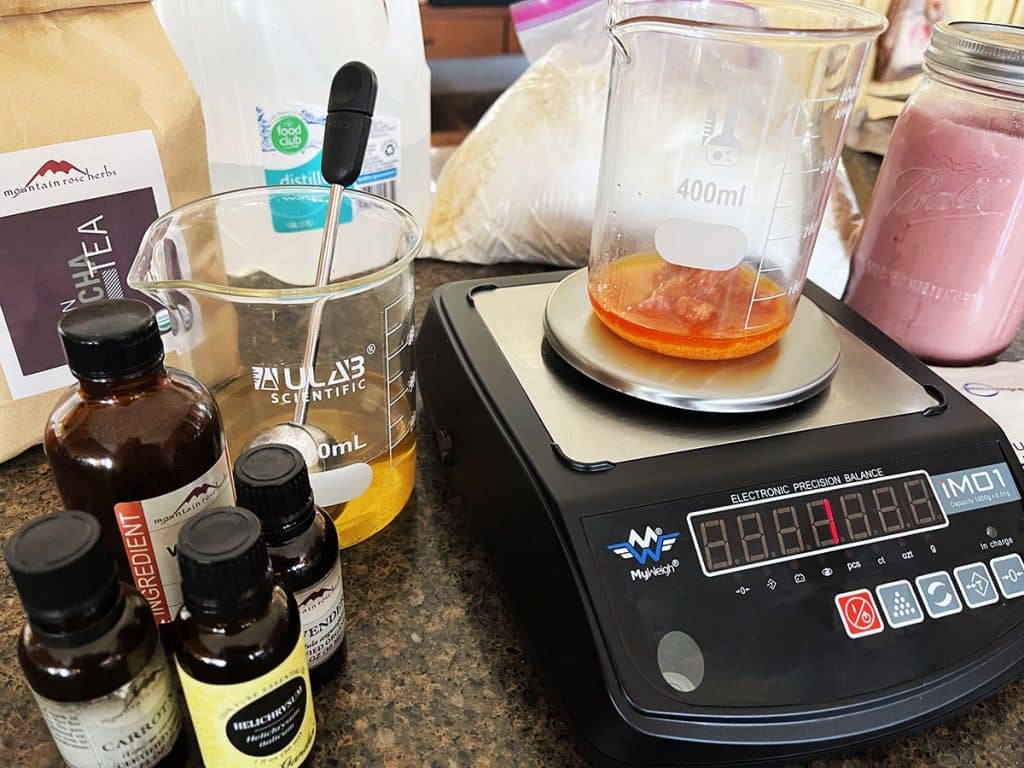 Vitamin C
Vitamin C is a well-studied skincare super-ingredient that brightens the skin and provides powerful antioxidant support. It protects against UV damage by scavenging free radicals and inhibiting oxidative stress. It also strengthens the skin barrier, stimulates UV-absorbing collagen production, inhibits collagen-degrading enzymes, and fades (and prevents) hyperpigmentation. 
Antioxidants such as vitamin C and E, flavonoids and phenolic acids play a major role in fighting against free radical damage that causes cancers and photodamage. Studies have shown again and again that while isolated plant constituents are great, whole herbal extracts work better, thanks to the synergistic actions of the plant as a whole.
The trouble with vitamin C in skincare products is that regular ascorbic acid oxidizes quickly after contact with water and becomes ineffective and also potentially harmful, since oxidized vitamin C may actually increase the formation of free radicals. No bueno. To avoid oxidation, I'm using a specialty cosmeceutical product called tetrahexyldecyl ascorbate, an oil-soluble vitamin C derivative (ester) that is stable in aqueous solutions.
Another way to get around the oxidation issue is to make your photoprotective serum without the vitamin C and simply mix a bit of ascorbic acid into a small amount of your serum just before you use it. Not as convenient, but effective nonetheless!
Ferulic acid + vitamin E
Because antioxidants interact synergistically, we're going to pair the vitamin C with a few friends.
A Chinese study suggests that vitamin C can be further stabilized with the addition of vitamin E and a natural polyphenol called ferulic acid. Ferulic acid is a strong antioxidant and UV absorber on its own, but the trio applied topically may also have a special synergy that doubles the photoprotective powers of vitamin C alone. 
On its own, vitamin E has been well studied for its potential to prevent UV-induced skin damage and hyper pigmentation, as well as skin cancer. It appears that the combination of vitamin E with ferulic acid and vitamin C may act as a vehicle to help drive antioxidants into deeper cutaneous layers of the stratum corneum.
Vitamin E oil is an easily sourced addition to the formula, but ferulic acid is a bit harder to come by. I spent a fair amount of time trying to figure out how I might extract ferulic acid myself from common pantry staples known to contain it — such as brown rice, flaxseed, chia seed and beets. 
My first thought was to simply include flaxseed oil in the serum, but a quick Internet search confirmed that ferulic acid is not soluble in oil, so it will not be present in the oil. Boo. 
Most sources describing ferulic acid extractions used complicated enzymatic methods, alkaline hydrolysis and pressurized solvents. I did find some evidence that ferulic acid may be soluble in ethanol and minimally soluble in hot water, which makes me wonder if an alcohol intermediary blender extraction using high proof alcohol and water might capture some ferulic acid. Maybe…?
I'm also unsure if the type of ferulic acid extracted by ethanol/water would be the right form to do what I want it to do. Unfortunately, I'm not well enough versed in chemistry to know if the 0.5–2% extractable trans-isomeric ferulic acid will be adequately extracted by ethanol/water or if that form is even useful topically as a photoprotectant. I also have no way to determine how much ferulic acid will be present in my extract.
Grudgingly, I had to conclude that ferulic acid extraction requires more specialized solvents and lab equipment than I have access to, so I threw in the DIY towel and purchased a tub of ferulic acid powder. There are several places online that sell powdered ferulic acid isolate and I went with one from Making Cosmetics: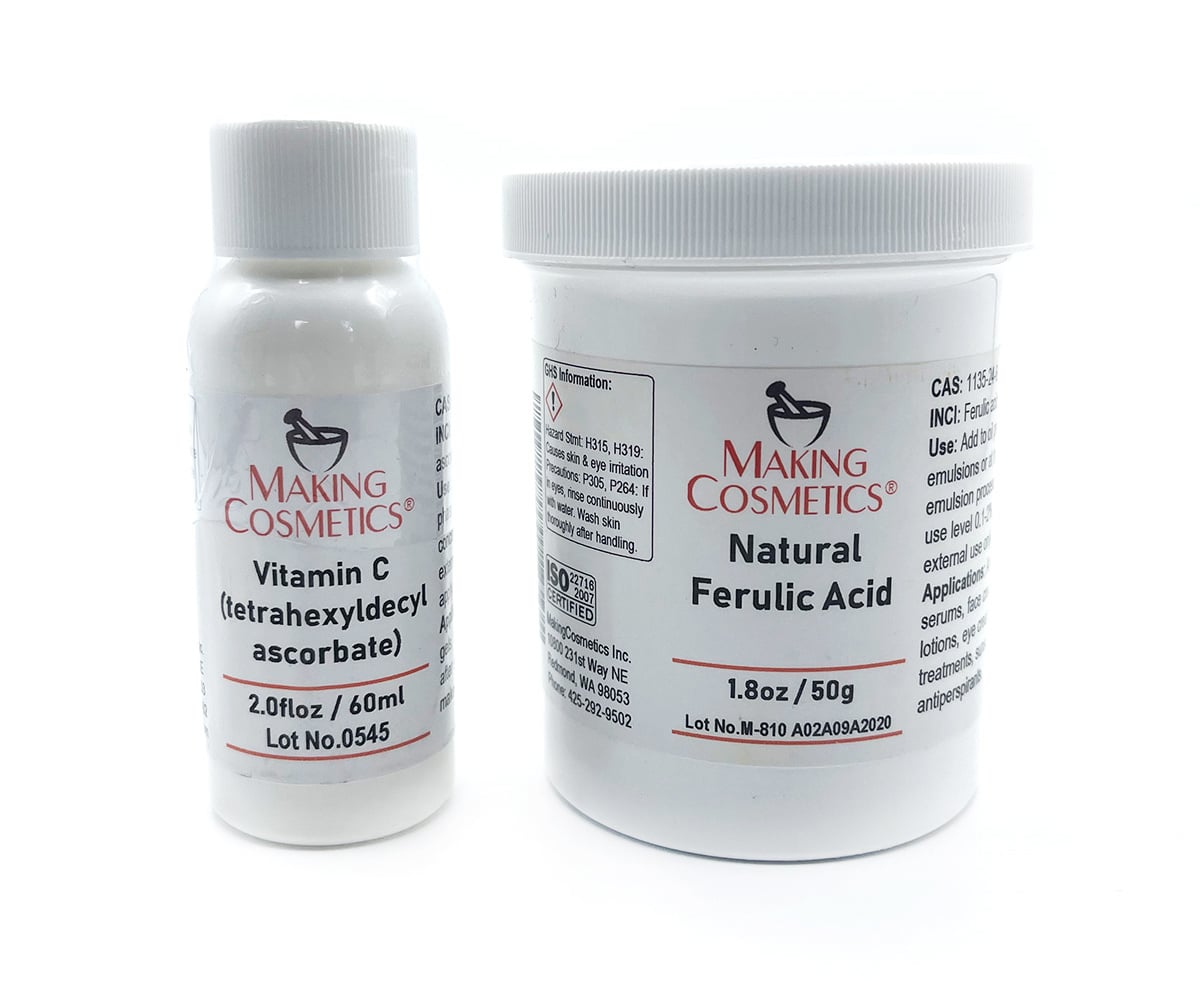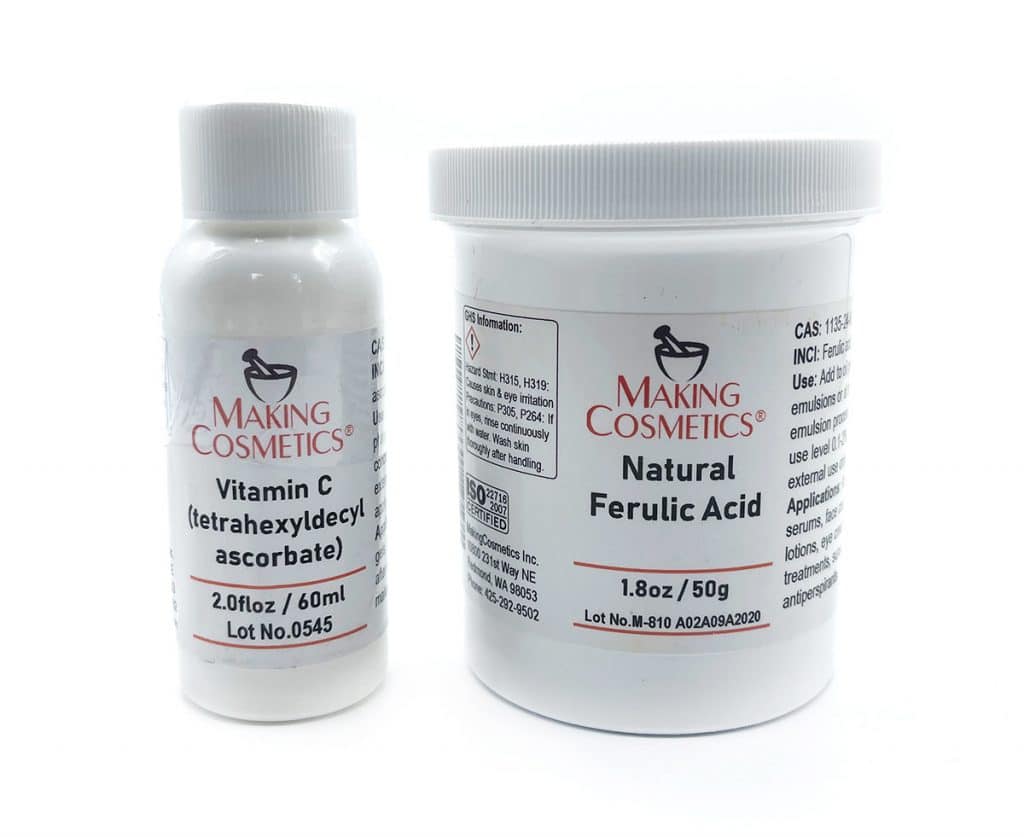 Green tea
The water phase portion of this moisturizer will be a strong infusion of green tea. Camellia sinensis contains 30-40% water-soluble polyphenols, which have the superpower to absorb UV and help to prevent it from penetrating the skin.
These green tea catechins — particularly epigallocatechin gallate (EGCG) — are well studied for their anti-inflammatory, photo-protective and antioxidant actions.
Most studies focus on green tea's internal use, which is impressive in its own right, but there are also plenty of studies that support the use of topical green tea for photoaging and others that suggest that topical green tea EGCG may actually be MORE protective against UV damage vs oral administration. Caffeine is another constituent of green tea that has been shown to protect against photodamage in topical applications.
According to an article on the potential of herbs in skin protection from ultraviolet radiation, green tea has shown compelling evidence as a topical photoprotectant, antioxidant, anti-inflammatory and protectant against cancer:
"Topical green tea applied to human skin provide a photoprotective effect, reduced the number of sunburns cells, protecting epidermal Langerhans cells from UV damage, and reduced the DNA damage that formed after UV radiation. Green tea was also found to decrease melanoma cell formation with topical and oral administration in mice."
According to Dr. Elizabeth Plourde, Ph.D in her book Sunscreens Biohazard: Diet and Guide to Safe Sunning, topical antioxidants such as green tea protect against UV-induced immunosuppression and reduce reactive oxygen species (ROS) and DNA damage.
I used a strong infusion of sencha green tea in my first version of this recipe, but since ceremonial grade matcha contains the highest levels of EGCG I will probably use that next time.


Sea buckthorn oil
Another powerful herbal ally is sea buckthorn (Hippophae rhamnoides), which is an effective therapy for UV-induced photodamage, thanks to its rich concentration of carotenoids and tocopherols. It's also well known for its wound healing properties.
It's tricky to source good sea buckthorn fruit oil. Amazon is loaded with crystal clear oils marketing themselves as sea buckthorn fruit oil. They are not. The oil from the fruit will be unmistakably bright orange. Mountain Rose Herbs carries the real deal.
Alternatively, (and far easier on the pocketbook) you can also infuse your own sea buckthorn oil using sea buckthorn powder (also carried at Mountain Rose Herbs) in a carrier oil. For this recipe, I'm using sea buckthorn fruit-infused jojoba.
Helichrysum & neroli
In addition to its free-radical scavenging antioxidants, Helichrysum Italicum is well known for its ability to relieve sunburn pain and to help repair sun-damaged skin and hyperpigmentation. It also contains phenol compounds that are thought to offer protection against UV-light damage, making it a good choice for a photoprotective moisturizer. Another intriguing study that assessed the UV-protective qualities of flax fabric dyed with extracts of various herbs found that helichrysum provided one of the higher levels of UV protection achieved in the study.
To offset the somewhat earthy smelling helichrysum and carrot extract that dominates this recipe, I also added a small amount of "sunshine in a bottle" — aka neroli or orange blossom. This step is purely optional. Neroli has become stupid-expensive in the last couple of years, and although I think it's a great fit for this recipe, you can omit or use any non-phototoxic essential oil you like.
…
Note that this lotion is NOT intended to replace good sun hygiene practices.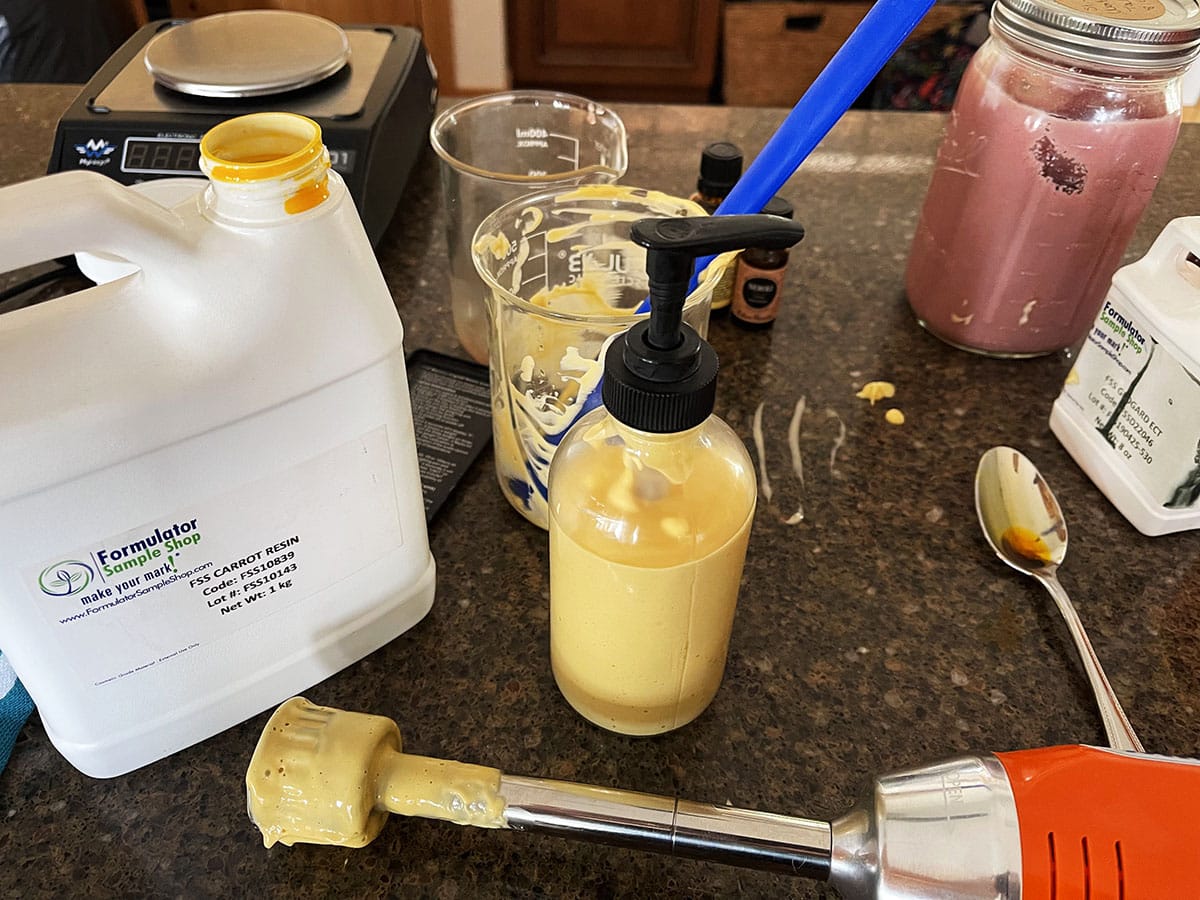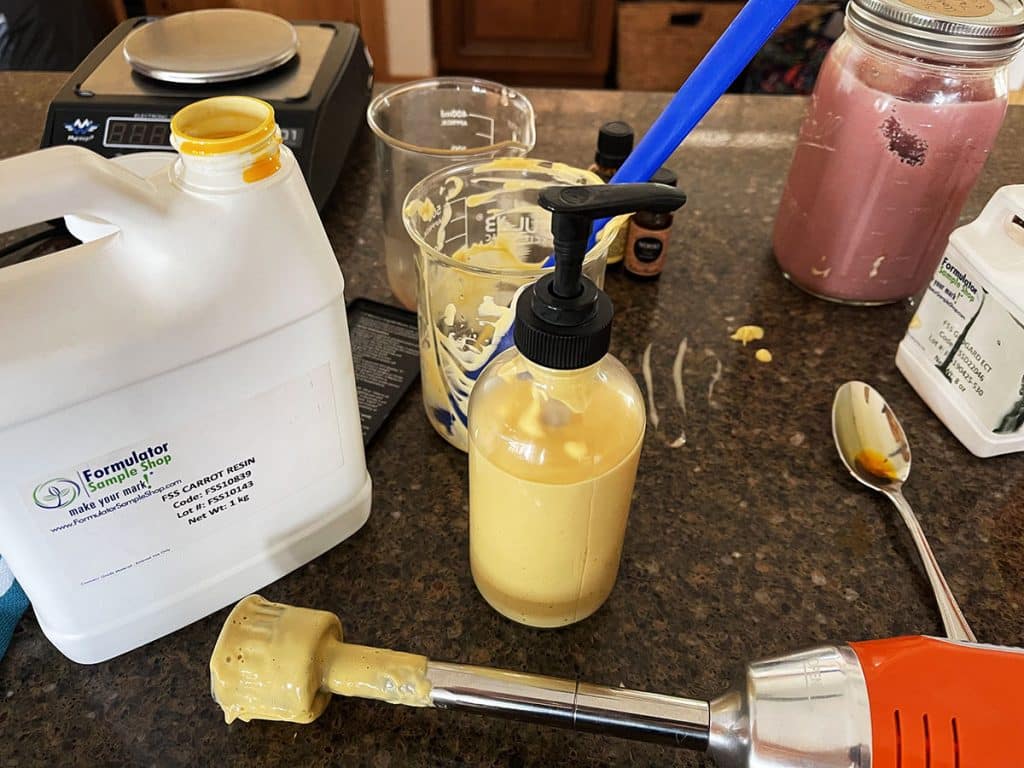 Print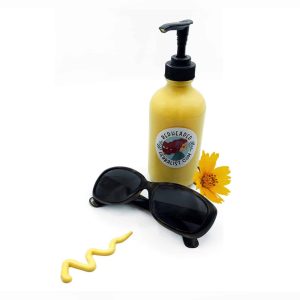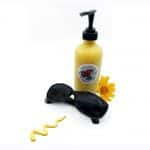 Sunshine Moisturizer
---
---
Instructions
In a glass jar or beaker, steep green tea or matcha in hot distilled water, just off the boil; allow infusion to steep for 10-15 minutes
Strain out all plant matter and discard.
Weigh your strained green tea infusion; top up with distilled water until you have 134 grams again.
Sprinkle lecithin granules into the cooled water; cover and set aside. The lecithin needs to hydrate in the water for 30-60 minutes before it will be ready to blend with your oils.
After your lecithin has had a chance to fully hydrate, sprinkle hyaluronic acid powder onto the surface of the water; using an immersion blender, blend briefly to better distribute the lecithin and hyaluronic acid.
Meanwhile, using double boiler or other gentle heat source, heat tallow and jojoba oils until liquified.
While running the immersion blender, slowly drizzle oil phase into the water phase, and continue mixing until well emulsified and smooth.
Add phase C ingredients to emulsion and blend once more until fully incorporated. The serum will continue to thicken slightly for a couple of hours before it reaches its final consistency.
Transfer to a treatment bottle with a pump, preferably an amber bottle or one with dark-colored glass and store out of direct sunlight. (Do as I say, not as I do — the bottle I used displays the sunny yellow lotion nicely for the photos, but it's not a great choice for longterm storage. Sunlight will oxidize the antioxidants.)
You're done! Smear some on your face, chest, arms, etc. in the morning or anytime you want to give your skin an extra photo-protective boost ♥
Notes
Makes approx. 7 oz of moisturizer.
Note that this is NOT a sunscreen and is not intended to replace responsible sun exposure.
I recommend glass containers for storing homemade lotions and potions. Glass doesn't leach chemicals and it's easier to clean/sterilize after the product is used up and you're ready to refill.
If you do choose to use a plastic container, be aware that essential oils tend to react with plastic, so even if you can get it "clean," your container will likely not be reusable.