Whether you've intentionally harvested your tomatoes green or found yourself with a bunch due to a sudden change in weather, there are all sorts of ways you can make use of this unique garden bounty.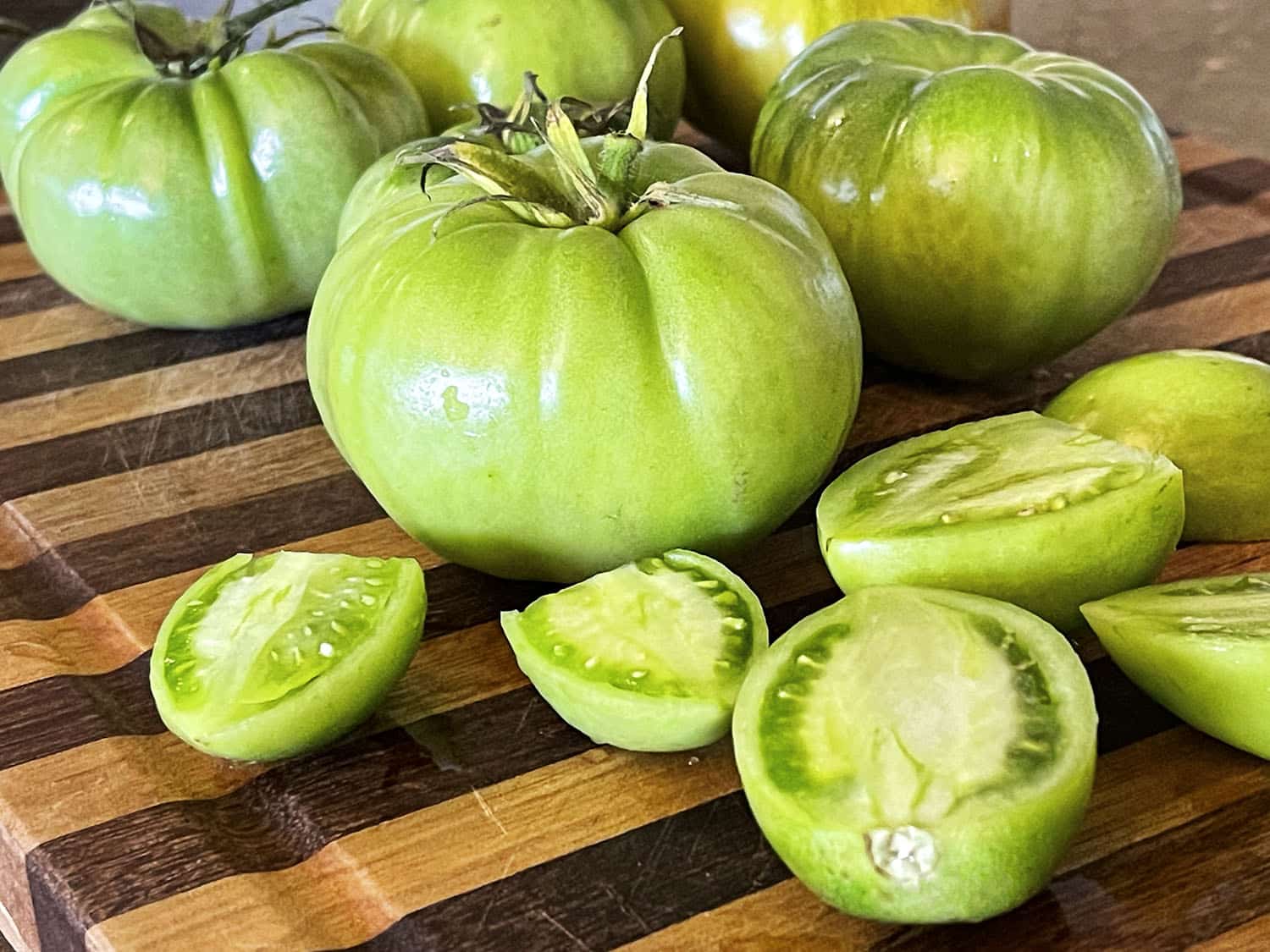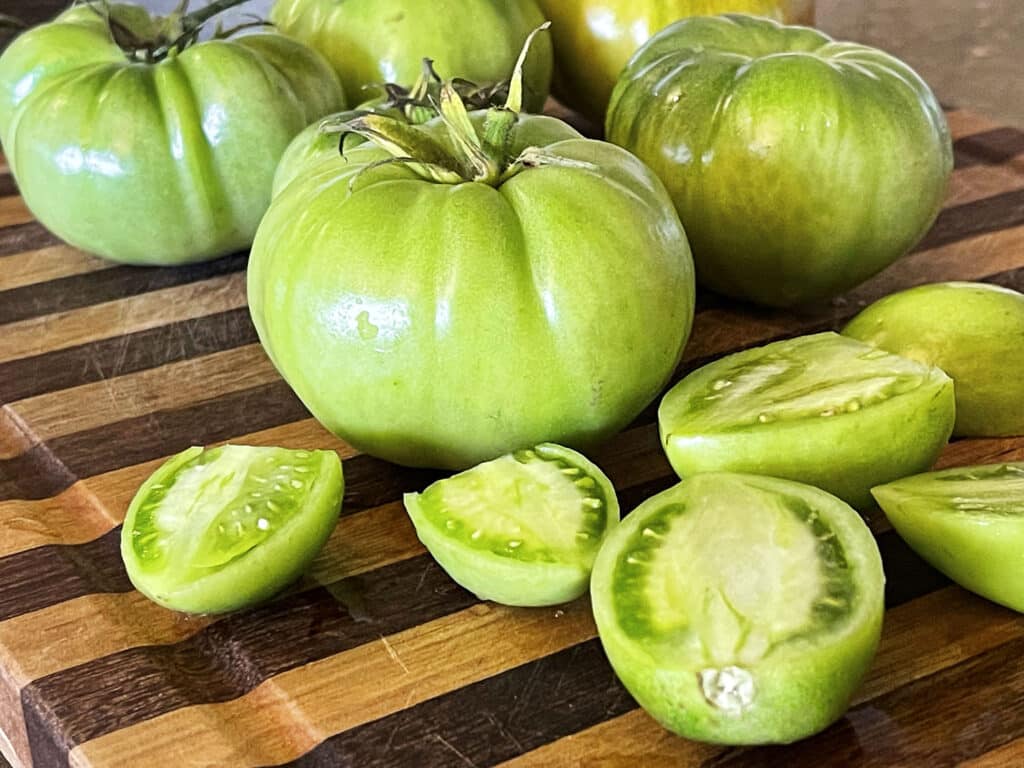 Encourage ripening 
But first, in case your green tomatoes are un intentional, there are a number of tricks you can try to encourage your tomatoes to ripen faster:
Reduce the amount and frequency of watering. When tomato plants experience water stress, they perceive it as a signal of impending environmental challenges. In response, they focus their energy on ripening their fruit and producing seeds to ensure the next generation. Roughly 2 to 3 weeks before your expected harvest date, gradually reduce watering over the course of a few days to a week. Water your plants less frequently by skipping a watering day or slightly decreasing the amount of water you provide to help expedite the ripening process.
Harvest the ripe ones regularly. As individual tomatoes start to ripen, harvest them promptly. This helps divert the plant's energy toward the remaining fruit, encouraging them to ripen faster. Leaving overripe fruit on the plant can also signal to the plant that it's completed its reproductive cycle and may reduce the production of new fruit. Harvesting ripe tomatoes promptly conveys to the plant that there's room for more fruit, encouraging it to continue setting and ripening new tomatoes.

Focus the plant's energy by pruning. Prune your tomato plants earlier in the growing season to remove unproductive foliage, such as suckers and lower leaves. Suckers are the small, new growth shoots that appear in the junction between a branch and the main stem and eventually grow into new branches, leading to a denser and bushier plant. Pruning helps improve air circulation, sunlight penetration and redirects energy toward fruit production and ripening existing fruit.
Dead-head indeterminate tomato plants. If you're growing indeterminate tomato varieties that continue to produce fruit until the first frost, the expert gardeners in my area will tell you to prune the tops of the main stems by Labor Day (or roughly four weeks before the first expected frost in your area) in order to halt additional vertical growth and redirect the plant's energy to fruit ripening. Pruning also enables better sunlight exposure, which can also accelerate the ripening process.
These tricks help, but they're not foolproof. Despite my best efforts, our unpredictable North Idaho weather can and does cut the season short. Most years, by the time the first hard freeze of the year is looming, I still find myself with oodles of green garden tomatoes. 
Fortunately, they're delicious! ♥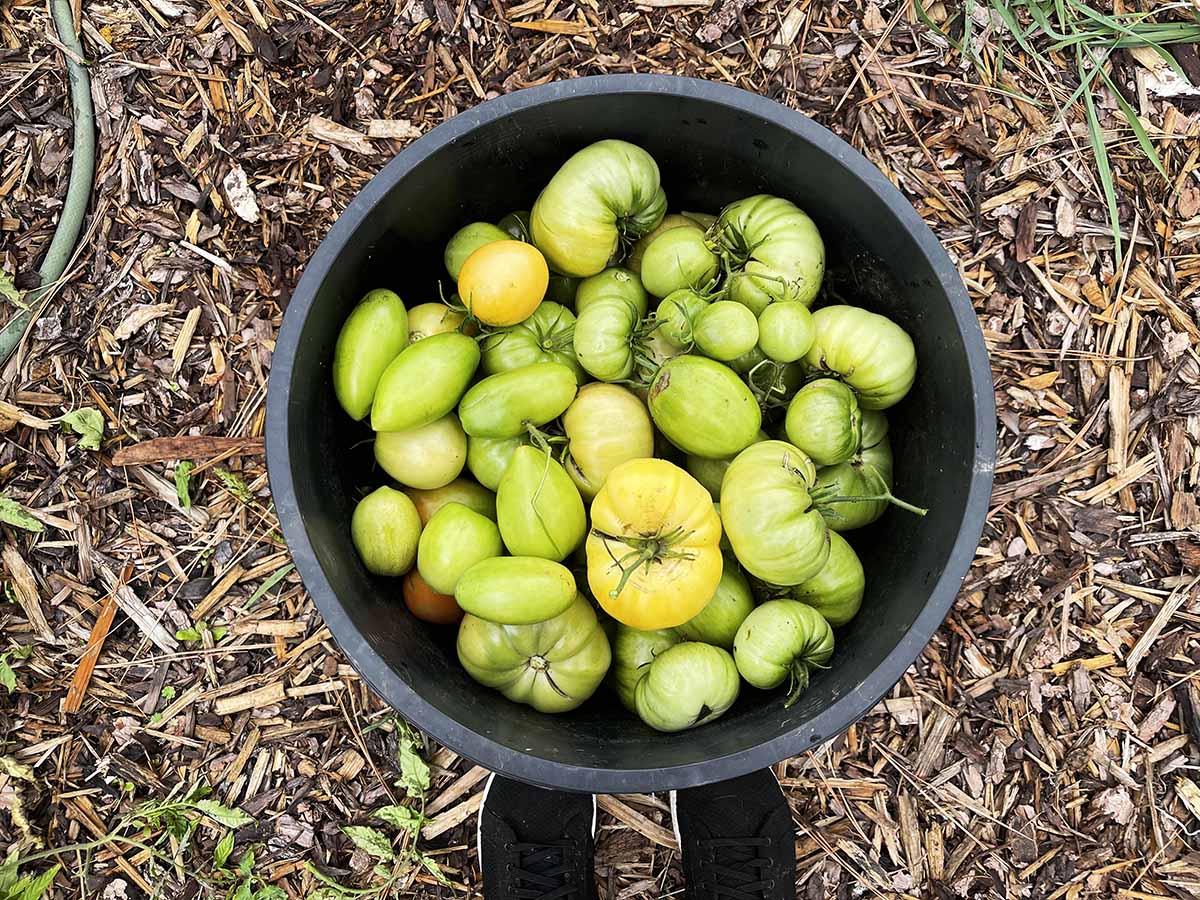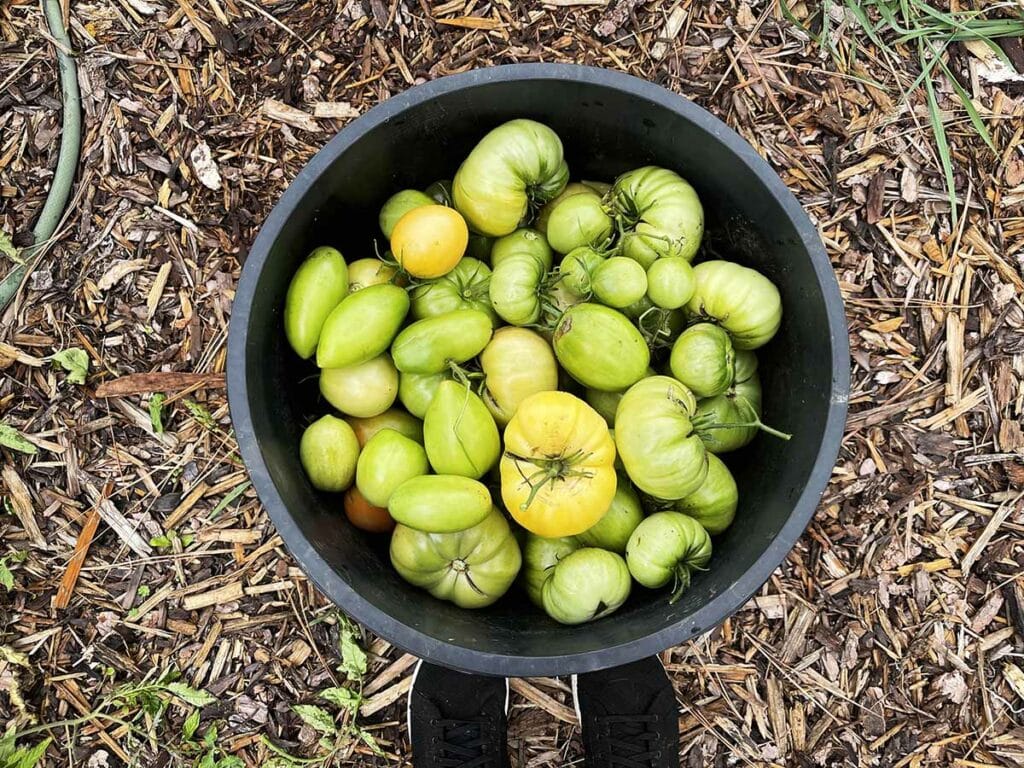 Green tomatoes are, as their name suggests, green unripe tomatoes. Their color can vary depending on the tomato variety, ranging from light to dark green. They have a bright, tart flavor, which is quite different from the sweet, juicy taste of ripe red tomatoes. Their texture is firmer and more dense than that of ripe tomatoes, making them more suitable for culinary applications such as breading and frying.
Like ripe tomatoes, green tomatoes are a good source of essential nutrients such as vitamin C, vitamin K, potassium and dietary fiber. They also contain antioxidants and provide health benefits similar to those of ripe tomatoes.
Freezing green tomatoes
Thanks to green tomatoes' nice firm texture, they're also a great candidate for freezing. Select firm, unblemished green tomatoes and slice them into 1/3″ wheels. Place them on a parchment or silicone-lined cookie sheet and place it in the freezer for 2 or 3 hours. Blanching is not necessary, though it can help the frozen tomatoes to retain their bright green color longer. When the tomatoes are fully frozen, transfer them to a container or freezer baggie. They can last this way for up to a year.
Fried green tomatoes year 'round, baby!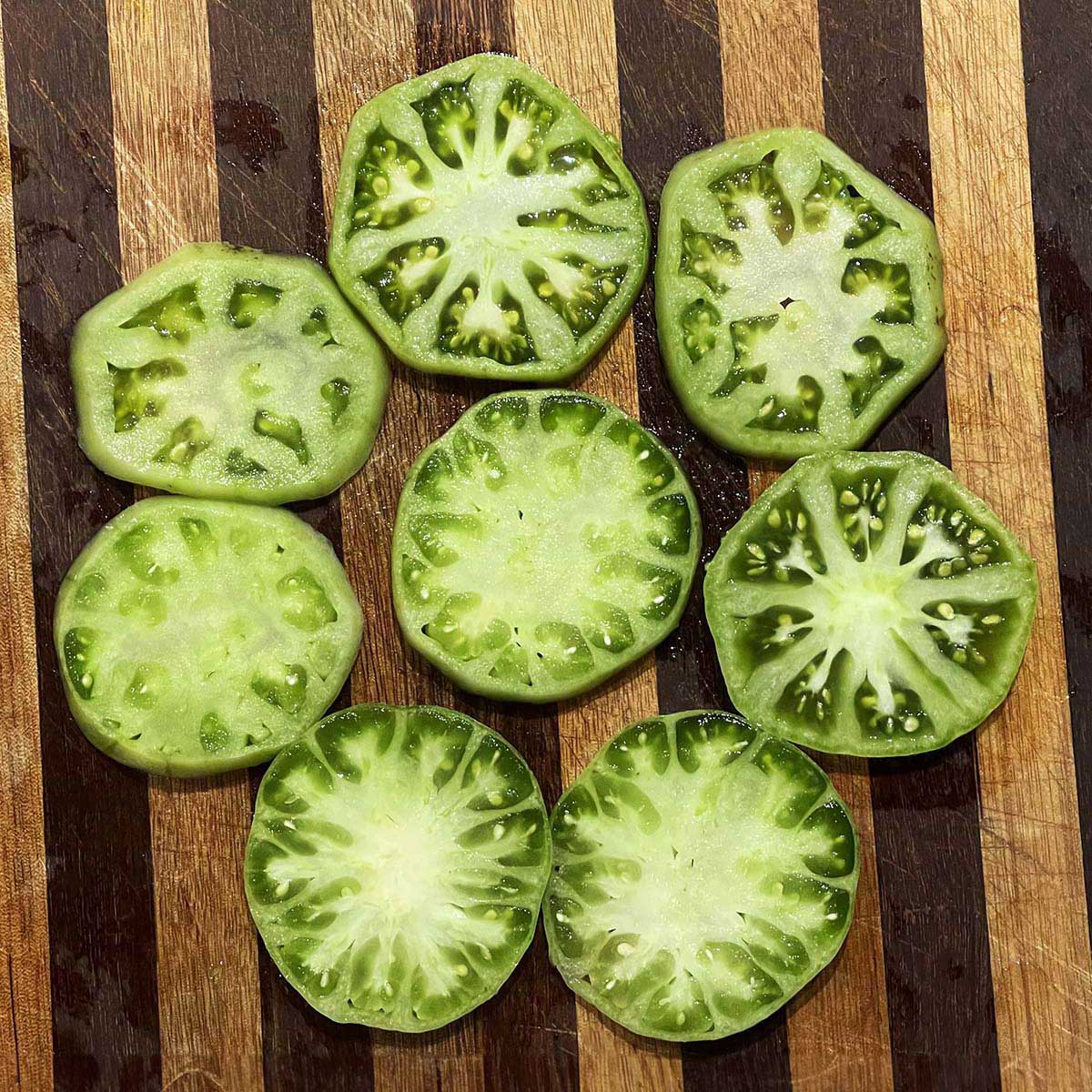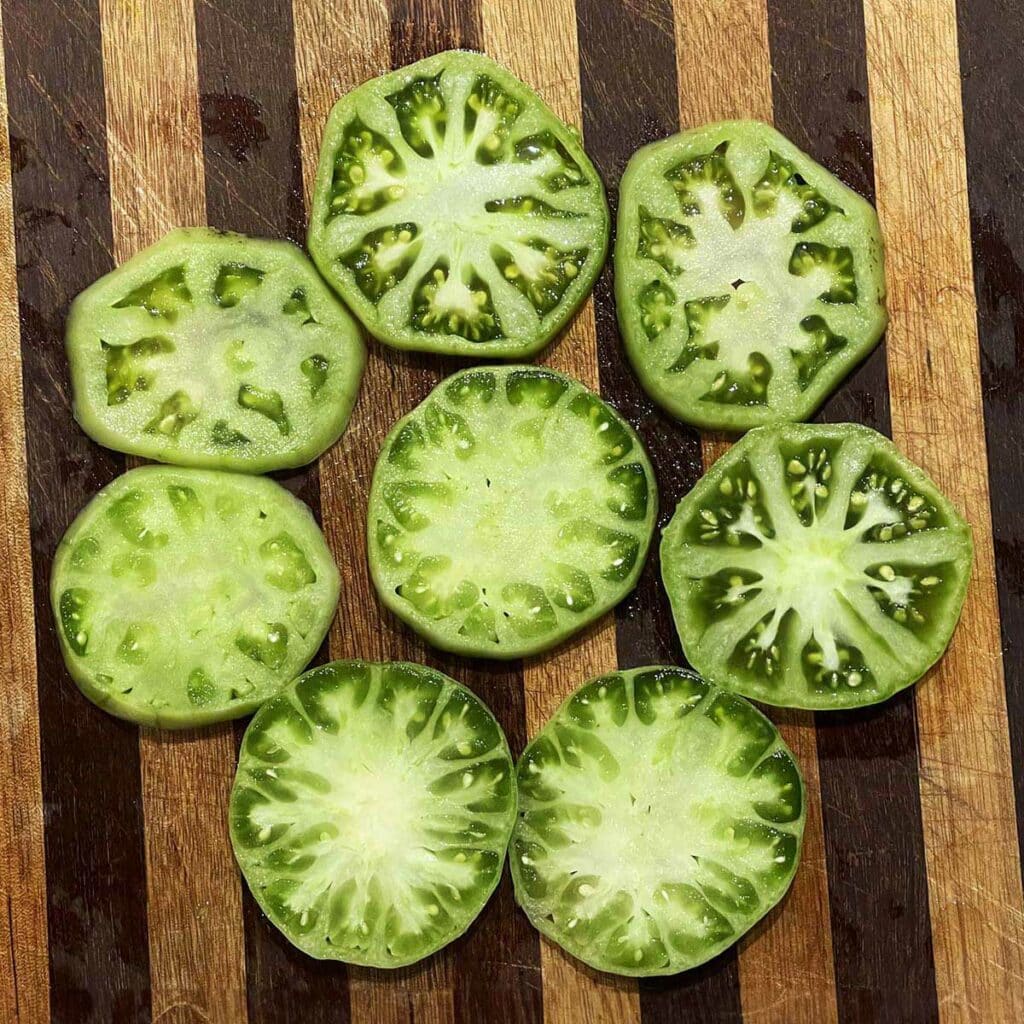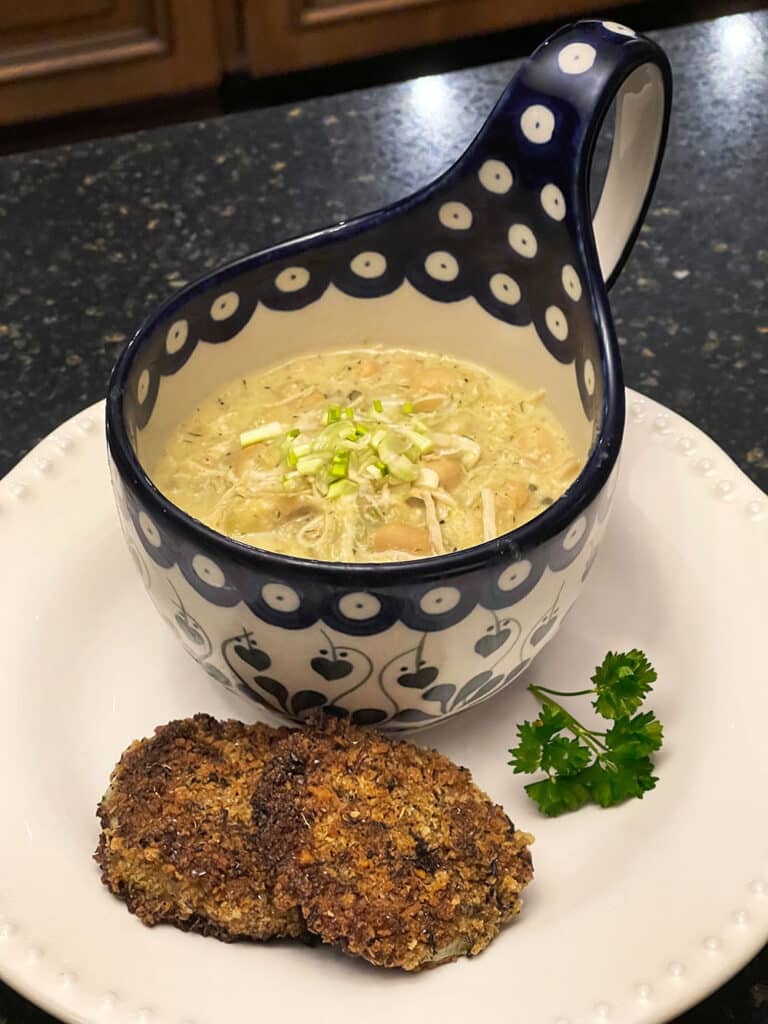 Print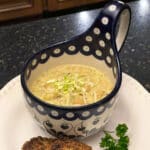 White Chicken Chili Verde (for the Instant Pot)
---
1 medium yellow onion, finely chopped

3 c prepared white beans such as Great Northern or cannellini (or 2 cans, drained and rinsed)

4 c unripe, green tomatoes, chopped

2–3 jalapeños, seeded and minced *

1/2 c bone broth (or water)

1 1/2 lb boneless skinless chicken breasts

1 tsp chili powder

1 tsp cumin

1 tsp salt

1/2 tsp black pepper, ground

add after natural pressure release (NPR)
2 oz cream cheese or Neufchâtel

1/2 c plain Greek yogurt

chopped green onions or chives for garnish
---
Instructions
Prepare the green tomatoes, jalapeños and onions; hand chop with a sharp knife or a mechanical hand chopper tool or pulse in a food processor.
Using your Instant Pot's sauté mode, heat the ghee or lard and cook the chopped onions for 2-3 minutes until translucent and fragrant.
Add white beans, chopped green tomatoes, jalapeños and broth.
Place the chicken breasts on top of the veggies and sprinkle with the Ranch mix, chili powder, cumin, salt and pepper.
Cook under high pressure for 18 minutes and allow a natural pressure release (NPR).
Open lid and stir in cream cheese and Greek yogurt. Cover and allow the cheese a few minutes to melt and meld with the sauce.
Notes
2-3 jalapeños will give this dish a nice kick. If you prefer a milder chili, reduce to 1 jalapeño or omit altogether.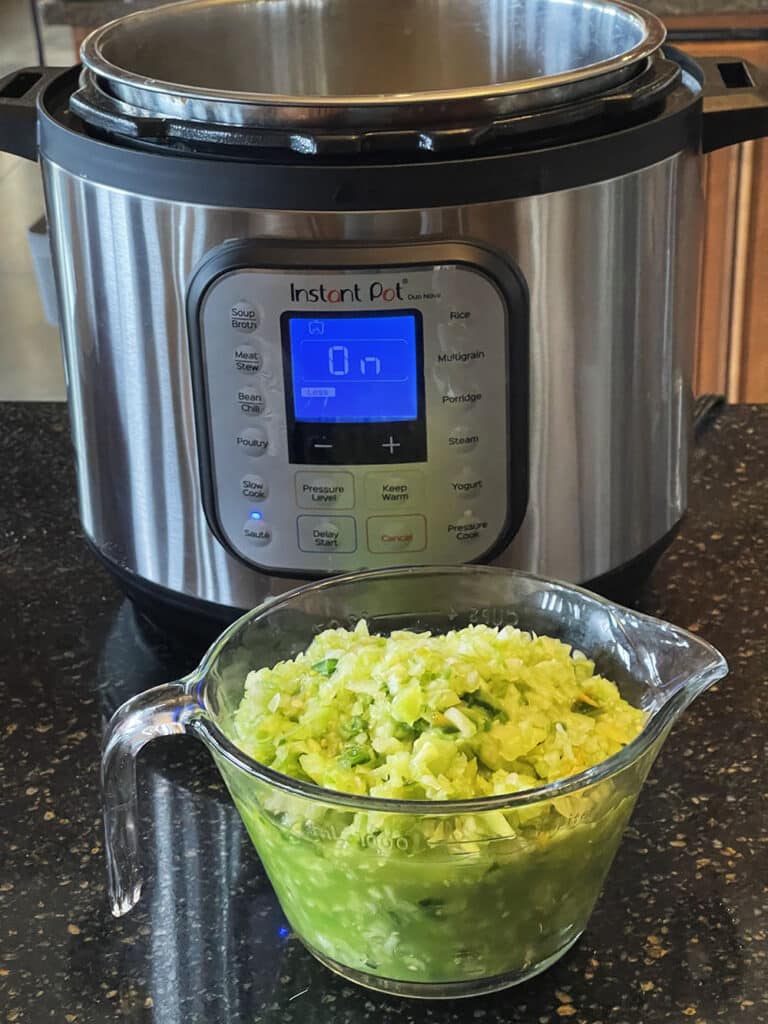 Print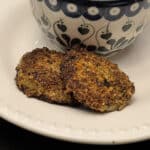 Fried Green Tomatoes
---
---
Instructions
Slice the green tomatoes in to 1/3″ wheels.
Combine eggs and cream in a small bowl, whisking to blend.
Pour Shake-n-Bake mix into a separate shallow dish.
Dip each tomato slice in the egg mixture, then dredge in the Shake-n-bake. If needed, do a second round of egg and breading to fully cover each slice. It may be necessary to press the breading onto the tomatoes to ensure it sticks.
In a large skillet or frying pan, heat about 1/2″ of your fat of choice over medium heat. Aim for a temperature of around 350-375F (175-190C).
Carefully place the breaded tomato slices into the hot oil, making sure not to overcrowd the pan. Fry them for about 2-3 minutes on each side or until they are golden brown and crispy. Keep an eye on them – you may need to adjust the heat to maintain the right temperature and avoid burning.
Fried green tomatoes are best enjoyed right after frying when they are still crispy and hot.
Notes
Optional but delicious: Try drizzling a bit of fermented hot honey on top of your fried green tomatoes for a sweet kick!