When we made the move from San Antonio to rural North Idaho, I wasn't surprised to find that several of our favorite products were not available up here. Unfortunately, my beloved Topo Chico mineral water was one of them.
Founded in 1895, the citrusy, mineral-rich water has gained a cult following over the years, particularly in the area where I grew up in South Texas. Every grocery and corner store carries it. It's a favorite among bartenders — a popular Texas cocktail known as 'Ranch Water' is made with tequila, lime juice and (you guessed it) Topo Chico. There's even a local old wive's tale that drinking Topo Chico will cure a hangover, and personal experience can confirm that it does help!
There are plenty of other mineral waters out there, but for my money, there are none quite like Topo. For years, I was mail-ordering 6 to 12 liters at a time to keep us in our favorite fizzy mineral water. But you have to find a place to store all those bottles, plus, purchasing bottled mineral water can get expensive… especially if you're like us and consume it regularly!
As luck would have it, a couple years ago I stumbled across the idea that Topo Chico could be replicated at home using easily accessible brewing salt additives. Andrew over at Third Leap cleverly translated Topo Chico's annual water analysis report and calculated the ratios needed to replicate their mineral profile.
Brilliant!!
Iconic minerals
We all know that adequate minerals are essential for optimal bodily functions and overall well-being. In addition to being delicious, drinking mineral water (homemade or otherwise) is a convenient way to supplement your mineral intake, particularly if your regular diet may be lacking in certain minerals.
Mineral waters can also help maintain proper hydration and electrolyte balance in the body. Electrolytes, including sodium, potassium, calcium and magnesium, are vital for regulating fluid levels, muscle function, nerve signaling and maintaining pH balance. Mineral water replenishes these essential electrolytes, especially after exercise or extended periods of sweating.
What sets Topo Chico water apart is a specific mineral composition, which gives it its distinct flavor profile. The water is naturally enriched with minerals such as calcium, magnesium and potassium that accumulate as the water filters through layers of limestone and volcanic rock, acquiring its unique characteristics along the way.
Since our move north, Topo Chico's has been purchased by the Coca Cola Company, and has begun popping up in grocery stores in my area, but now thanks to Andrew, we don't *have* to buy it anymore. I honestly can't tell the difference between homemade and store bought. Not to mention, for less than $25, we purchased enough ingredients to make (literally) hundreds of bottles of Topo Chico-inspired mineral water.
And it all fits in a teeny 4-ounce mason jar. ♥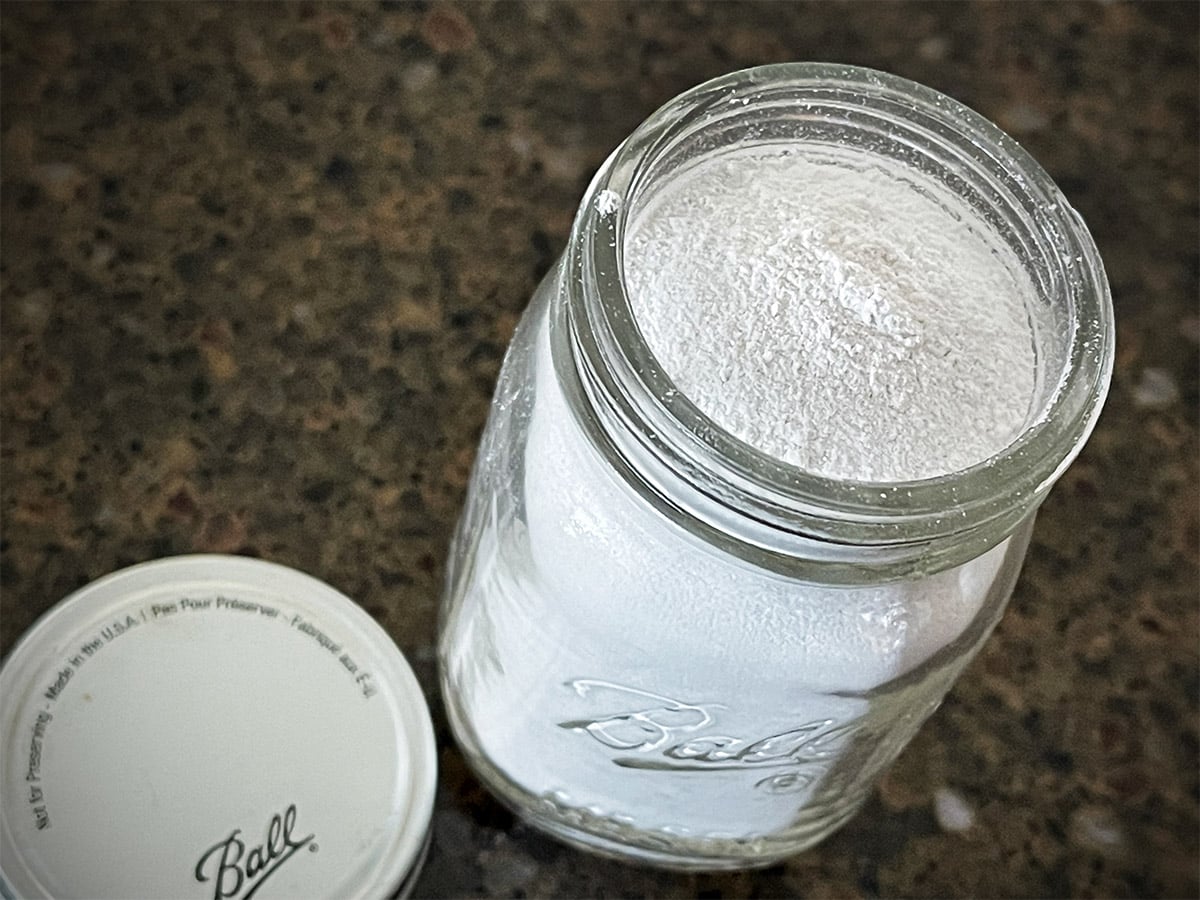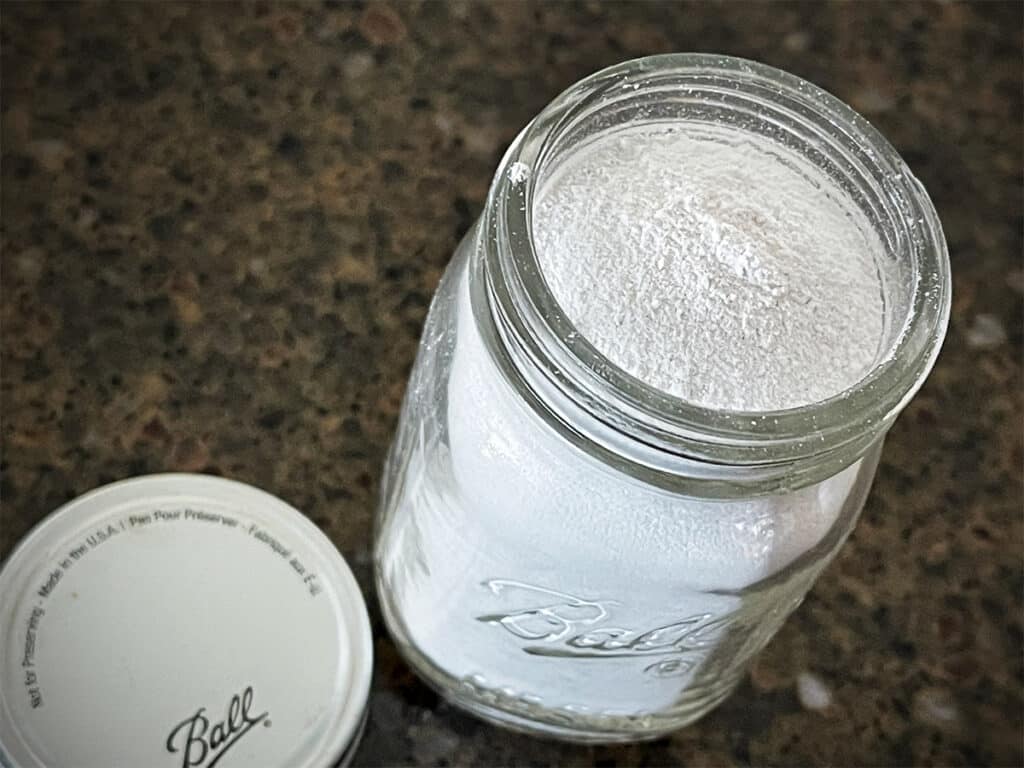 Less waste
Another reason to make your own homemade mineral water is it cuts down on waste. This one's a big deal to me, since we don't have the means to recycle plastic and glass in our county. Avid Topo Chico fans know all too well how many empty bottles you can go though. By using a Drinkmate, SodaStream or similar home carbonation device with your DIY mineral blend, you can significantly cut down on the waste you create.
Mix it up
And of course, when you blend your own minerals, it also means you have FULL control over the ingredients and their ratios. You can fine-tune the flavor until your heart's content. Whether you want a strict Topo Chico clone or something with a more pronounced mineral taste or perhaps a bit more citrus… the possibilities are endless when you're the designer of your own mineral blend!
Note: Since I prefer a bit more citrus flavor, my version increased the slacked lime content slightly vs Andrew's calculations.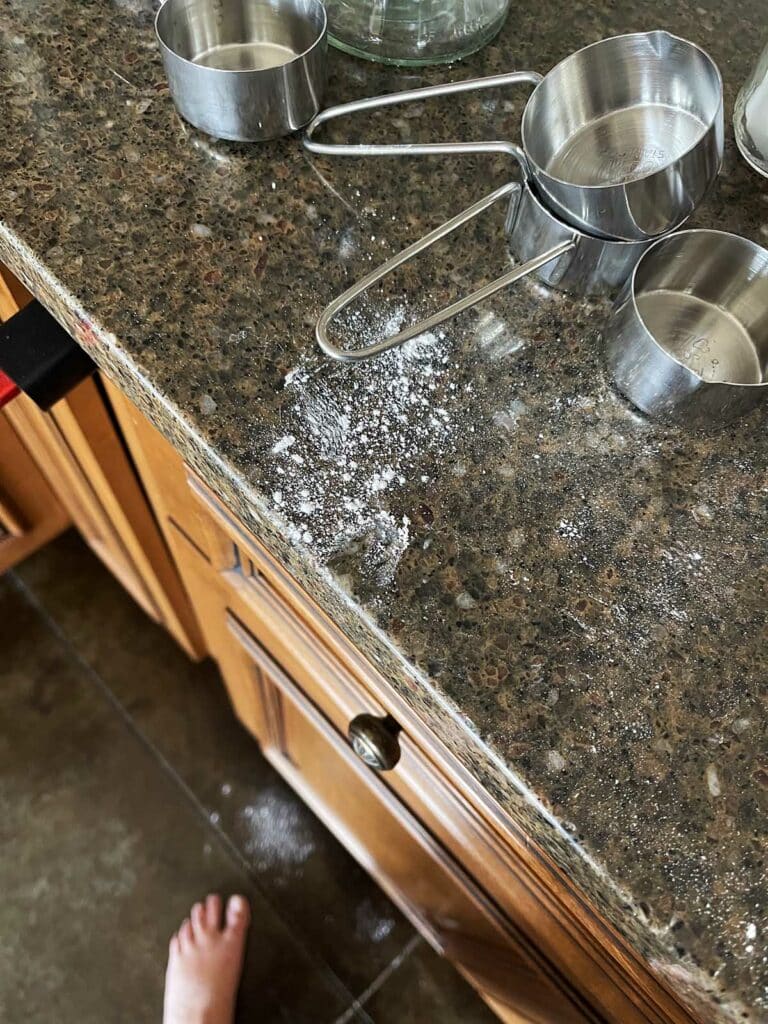 Print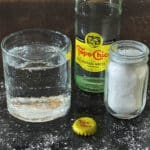 Toco Chico-Inspired Mineral Water
---
---
Instructions
Using a kitchen scale that can read a hundredth of a gram (0.01), measure out each of the ingredients by weight. The minerals will likely be all different sizes ranging from fine powders to large granules. Powder everything in an electric spice grinder or manually with a mortar & pestle. You want the minerals to be as fine as possible for easier dissolution when you add it to water.
The powdered minerals will keep indefinitely in an airtight container.
To make a bottle of Topo Chico-like mineral water, add 1 slightly rounded 1/8 tsp per liter bottle.
Fill your bottle with cold water to the max fill mark. Give it a gentle swirl to ensure the minerals dissolve evenly.
Attach the bottle to your carbonation device (Drinkmate, SodaStream, etc.) and carbonate according to the manufacturer's instructions.
Fizz, sip and enjoy! 

♥