It's *that* time of year when my garden is going gangbusters producing zucchini and summer squash and we spend two months eating it like it's going out of style. 
In order to keep things interesting and avoid "squash burnout" (it's a thing), I've accumulated a number of recipes over the years incorporating squash in unexpected ways so we don't get sick of it.
Conventional gardening wisdom recommends that you pick your summer squash when it's roughly the size of what you find at the grocery store, but thanks to a combination of laziness and distractedness, I often end up with enormous, over a foot long, 4-5″ diameter monsters.
One of our favorite ways to use these oversized garden squash is "zucchini personal pizza."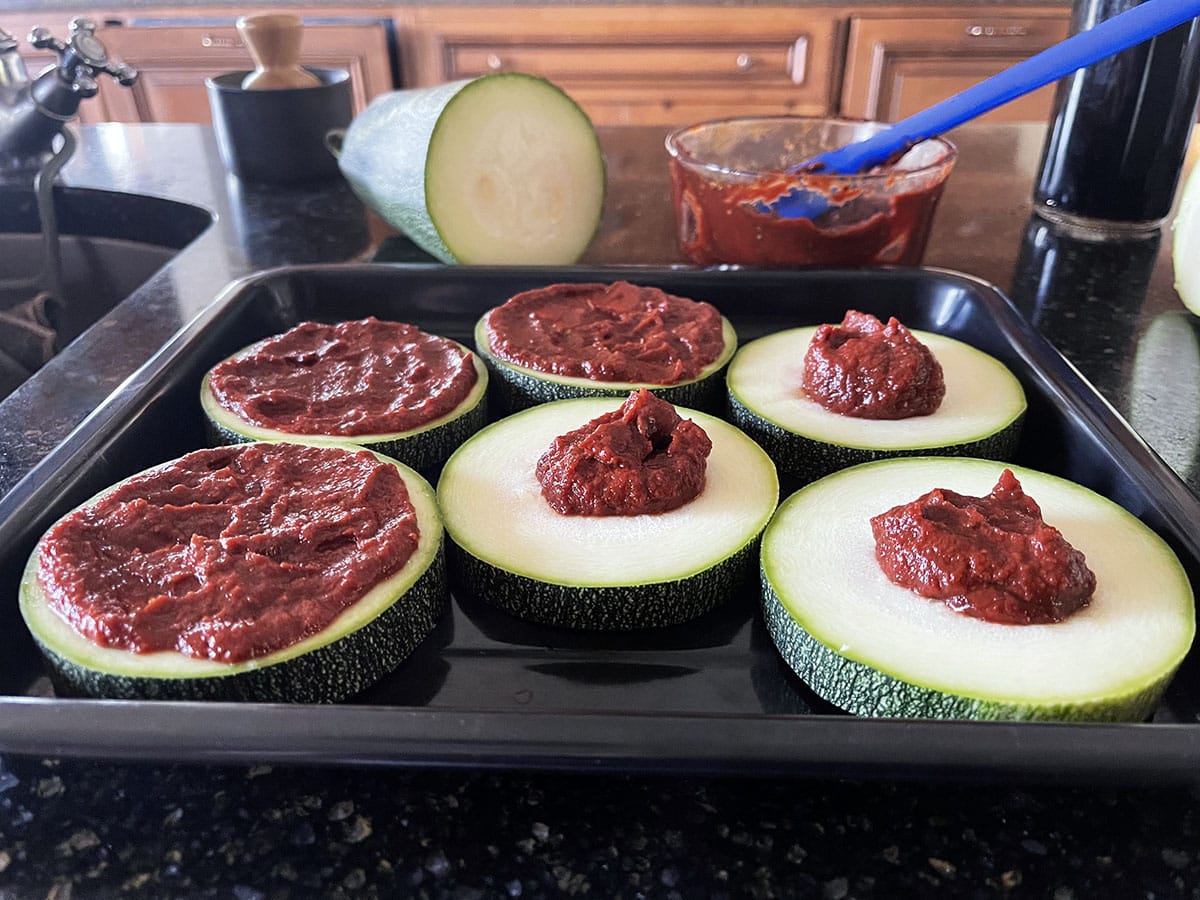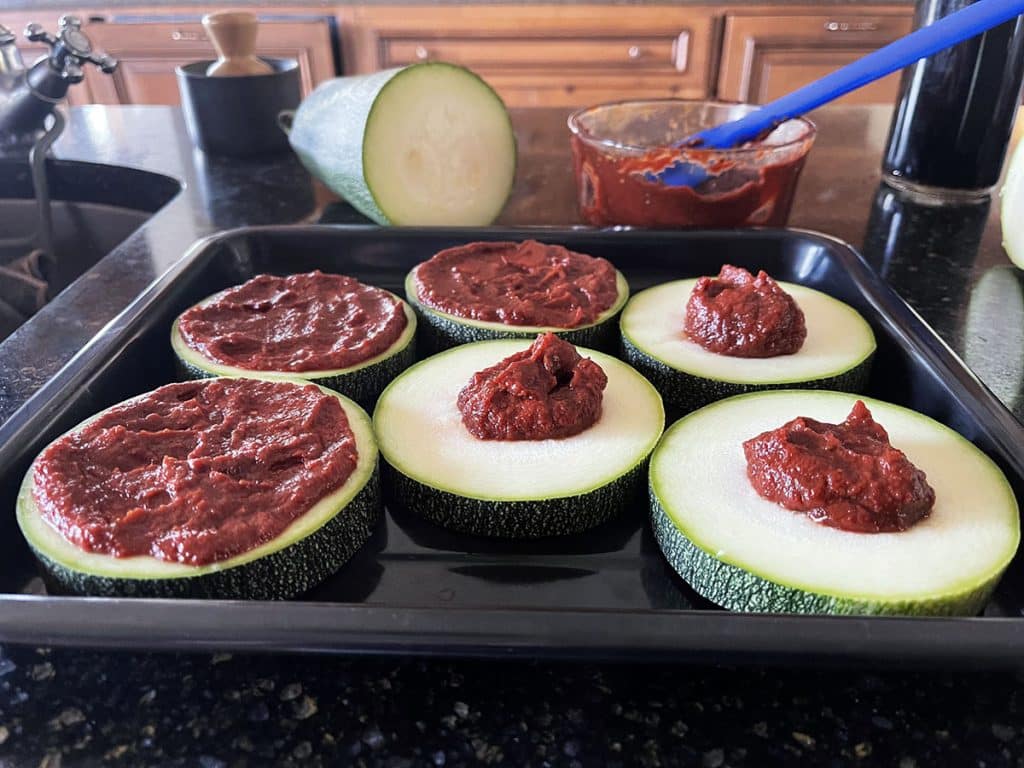 Simply slice your zucchini/squash into ~1/2″-thick rounds and lay them on a greased baking dish. Top each round with pizza sauce. We like a lot of rich tomato flavor, so instead of store-bought pizza sauce, my go-to is a 7-oz jar of tomato paste combined with a few splashes of balsamic vinegar and about a teaspoon of Italian seasoning (recipe below). 
The result is a thick, bold, mildly sweet tomato sauce that is out of this world. ♥
Bonus points for being less watery than typical pizza sauce, so it doesn't make a (dough) crust soggy.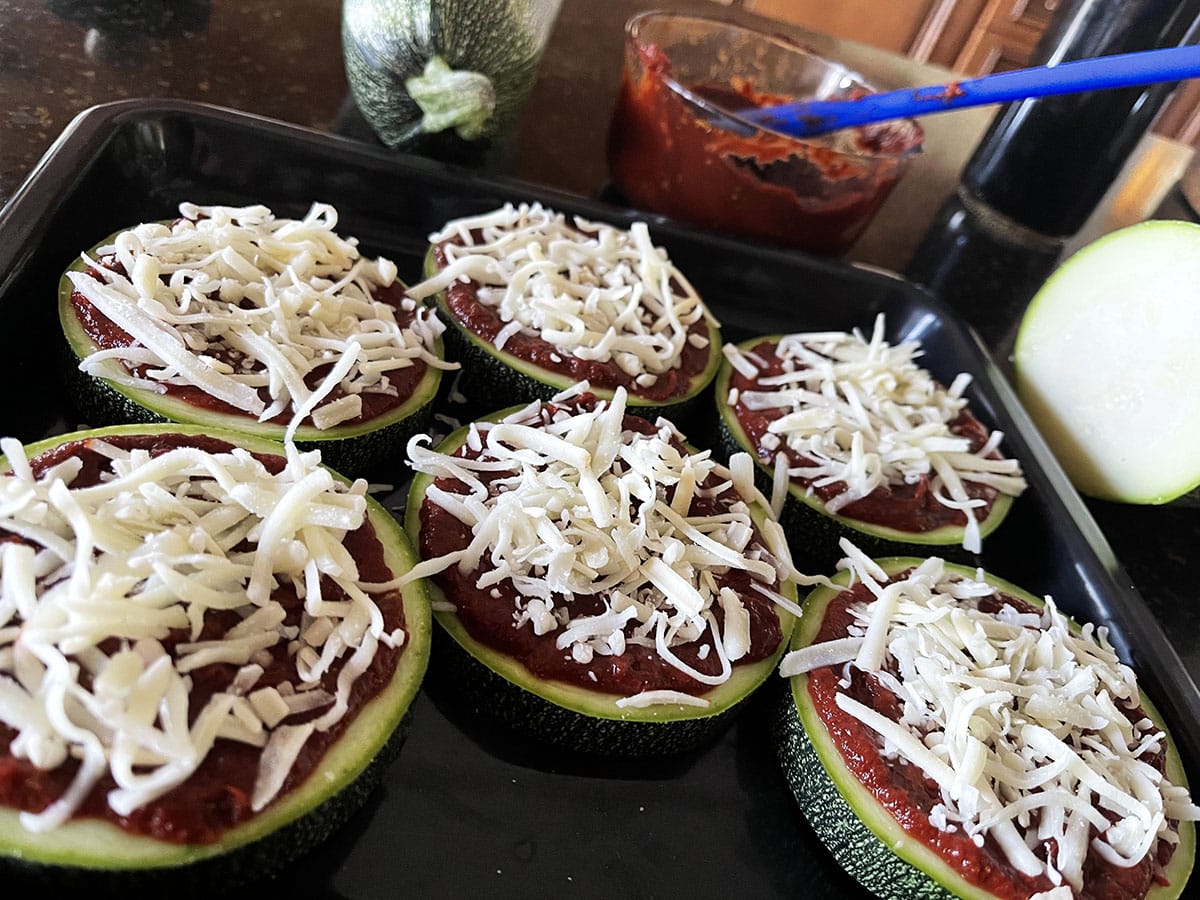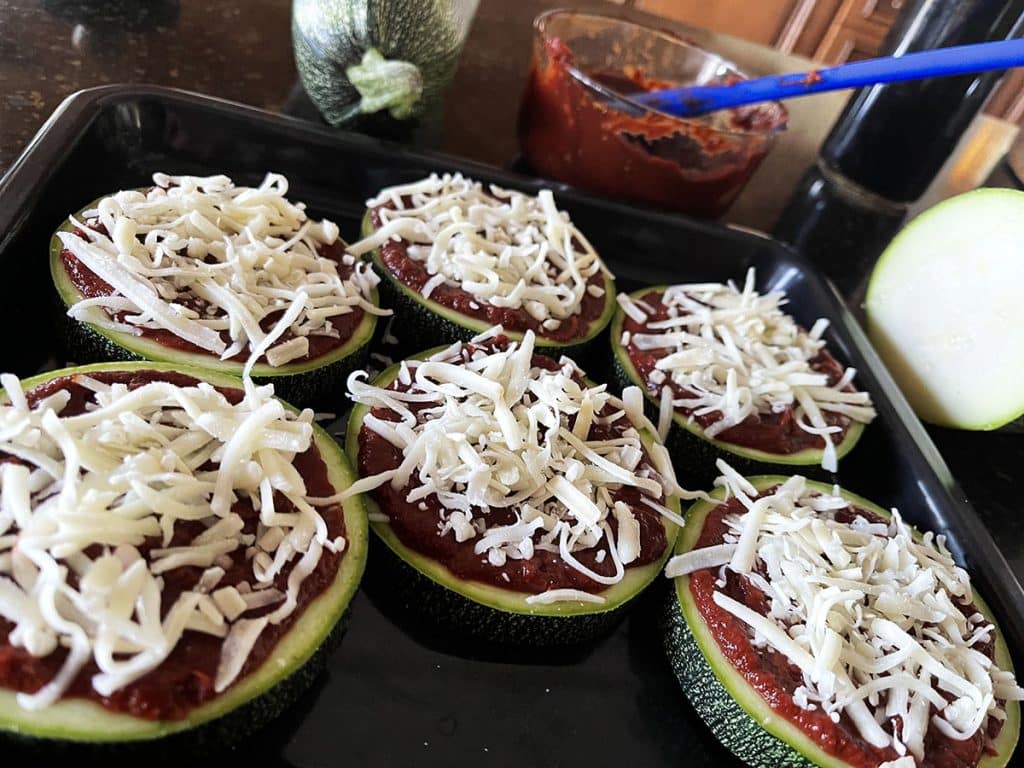 There's only so much cheese you can pile on these things without it falling off, so I like to add cheese in a couple of layers. I used an Italian cheese blend that included mozzarella, parmesan and asiago.
Because cheese is the bees knees.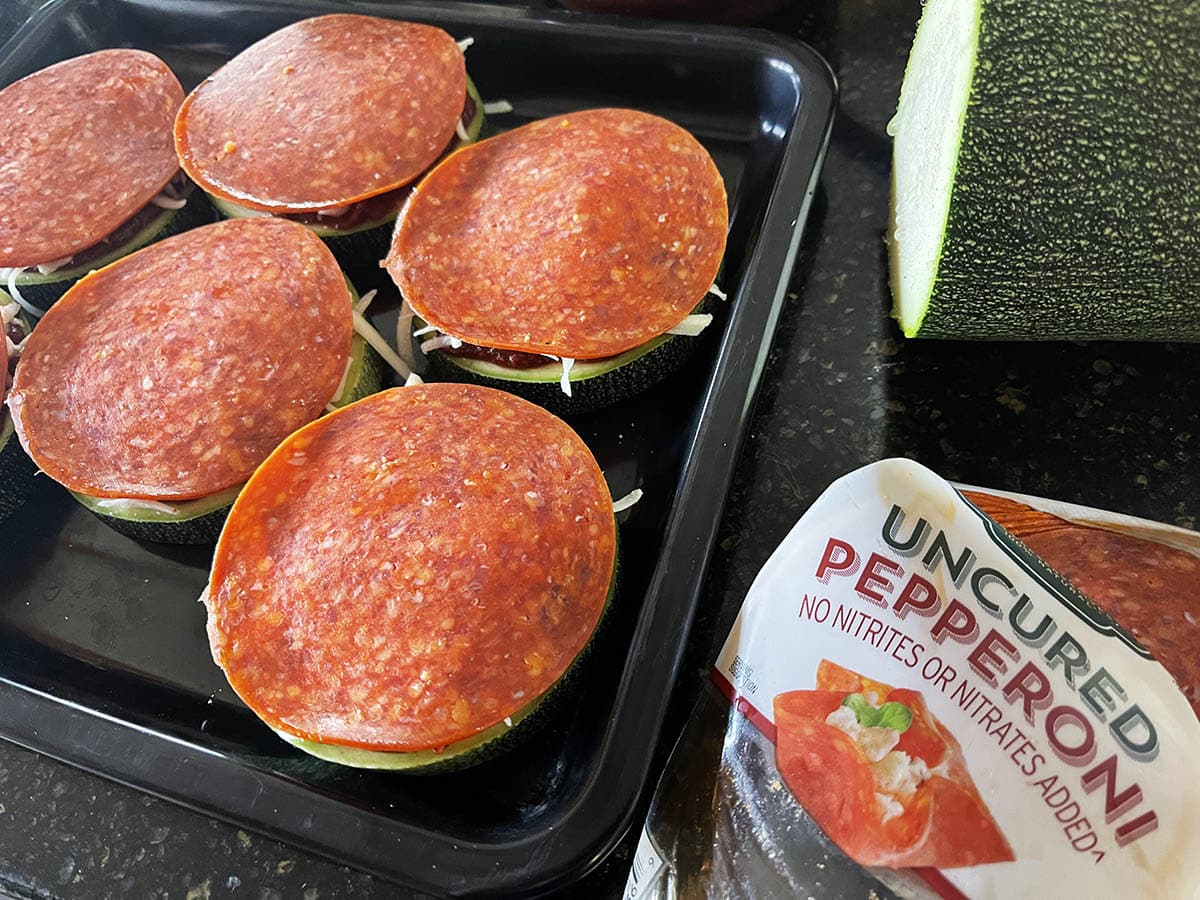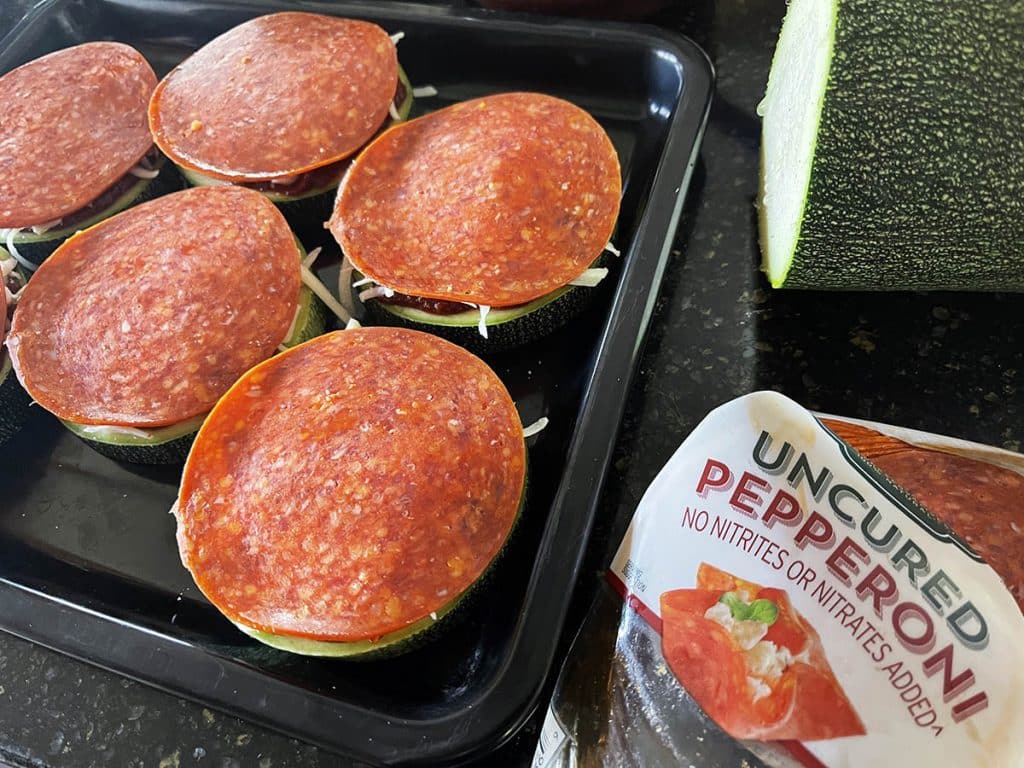 At this point, you can start customizing with your favorite pizza toppings. I like to use jumbo uncured pepperoni. The large rounds are the perfect size to cover a 4″ zucchini slice. I also added some ground sausage to this batch. Mix it up — Canadian bacon (also known as "ham"), actual bacon, ground beef, chicken, onions, fresh basil, spinach, artichokes… even pineapple (gasp!) all work well.
Go nuts! You're only limited by your stacking skills. Did you play with blocks when you were a kid? This is the kind of important stuff we were training for, lol.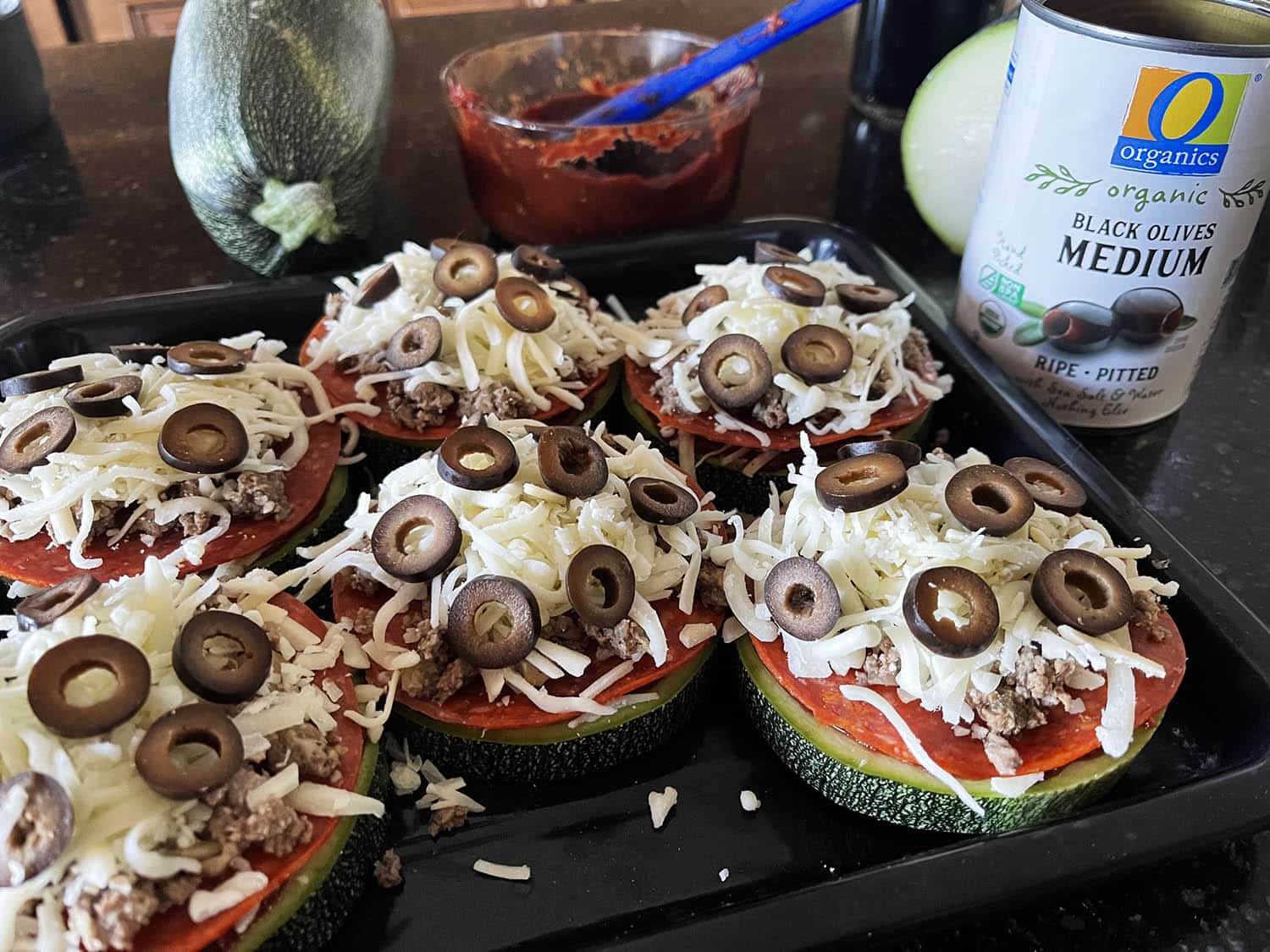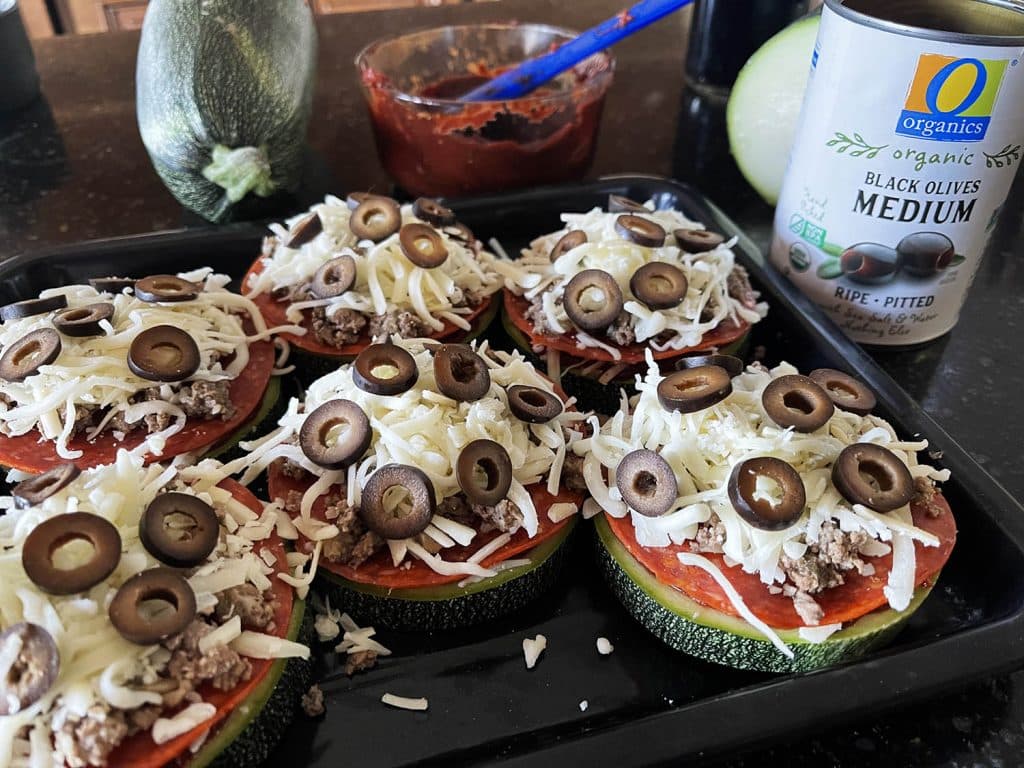 Add a second layer of shredded cheese and finish it off with any additional decorative toppings such as olives, mushrooms, shallots, anchovies, etc.
Pizza isn't pizza to me unless there are black olives. I used a couple of medium black olives per pizza.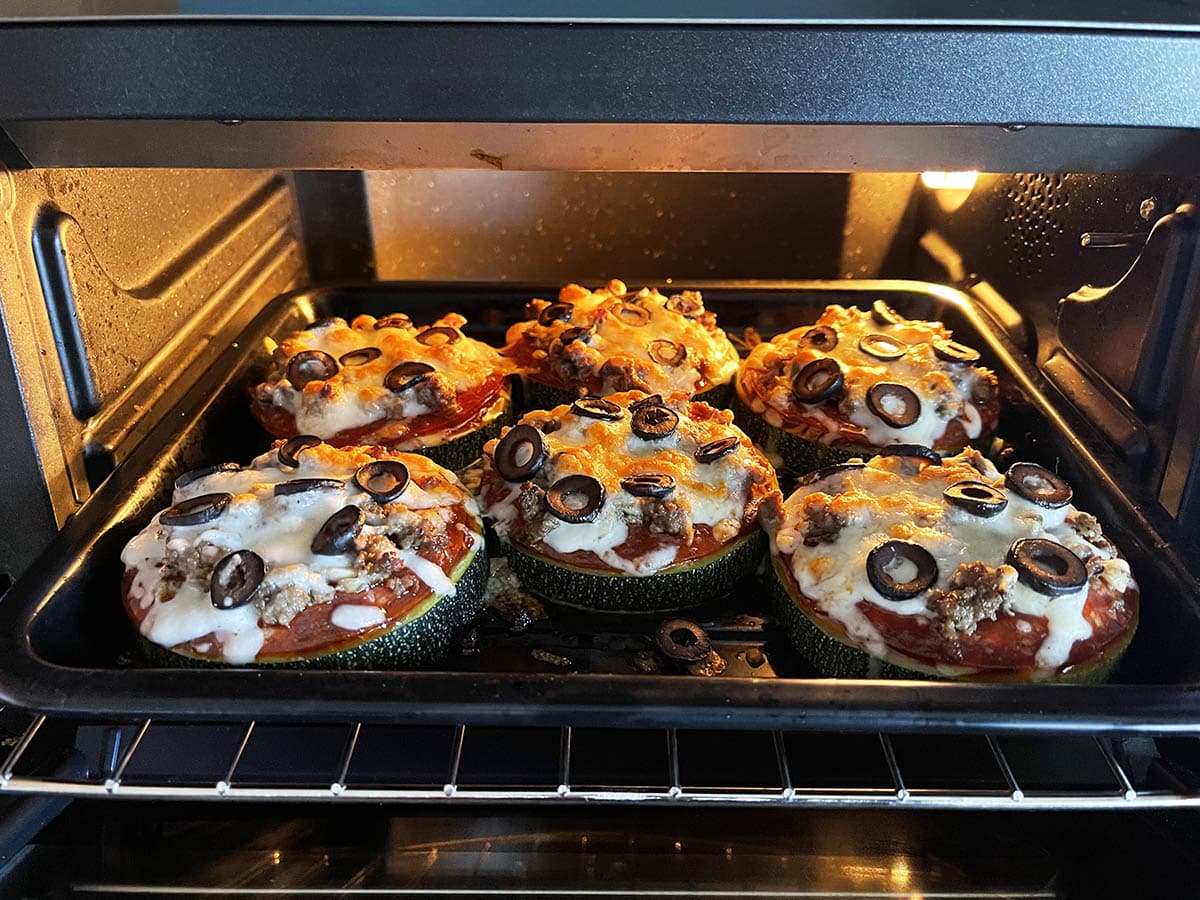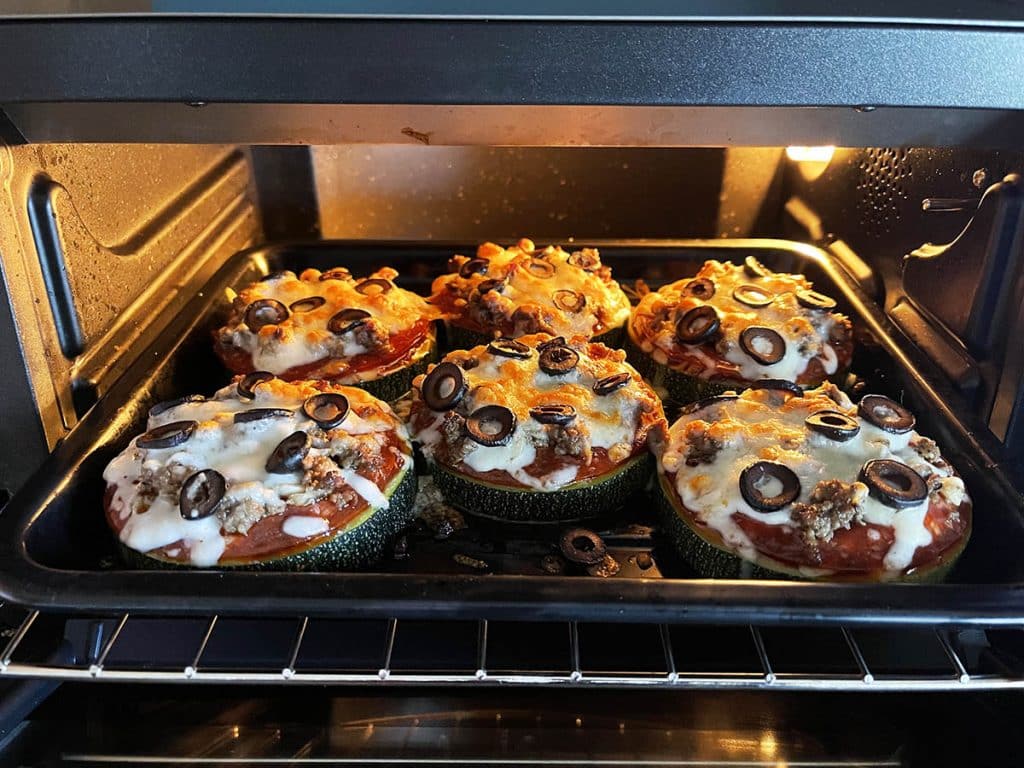 Into the oven we go! 
During the warmer months, we try not to use the big oven so much, so I did this in the toaster oven on the "Air Fry" mode, which is 450F on my machine. 15 minutes was about right. All ovens are a bit different, though, so it's a good idea to start checking on your pizza around the 12 minute mark. I've also made larger batches in a regular oven using the convection mode, but a regular (non-convection) oven would likely work well too.
(By the way, if you're in the market for a new toaster oven, I highly recommend the De'Longhi 9-in-1 Air Fry Oven. I've had mine for 2-1/2 years now, and it's the first toaster oven I've ever owned that actually feels like it's going to last awhile. It seems really well made and works great.)
I digress… back to pizza.
Do these reheat well? 
Sorta. 
For best results, I would recommend baking these just before you're ready to serve them. The reheated zucchini pizzas still taste great (because let's be honest, I'd happily eat my shoe if it had enough pizza toppings…) but as with all zucchini/squash, the more times you reheat, the softer it'll get, so your pizza base will start to become pretty mushy.
What if I don't have access to oversized garden squash?
Even if you don't have monster squash, you could always cut regular-sized zucchini lengthwise and make long skinny pizzas. Smaller rounds make unique and fun finger foods at BBQs and dinner parties. Low carb, gluten free and enthusiastically kid (and adult-kid) approved.
Speaking of adult kids, Mr. Redheaded Herbalist just requested more zucchini pizza tomorrow night.
Let me know in the comments if you make your own version of monster zucchini pizza! ♥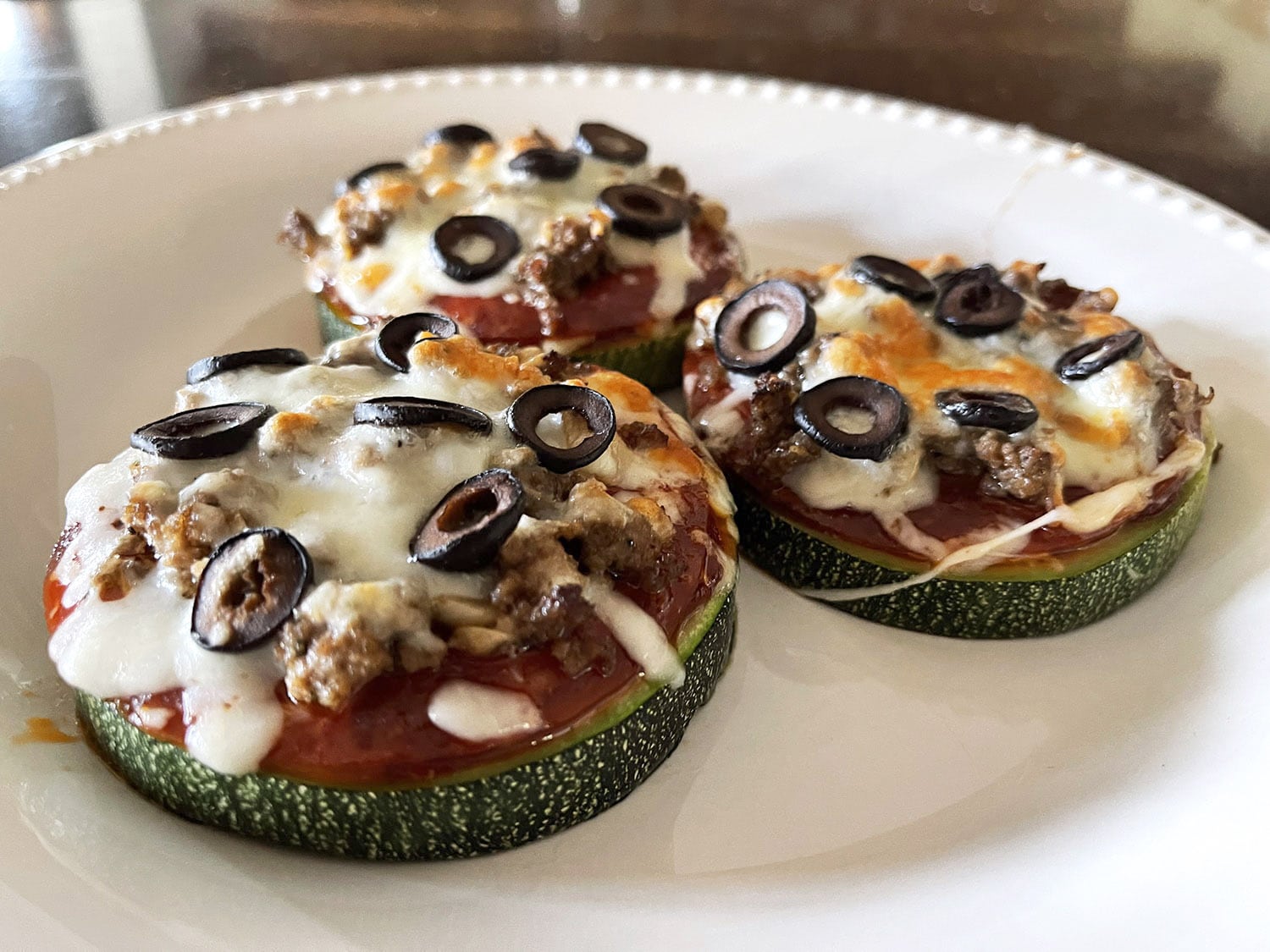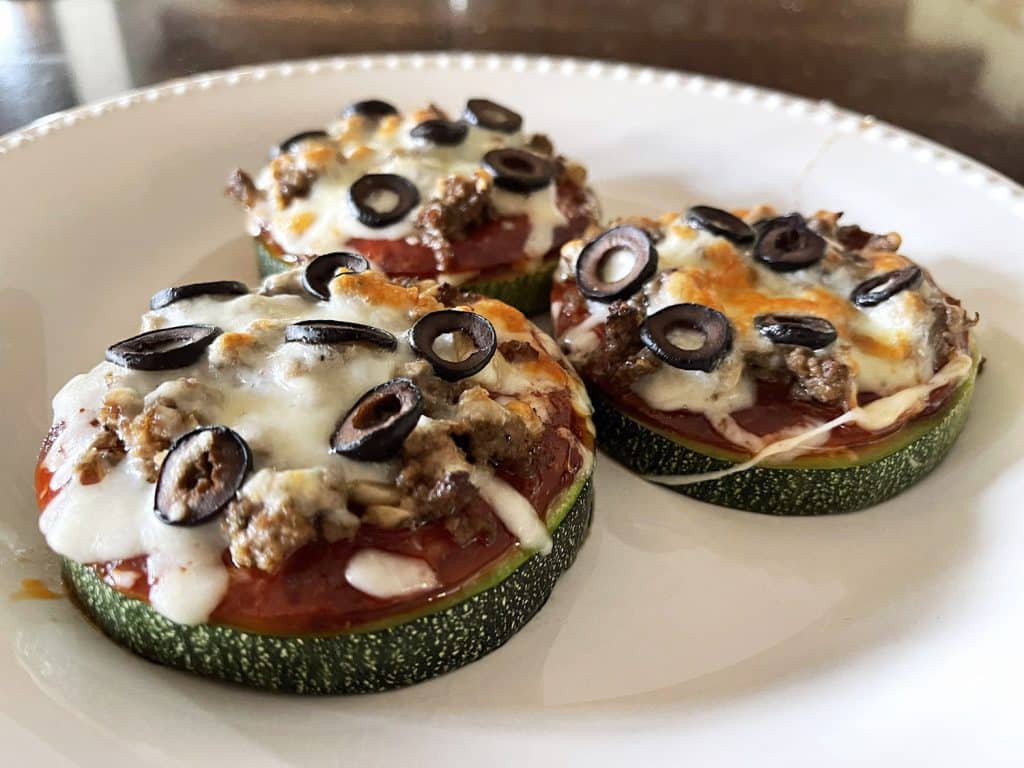 Print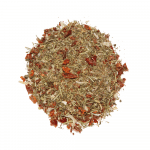 Italian Seasoning Mix
---
2 T high-quality salt

2 T dried oregano

1 T dried parsley

1 T onion powder

2 tsp garlic powder

2 tsp black pepper, ground

1 tsp dried basil

1/2 tsp dried thyme

1/2 tsp celery salt

1/2 tsp red pepper flakes
---
Instructions
Combine all ingredients into a half-pint sized mason jar.
Cover and shake until spice colors blend.
Store with an air-tight lid in a climate-controlled location.
Notes
Makes approximately 1/2 cup of seasoning mix.
Mix should keep at least six months when stored in an airtight container at room temperature.
Print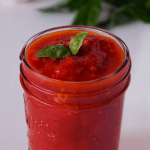 Simple Tomato-Lover's Pizza Sauce
---
---
Instructions
Combine tomato paste, vinegar and Italian seasoning in a small bowl.
Stir until fully incorporated and smooth.
Print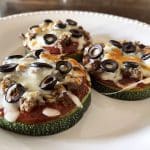 Zucchini/Squash Personal Pizzas
---
oversized zucchini or squash, preferably around 4″ in diameter, sliced into 1/2″ thick rounds

pizza sauce (recipe above)

mozzarella, parmesan or other Italian cheese blend, shredded

preferred pizza toppings (pepperoni, sausage, fresh basil, etc.)

red pepper flakes (optional)
---
Instructions
Slice zucchini or squash into 1/2″ thick rounds, and place flat on a greased baking dish.
Spread pizza sauce generously on each round and add a layer of shredded cheese.
Pile on pizza toppings of choice.
Finish with a final layer of shredded cheese and any decorative toppings you want visible after baking.
Bake in a convection oven, air fryer or toaster oven at 450F for 14-15 minutes, checking after the 12 minute mark.
Garnish with optional red pepper flakes or additional parmesan and serve immediately. ♥