Thanks to an unseasonably cold, wet spring, my nettle patch was starting to get very leggy, reaching skyward for every little bit of sunshine they could grab onto.
You know it's been a damp spring when your vegetable garden is starting to resemble Super Mario Brothers: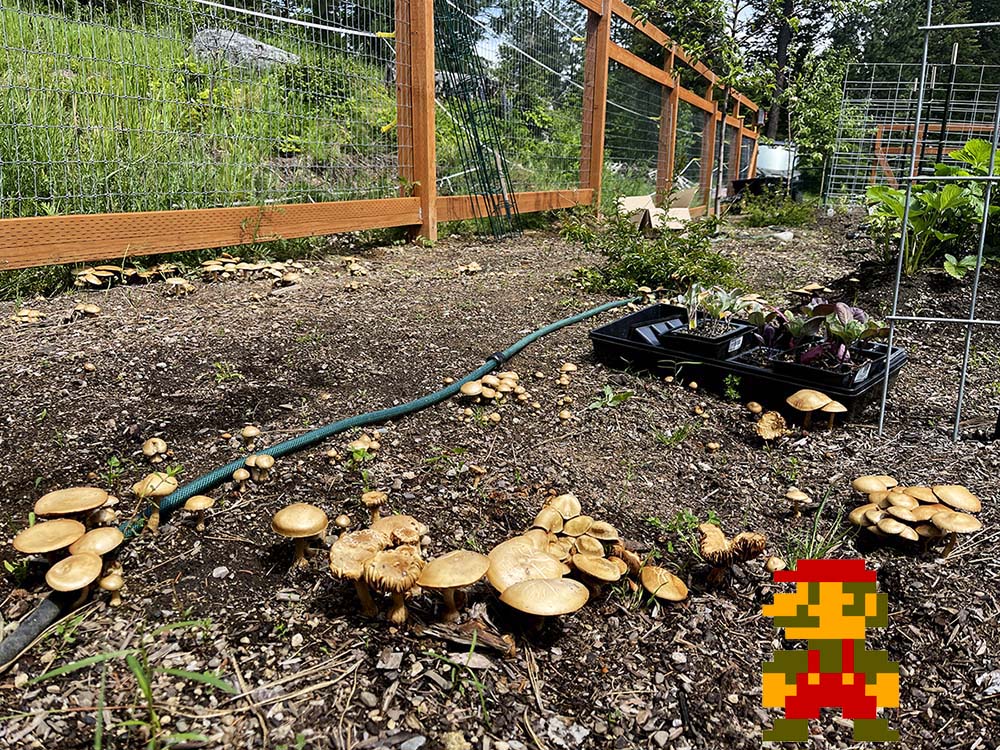 Cutting back plants is an effective way to encourage denser growth, so I took the opportunity to chop the tops off of my tallest nettles and collect the leaves for dinner.
According to Richo Cech in his book Making Plant Medicine, nettles are a nutritive spring tonic, rich in chlorophyll, calcium, magnesium, potassium, zinc, selenium, silicon and vitamins C, B, D and K. Consuming nettles may boost your resistance to seasonal allergies, environmental pollutants and mold.
They also happen to be delicious.
Mild and pleasant tasting, with a bit of a salty flavor that is suggestive of the minerals they contain, nettles can be used in any dish where you would normally use spinach.
It's usually recommended to harvest fresh nettles before they start to bolt and make seeds. Once nettles enter their reproductive phase, you'll see teeny white specks (cystoliths) appear on stems and old leaves. These white specks contain calcium carbonate crystals that can irritate the kidneys if consumed. Use your own discretion, but they're probably not a danger to most folks, especially if nettles are not a major part of your diet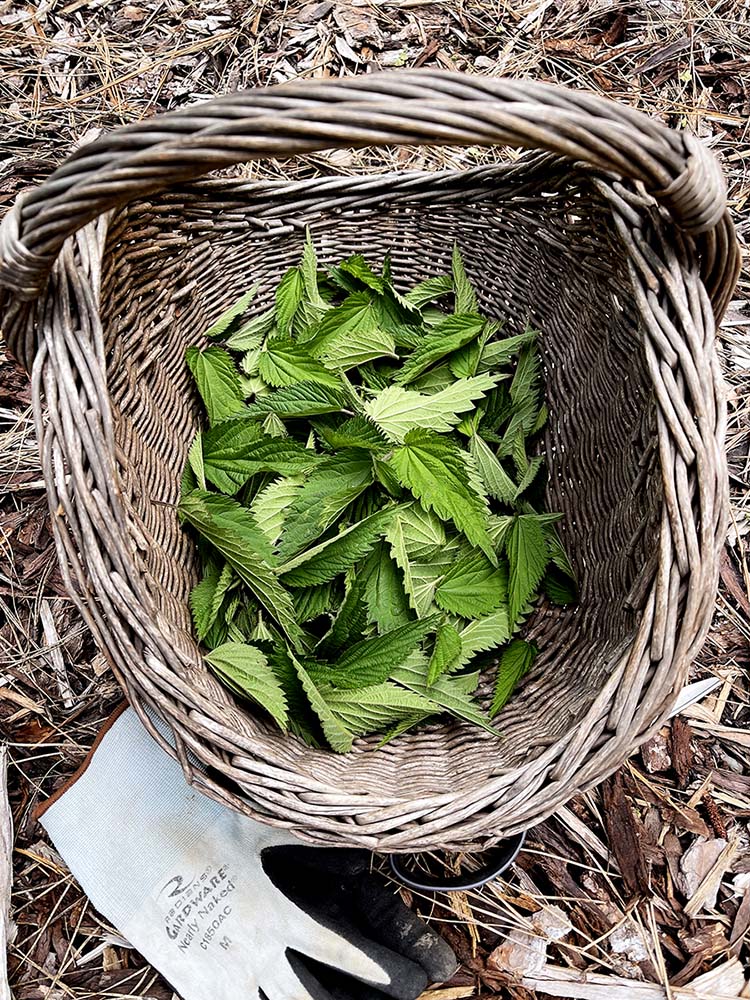 At the risk of sounding like Captain Obvious, you'll want to wear a good pair of gardening gloves when handling stinging nettles. They're called 'stinging' for a reason!
Both the stems and the leaves of stinging nettles are covered in tiny, hollow hypodermic needles called trichomes that, on contact, will inject formic acid, histamines and other chemicals into your skin and cause an irritating rash and blisters. 
A fun tidbit about nettles: If you do happen to brush against them and get a sting, you can use a baking soda paste, a plantain or dock poultice or (wait for it) more nettles to relieve the pain. That's right — nettle leaves contain an antidote for its own sting! That's why you can deactivate the sting of nettle leaves by massaging them or mashing them. The constituents in the leaves literally neutralize the stinging acid. 
Chlorogenic acid is a histamine inhibitor that is effective at reducing the symptoms of allergies, such as itching and swelling. Aesculetin and scopoletin are coumarins found in nettle leaves that have calming, anti-inflammatory properties. 
Ain't nature great?
Using gloves (so you don't incur additional stings), grab a handful of nettles and roll them around in your hand until they're thoroughly bruised up and release some of their plant juice. The bruising also deactivates the stingers so you can handle the plant freely. Place the juicy nettle poultice over your rash, and it will take the pain away in a jiffy!
This recipe incorporates the garlic infused olive oil we made last week, which gives the nettles a wonderful smooth, garlicky flavor. Time-saving kitchen helpers seriously rock.
Oh – and in case you were wondering, nettle's venom is also deactivated by heat, so you don't need to worry about stings in your mouth when eating your delicious, sautéed nettle.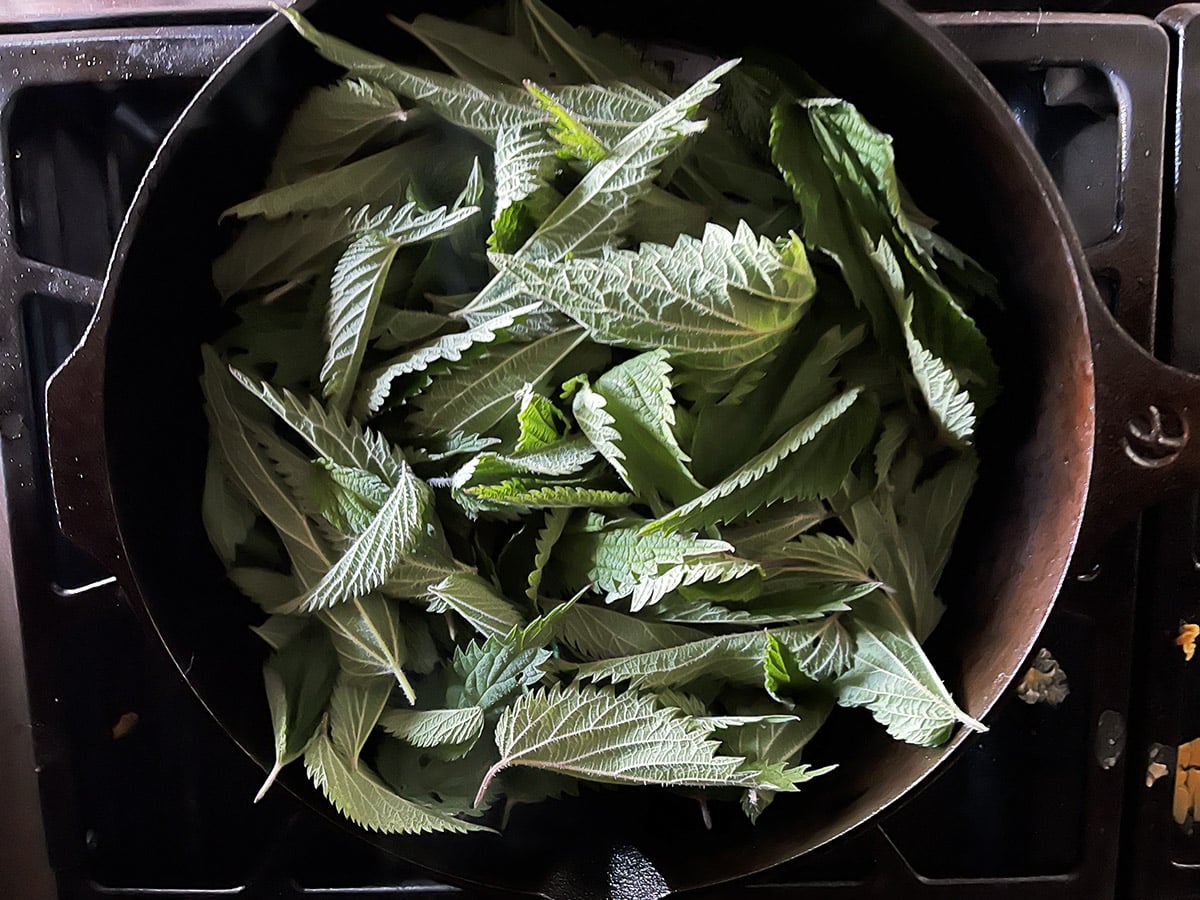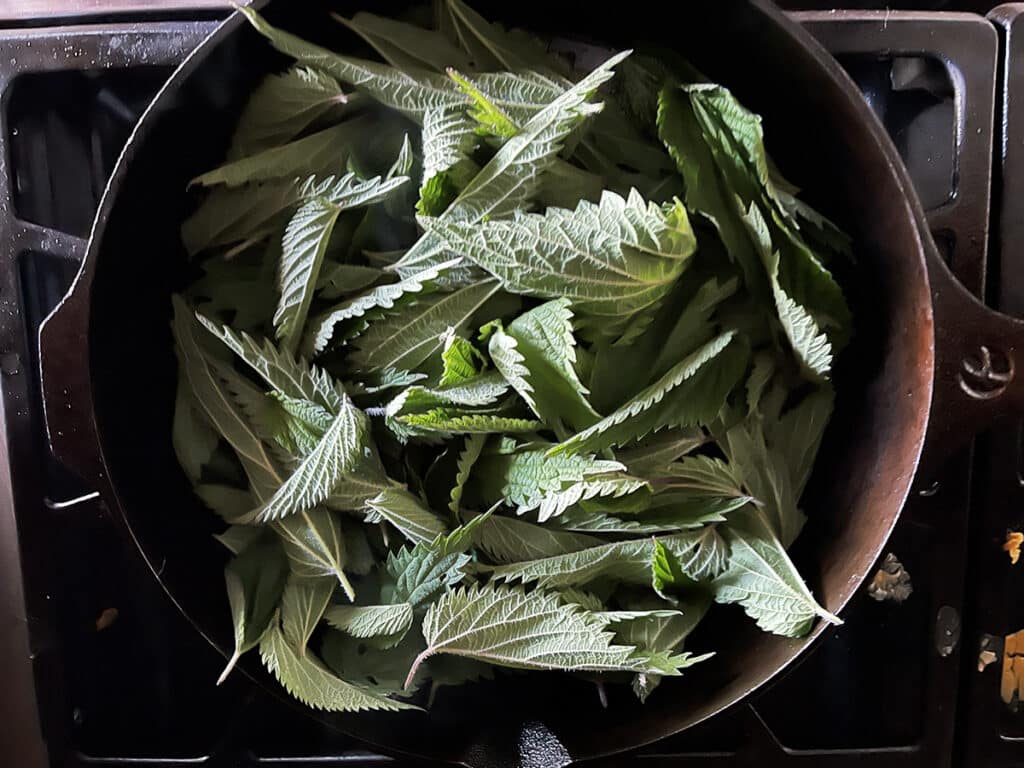 About 3 cups of fresh nettles made enough for 2 generous servings for myself and my husband. Scale up as needed. This recipe is also great tossed with a bit of prepared quinoa for added flavor and texture. ♥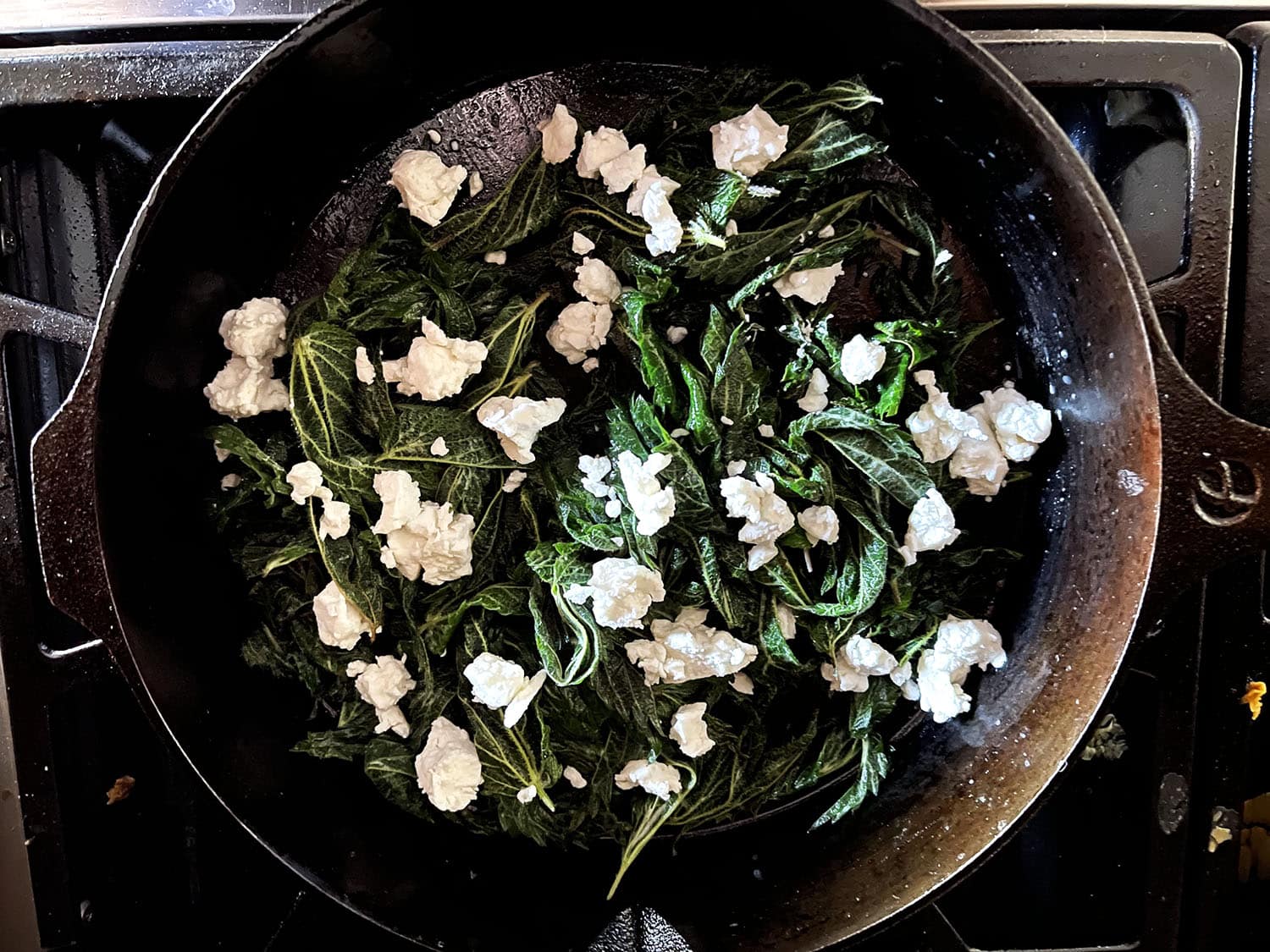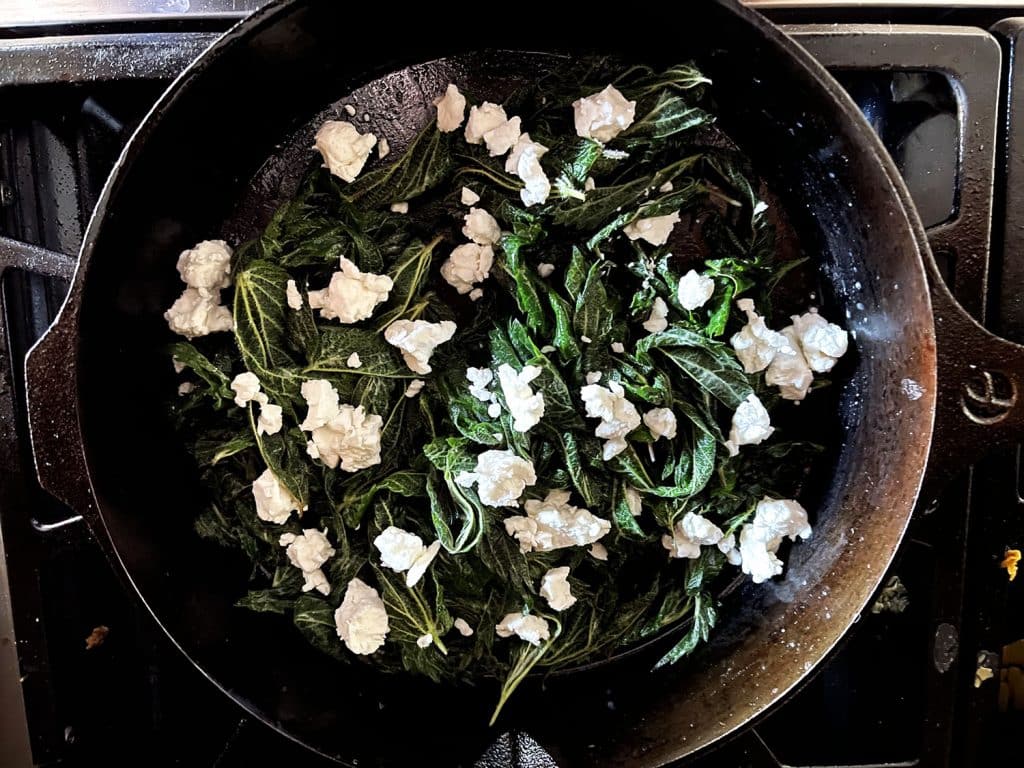 Print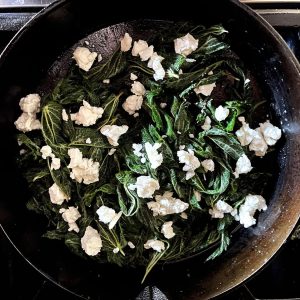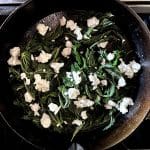 Garlicky Goat Cheese Nettles
---
3 c raw nettles, rinsed

1 or 2 cloves garlic, minced

1–2 T garlic-infused olive oil

~ 3 T goat cheese, crumbled

salt and pepper to taste
---
Instructions
Wearing clean gardening gloves, place nettles into a large colander and rinse well.
Transfer damp nettles and minced garlic to a medium-hot (dry) skillet and allow them to wilt for 2-3 minutes, stirring often.
Remove from heat and toss with garlic-infused olive oil and sprinkle with crumbled goat cheese.