Making your own probiotic-rich water kefir can be a rewarding and cost-effective hobby, but as a living culture, it can sometimes throw you a curveball. Room temperature, water quality and inadequate nutrition are just a few factors that can influence the health of your kefir grains and the quality of your water kefir. 
No two batches are the same!
From cloudiness and off-flavors to sluggish, uncooperative grains, you're almost certain to encounter some of these common challenges at some point along the way…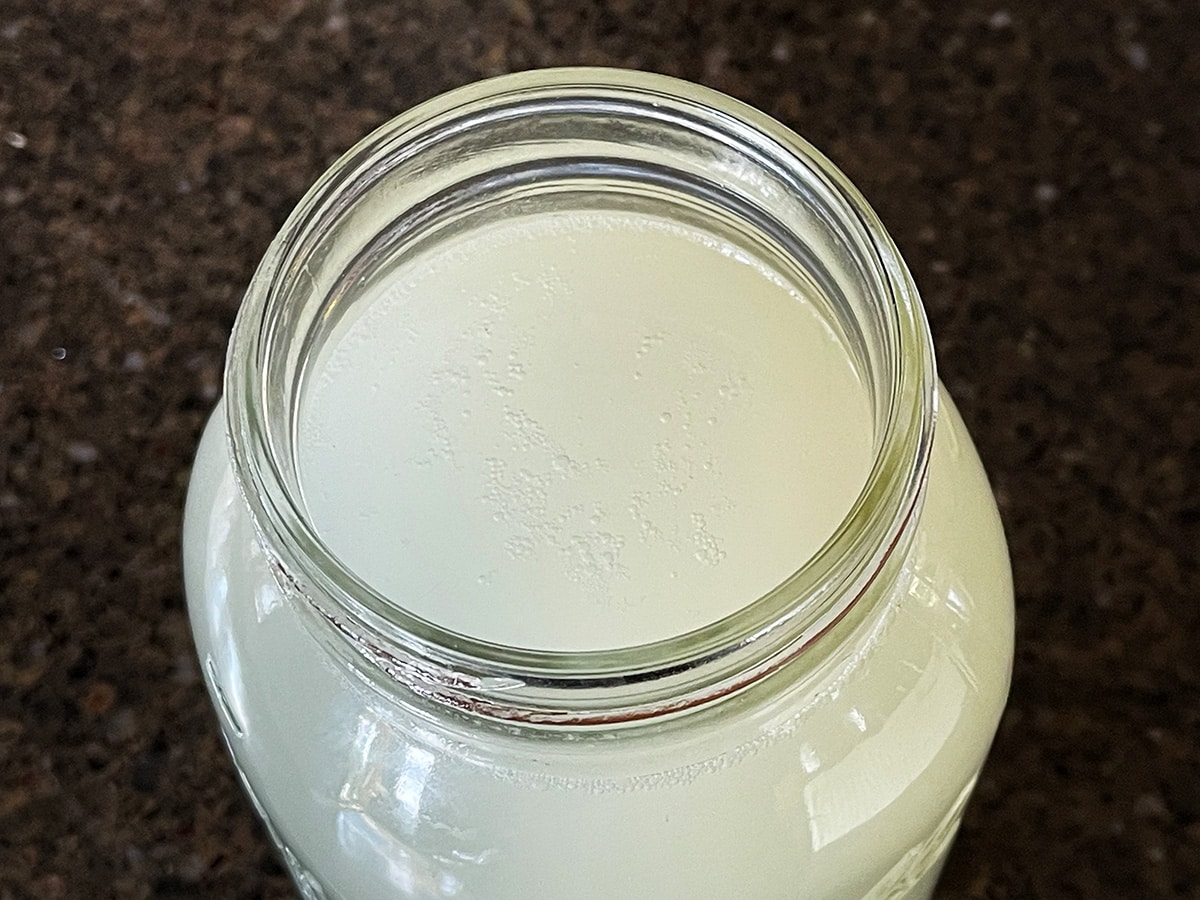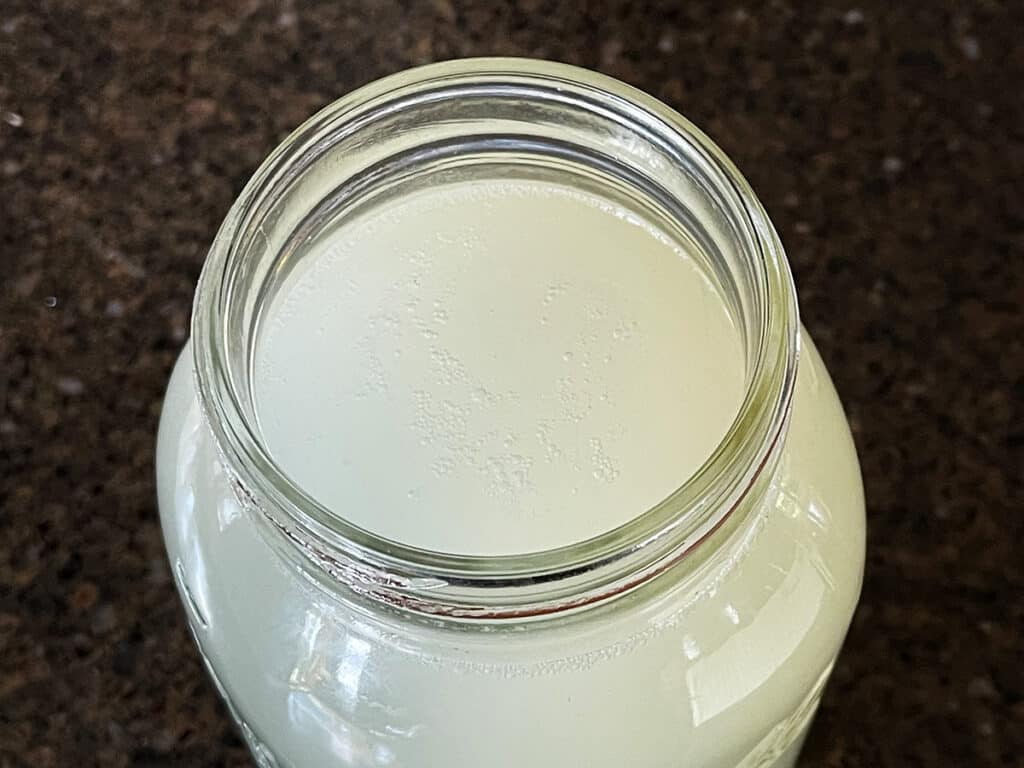 Troubleshooting sugar options
There are certain types of sugar that you should avoid using, as they can be detrimental to the health of the water kefir grains or negatively impact the fermentation process.
Artificial sweeteners: Avoid using artificial sweeteners like aspartame, sucralose (Splenda) or saccharin. These sweeteners do not provide the necessary nutrients for the water kefir grains and can harm their health (and yours). Just don't.
Sugars with additives: Avoid using sugars with additives, such as artificial colors, flavors or preservatives. These additives can negatively affect the fermentation process and the health of the water kefir grains.
Honey: While honey is a healthy and natural sweetener, it contains antimicrobial properties that can be harmful to the beneficial bacteria and yeast in the water kefir grains. Using honey can potentially damage or inhibit the fermentation process.
Maple syrup: While maple syrup is a natural sweetener and does contain sugars that can be utilized by kefir grains, it's not an ideal nutrient balance for optimal fermentation and it can be too mineral rich for water kefir grains To maintain the health and vitality of the water kefir grains, it is best to use only small amounts of maple syrup occasionally and in combination with plain sugar rather than as the sole sweetener.
Molasses with sulfites: Some types of molasses may contain sulfites, which can be harmful to the water kefir grains. Look for unsulfured molasses if you choose to use it to supplement the minerals in your water kefir.
Brown sugar: Darker brown sugars like rapadura and sucanat are less processed and contain much more molasses than white sugar. They can be high in minerals, which may lead to over-mineralization of the water kefir grains if used excessively. It is best to use these sugars in moderation or as occasional variations in the fermentation process.
Coconut and maple sugars: Coconut sugar is derived from the sap of coconut palm trees and maple sugar is derived from the sap of the maple. Both are considered more natural sweeteners, however, like other alternative sweeteners, they can be too mineral rich for water kefir grains. To maintain the health and vitality of the water kefir grains, it is best to use coconut and maple sugars occasionally and in combination with plain sugar rather than as the sole sweetener.
Agave Nectar: Agave nectar is low in nutrients and high in fructose, which can negatively affect the health of the water kefir grains and lead to weak fermentation. (Side note: This may not be a popular opinion, but I consider agave nectar, which contains 70-90% fructose, to be little more than a greenwashed high-fructose corn syrup. I don't recommend it.)
Stevia, monk fruit (luo han guo), allulose & sugar alcohols: Sugar alcohols such as erythritol and other types of non-nutritive sweeteners are not appropriate for water kefir fermentation, which relies on glucose and fructose to sustain kefir grains' growth and activity. Using these sugar alternatives alone will not provide the necessary nutrients for the grains. If you wish to experiment with non-nutritive sweeteners, you can try adding them in combination with small amounts of fruit or fruit juice during the second fermentation stage.


Which sugar is best?
Plain ol' refined white sugar is the most commonly used sugar for water kefir fermentation. While it lacks minerals and other nutrients, refined sugar remains a popular choice for water kefir fermentation because it's inexpensive and provides the essentials (glucose + fructose) that water kefir grains need for a successful ferment.
Over time, however, using only refined sugar can lead to a deficiency of certain essential minerals in the water kefir grains, and you may find yourself needing to supplement with a mineral source every so often to keep your grains happy. Not a huge deal, just something to be aware of. A smidge of unsulfured molasses, a couple drops of trace minerals or a pinch of mineral-rich sea salt should do the trick.
Alternatively, less processed sugars such as turbinado, demerara or raw sugar* contain small amounts of minerals due to the retained molasses. The mineral content in these sugars is relatively low compared to the darker natural sweeteners like rapadura and sucanat, so there's less risk of over-mineralization issues. These sugars tend to work well for making water kefir, though you'll likely end up with darker colored grains, thanks to the molasses content, if that matters to you.
Organic cane sugar, minimally processed and free from chemical additives is my top choice for low-maintenance, healthy water kefir. It seems to be a happy medium between nutrient-void refined white sugar and the darker sugar options. It provides the essential nutrients as well as small amounts of minerals needed by the water kefir grains for optimal fermentation, without being overly mineral rich.
No matter which sugar you choose, look for organic and/or non-GMO, particularly if your sugar is made from beets. In the United States, a significant portion of sugar production comes from genetically modified sugar beets, engineered to resist certain herbicides. Sugarcane is usually still conventionally grown and GMO sugarcane is not (yet) commonplace.
* Technically, demerara should have the lowest molasses content of the three, but the labels "demerara," "turbinado" and "raw sugar" are often used interchangeably in the real world, so it's sometimes difficult to know exactly what you're getting. (Any one of them should work, though!)
Doing a kefir grain reset
Sometimes, despite your best efforts, it's just not clear what the heck is going on with your wonky water kefir.
In cases like these, I like to do a kefir grain reset.
A reset involves allowing your water kefir grains to go dormant for awhile to rest and recoup. It can help to curb overly yeasty grains, regulate future yeast populations and restore microbial balance. 
Here's how it's done:
Remove your water kefir grains from their current liquid and rinse them in cool, non-chlorinated water. Rinsing will help to remove any residual sugars, yeast or other contaminants that might have accumulated.
After rinsing, place the water kefir grains in a CLEAN jar filled with plain water. No sugar should be added at this stage, since you want the grains to rest and recover — not ferment.
Place the jar of grains and water in the fridge to go dormant for one week, changing out the water every few days. Dormancy will allow the grains to recuperate and regain strength.
After the week of dormancy, take the grains out of the fridge and prepare a fresh jar of sugar water to resume the fermentation process as usual. 
After a reset or any period of dormancy, it's perfectly normal for water kefir grains to take some time to regain their activity. So the first batch after reactivation might not be of the best quality and it's a common practice to discard this batch. It may take a few batches for the kefir grains to regain their previous vitality.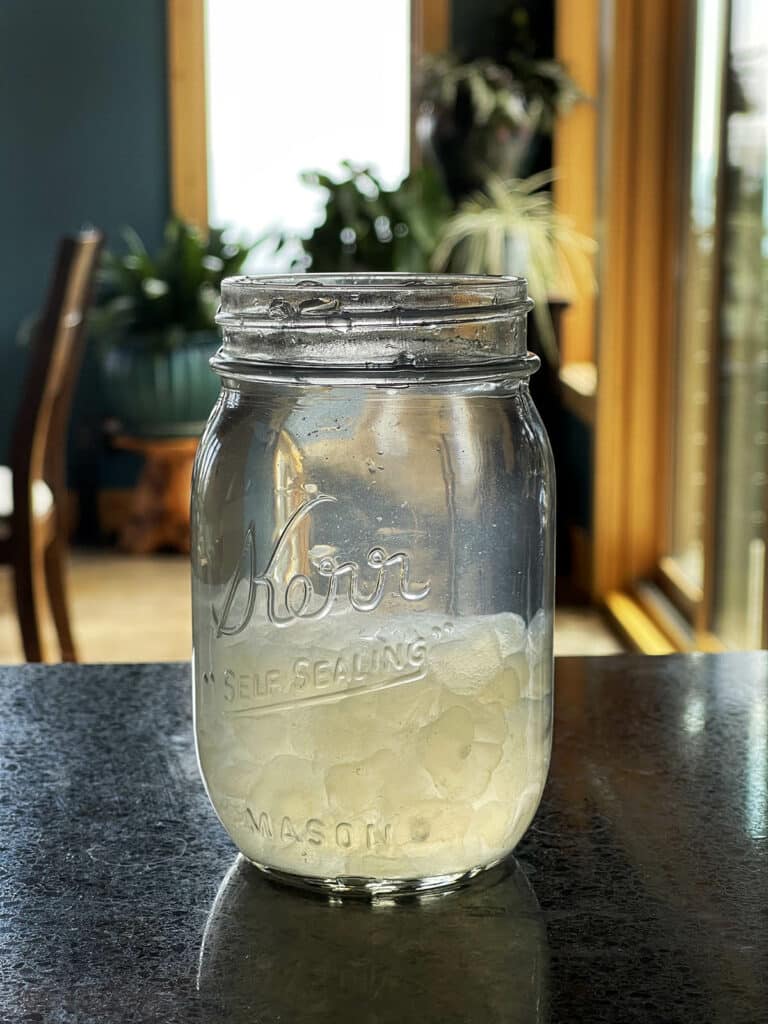 If all else fails…
If you've tried everything, including the reset, and your water kefir grains are still misbehaving, they may be damaged or contaminated beyond recovery. In this case, you might need to replace them with a fresh batch of kefir grains to restore the health of the culture.
Pro tip: If you've been keeping your excess grains refrigerated in a water kefir "hotel," this is a great time to break them out of cryosleep! ♥