I've been kind of obsessed with sweet woodruff ever since I discovered that the gorgeous, emerald green groundcover loved the dappled shade of my perennial/herb garden. The hardy herb spreads like wildfire to cover all of the bare spots in beds where I'd normally be battling weeds.
Less weeding makes this lazy gardener very happy.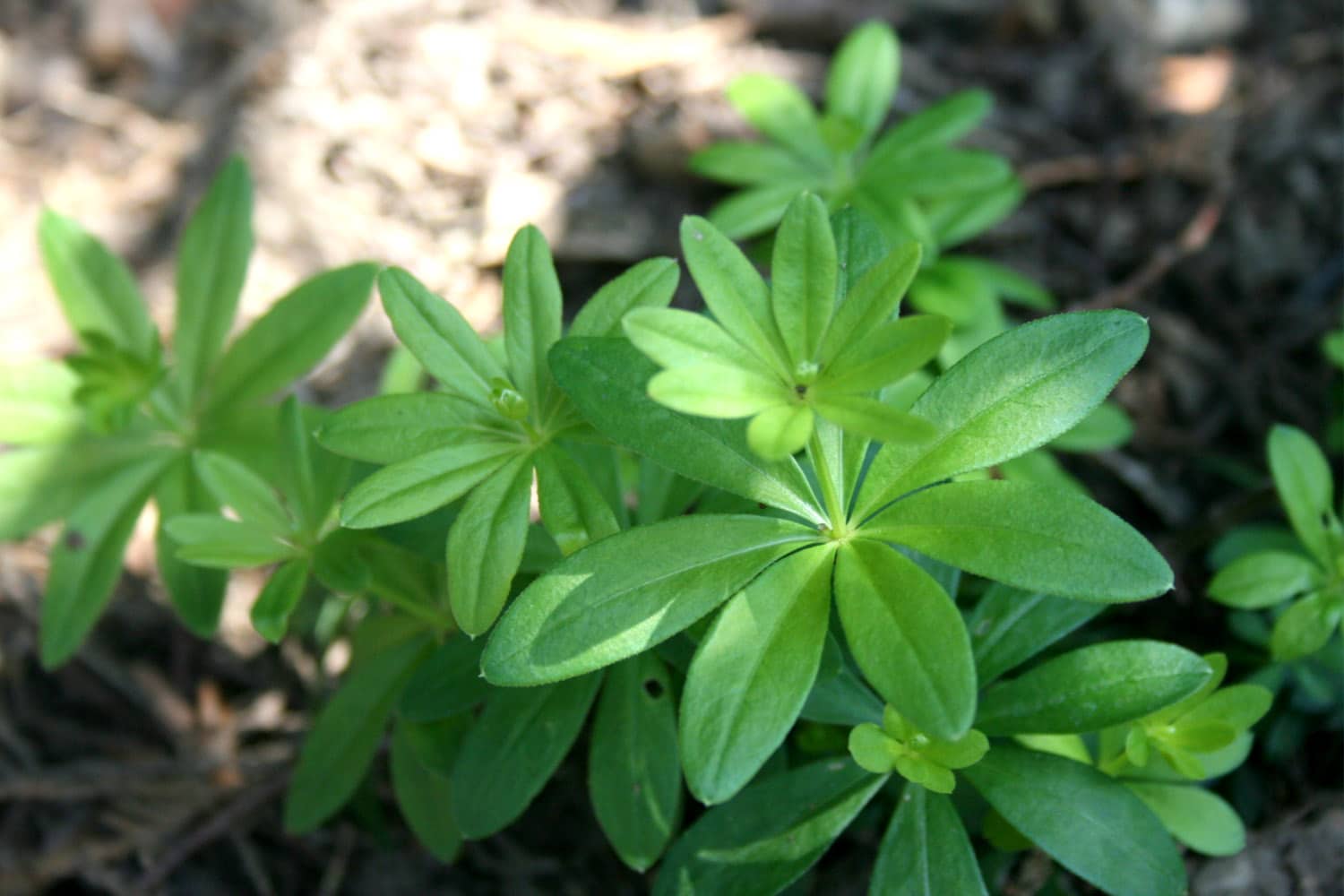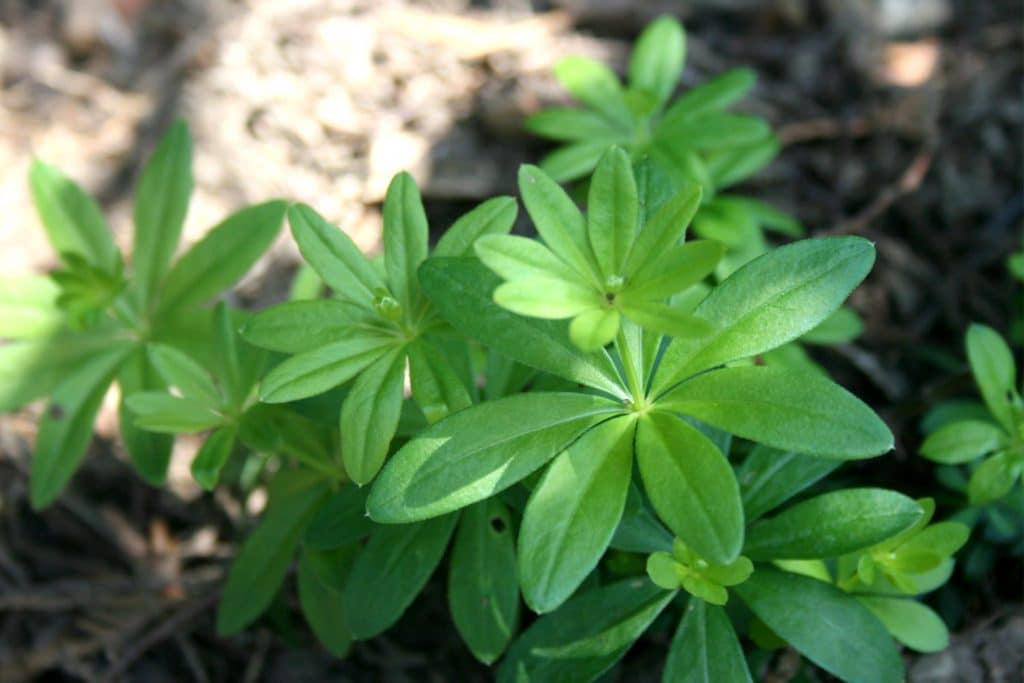 Then I learned that my prettiest weed strategy was also useful in the kitchen. Sweet woodruff's scent is reminiscent of vanilla and honey with a touch of fresh hay, which intensifies as it dries. Turns out, it has a long history as an aromatic, mildly bitter flavoring agent for beverages and desserts. 
Very happy now.
Sweet woodruff (Galium odoratum) is a herbaceous perennial member of the Rubiaceae family. It's native to Europe, particularly widespread in woodlands and shady areas. Sweet woodruff features small, lance-shaped leaves arranged in whorls around the stems. The leaves are bright green and have a slightly rough texture. The plant typically grows to 6″ to 12″ in height.
Maiwein
Sweet woodruff has been used for centuries to make a traditional German-origin spring tonic called Maywine (Maiwein) that is enjoyed around the May Day holiday. It's basically an herb-infused young white wine such as Riesling or Müller-Thurgau, served punch style with fruit and sometimes champagne. 
The sweet woodruff stems and leaves are typically gathered and bundled, forming what is known as a "Maiweinstrauß" or Maywine bouquet. The bouquet is then soaked in the white wine, allowing the sweet woodruff to infuse its aroma and flavor into the wine. Sweeteners like sugar or honey may be added to balance the flavors.
A simple and lovely tradition to celebrate spring!
Berliner weisse (mit schuss)
The Germans also use sweet woodruff as a syrup/cordial to balance the sour acidity of Berliner weisse beer. 
Berliner Weisse has deep roots in Berlin's beer culture and has been enjoyed in the region for centuries. It's common to serve the beer with a shot of fruity syrup, such as raspberry or sweet woodruff, to balance the tartness and add a touch of sweetness. This practice is known as "mit Schuss" (with shot).
I haven't tried it with beer yet, but I have made a sweet woodruff syrup before, and it makes a pretty convincing "cream soda" when paired with carbonated water and a pinch of citric acid. Yum!
Fortunately, since sweet woodruff is pretty prolific for the majority of the growing season, you don't have to wait for May Day to enjoy it. Fresh leaves make a pretty and tasty addition to a salad and there seems to be no end to the ways you can incorporate it into sweets. I found a number of traditional sweet woodruff recipes at The Oma Way, including one for an authentic German May wine, complete with fancy-shmancy sweet woodruff-themed ice cubes. Fun!
Beyond the kitchen
Outside the kitchen, sweet woodruff's distinctive leaf whorl adds interest to flower arrangements and is really striking when incorporated into pressed flower art.
Need a natural alternative to moth balls? Sweet woodruff also makes an effective insect and moth repellant.
Sweet woodruff contains a compound called coumarin, which gives the plant its characteristic honey-vanilla fragrance and makes a lovely addition to potpourri blends and sleep sachets. Coumarin is a commonly used ingredient in the fragrance industry, adding fixative properties and a warm, sweet, comforting note to perfumes. Historically, the fragrant herb was once used to stuff mattresses and pillows (hence its common name name "bedstraw.")
Coumarin is also a well-known anticoagulant, meaning it slows down the blood's ability to clot. Synthetic derivatives of coumarin, such as warfarin, are prescribed for their anticoagulant effects. While traditional uses of sweet woodruff in herbal medicine have included treating digestive issues, liver and gallbladder disorders and as a mild sedative, modern medicinal use is limited due to concerns of potential liver toxicity associated with prolonged or high-dose use.
It is, however, still safely enjoyed in culinary applications for flavoring beverages and desserts.
Sweet woodruff tapioca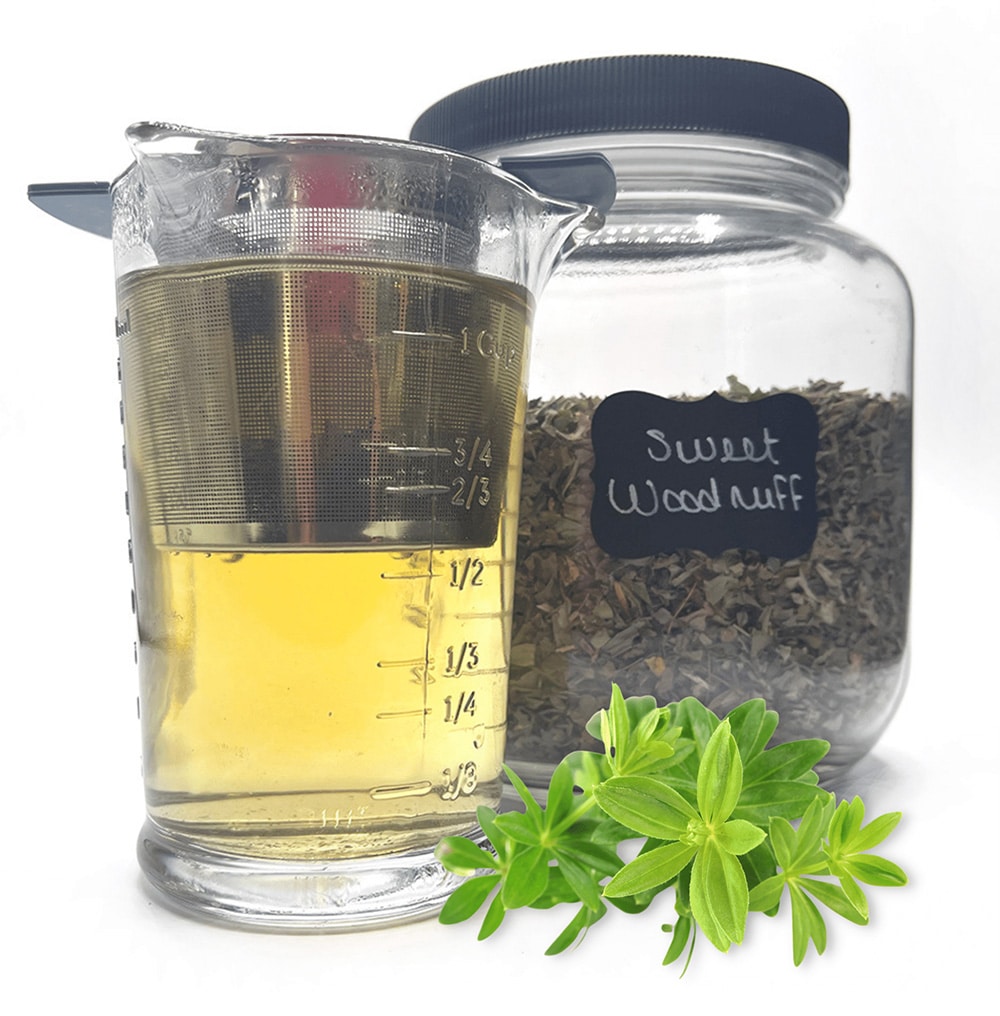 I've been working on perfecting my favorite Instant Pot tapioca recently, and decided that sweet woodruff would be a fun theme for a light, warm-weather dessert. This recipe is simple, fast to make and uses maple syrup instead of refined sweeteners. 
Really, as far as sweet desserts go, this one's not too shabby. Tapioca is made from cassava root, which is a source of natural resistant starch — a prebiotic that is supportive to gut health. You could probably make a perfectly fine tapioca without eggs, but I like to include them for the boost in nutrient density.
I feel like I'm missing a golden opportunity to cleverly name this tapioca recipe, playing with the words with May Pole and maple… anyone? Beuller? 
Okay, well until we have something better, I'm calling it "May-pole Maple Tapioca."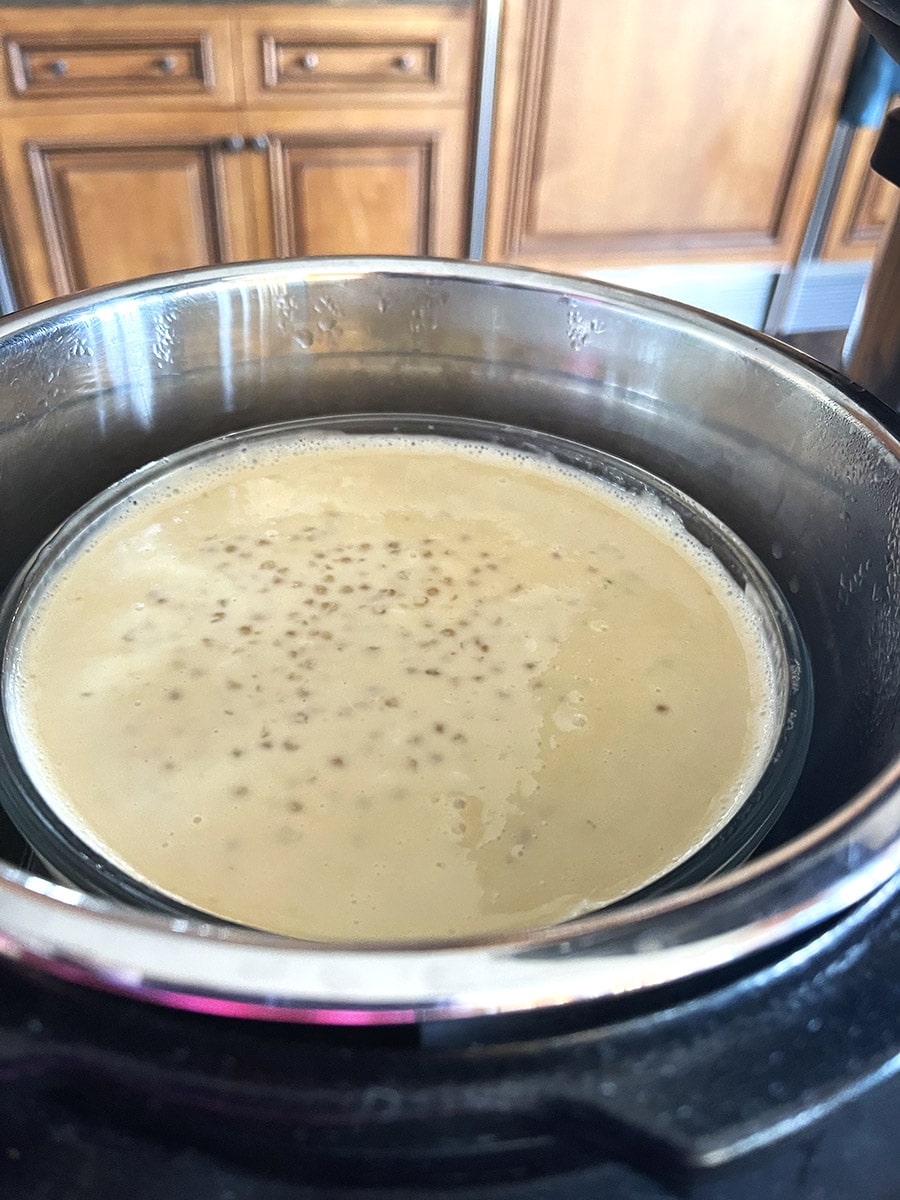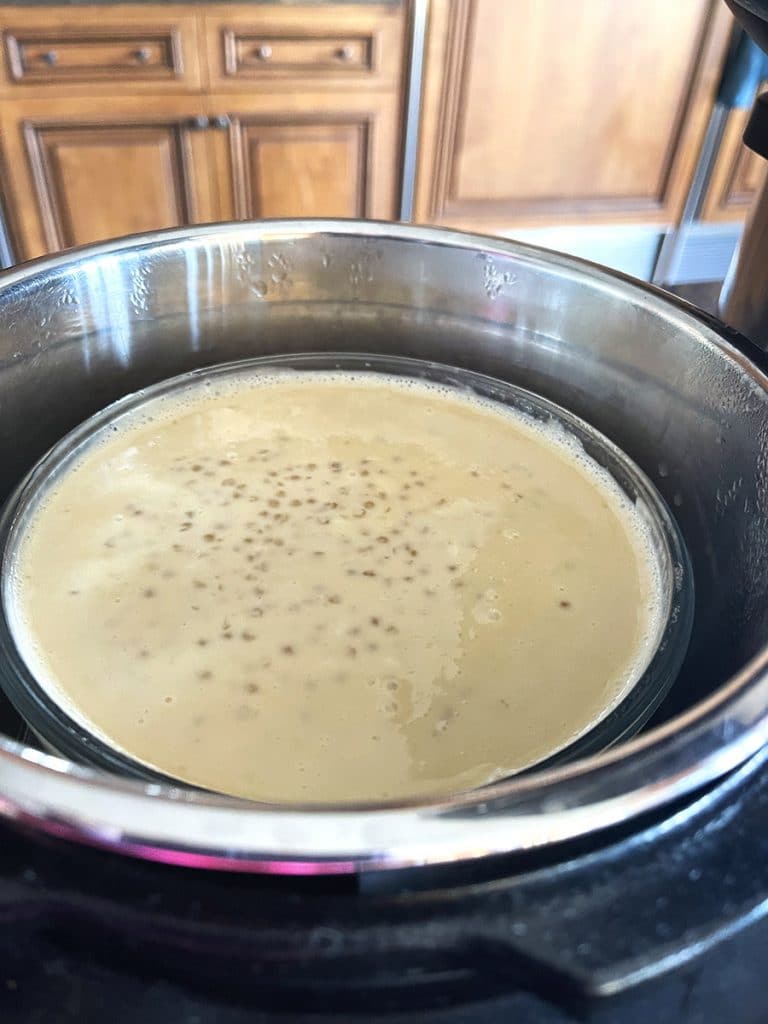 Print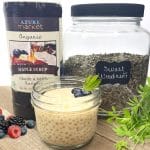 May-pole Maple Tapioca (for the Instant Pot)
---
1/2 c small tapioca pearls, rinsed

1/2 c heavy cream

1–1/4 c sweet woodruff-infused water (tea)

1/3 c dark/robust maple syrup (increase to 1/2 c if using a light "amber" maple and decrease the water content slightly)

1 tsp vanilla

pinch of sea salt

2 eggs
---
Instructions
Make a sweet woodruff tea/infusion by pouring 1-1/4 cup of hot water over 1 rounded tablespoon of dried sweet woodruff herb; cover and allow to steep for 10 minutes.
Meanwhile, measure 1/2 cup of tapioca into a mesh strainer and run it under the faucet to rinse off excess starch.
Combine all ingredients except eggs in a small heat-proof bowl that fits inside your Instant Pot liner. I use a 4-cup Pyrex bowl with my 3-quart mini Instant Pot. You might want to use a slightly larger bowl if you have one, though. The 4-cup Pyrex is *just* big enough for this recipe and the bowl is filled almost to the brim, making it difficult to add in the eggs later without making a mess.
Add 1 cup of water to the Instant Pot liner, and insert a trivet.
Give the ingredients one more stir and carefully place on the trivet inside the Instant Pot.
Pressure cook for 8 minutes using the pot-in-pot method (note: reduce the time to 7 minutes if using the mini 3-quart IP, which seems to cook things a bit more quickly than the larger models).
When the time is up, allow a natural pressure release (NPR).
In a separate small bowl, whisk eggs with a few of spoonfuls of hot tapioca to temper before adding back to the pudding.
Chill thoroughly before serving. Tastes great on its own, but feel free to top with cinnamon or fresh fruit if desired. ♥
Notes
Excessive doses of herbs containing coumarin may result in internal bleeding, therefore, those taking anticoagulants should avoid.
Coumarin is also contraindicated during pregnancy and lactation.