As a result of some recent health challenges, Mr. Redheaded Herbalist has been dealing with side effects of taking a new blood-thinning prescription medication. The most bothersome of these side effects is getting a nosebleed every time he blows his nose. It's not a significant amount of blood, but thanks to the thinners, it can go on for hours before it finally stops. Annoying to say the least!
We plan to open a dialog about the strength and necessity of these medications at his next doctor's appointment, but for now, we are fortunate to have some amazing herbal allies we can turn to for help.
My first thought was to mix up a simple saline solution nasal spray in hopes that it would moisturize dry nasal passages and hopefully prevent the bleeding from ever getting started. Then I remembered a jar of 50-50 yarrow and horsetail powder blend I keep in the medicine cabinet, and it occurred to me that it might be useful in managing the chronic nosebleeds.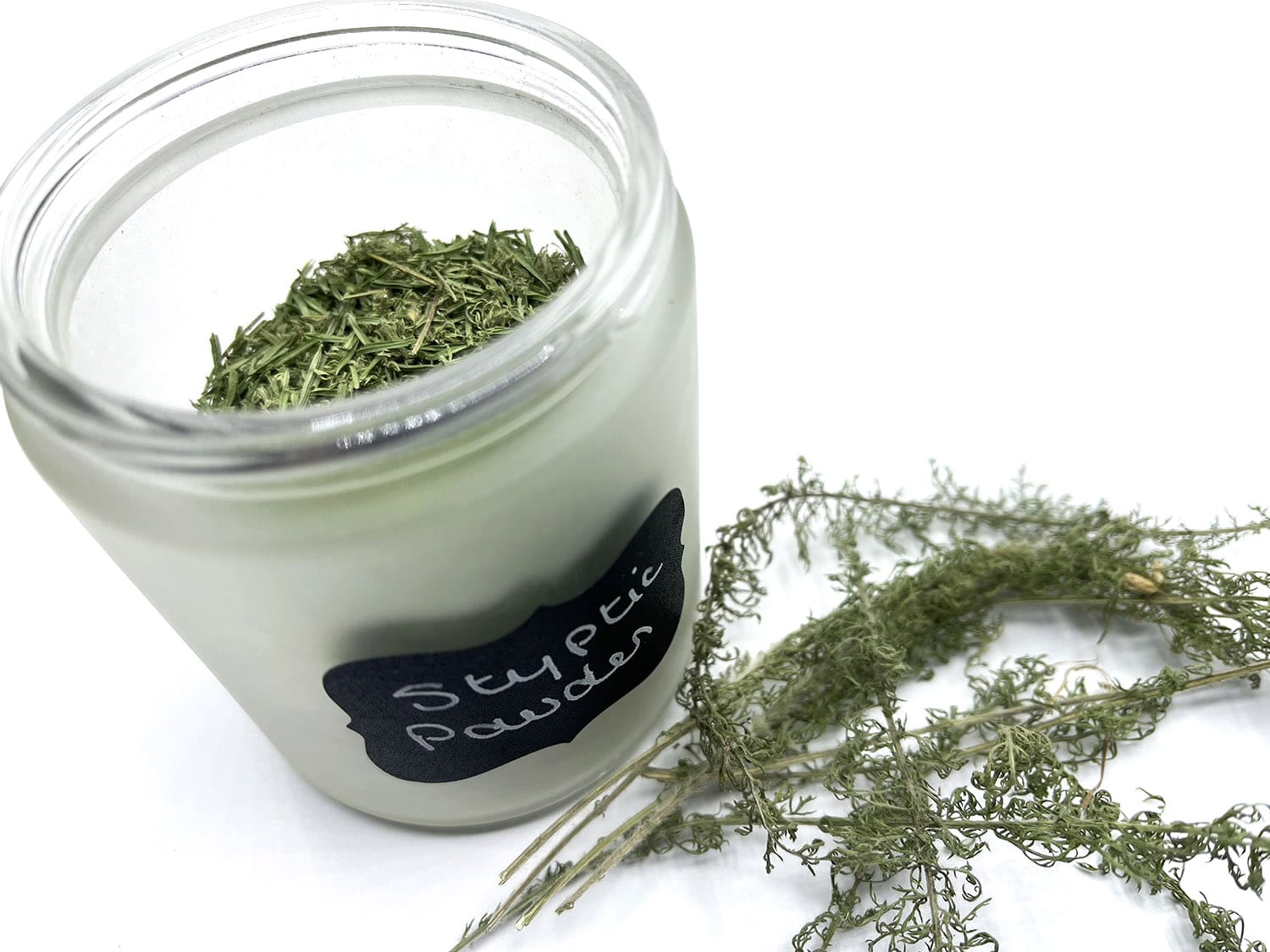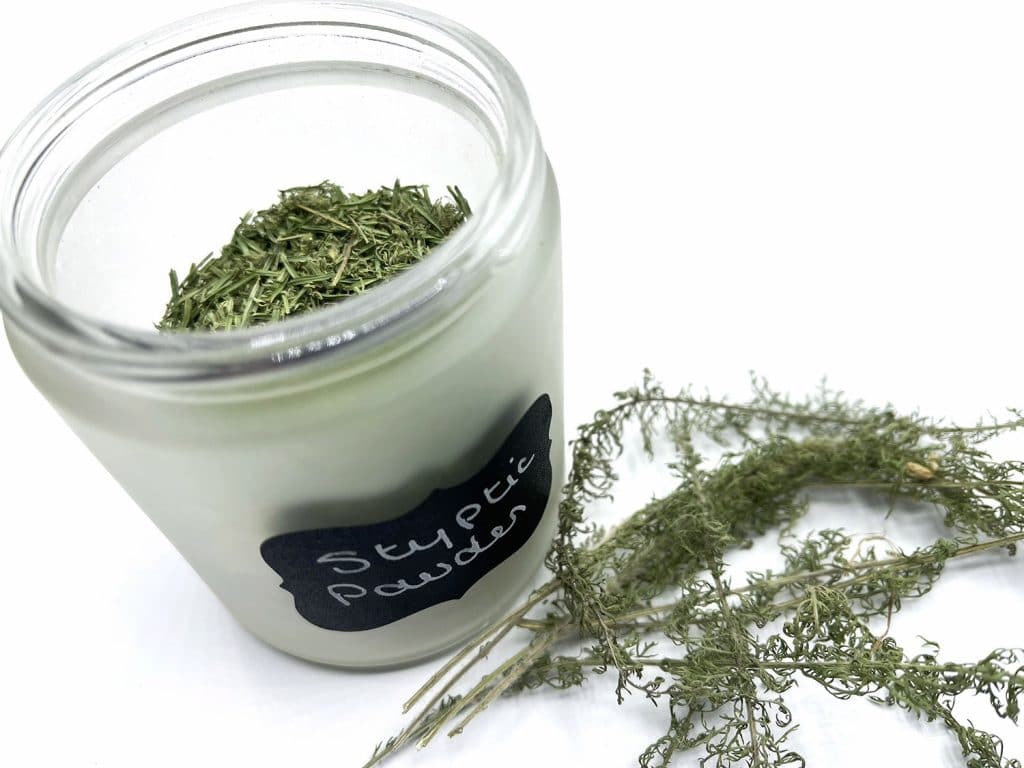 Yarrow was one of the first herbs I ever used medicinally. It grows absolutely everywhere in the inland NW and it's super handy when you're working in the garden and accidentally slice your finger with the garden snips (ouch). Grab a couple of yarrow's distinctive feathery leaves, chew them into a pulp and place the wad on your wound. Before you can say "Holy spit poultice, Batman" the cut will have stopped bleeding. It's magic, I tell ya. Mother Nature's styptic.
We're also lucky to have an enormous patch of horsetail growing next to our driveway. Horsetail plants spread both via spores and through underground rhizomes. A very effective combination I'd say, since despite my aggressive harvesting (we give away horsetail in the summer months like regular gardeners give away zucchini, lol) they continue to outcompete everything else in the area. Horsetail has been used as medicine since ancient times when the Roman physician Galen, recommended it for everything from kidney and bladder issues to severed ligaments and tendons to nosebleeds. The silica content of horsetail makes it a standout for strengthening connective tissues such as blood vessels.
My first thought was to make a yarrow/horsetail hydrosol for the nasal spray, since hydrosols are self preserving, but the distillation process would remove all minerals from the water, and the minerals are what's responsible for yarrow and horsetail's styptic action. So instead, I whipped up a tea/infusion, pairing the yarrow and horsetail with a bit of calendula for its vulnerary properties to soothe and heal wounds and irritated skin.
As basic saline nasal spray is typically a 1% salt to water solution, since 0.9% is generally considered to be normal or "isotonic," reflecting what is naturally found in the blood. Anything more concentrated is considered a hypertonic solution, which some studies consider to be more effective than the 0.9% isotonic solution.  1/8 tsp to 1/2 cup of water is approximates an isotonic solution, but if you're particularly congested, you may wish to increase salt to 1/4 tsp to create a hypertonic solution.
I also added a small amount of xylitol powder to my solution. This is totally optional, but some studies suggest that xylitol might be useful in nasal irrigation as an anti-viral.
You can repurpose and old glass nasal spray bottle (clean with alcohol and run it through the dishwasher to thoroughly disinfect). Or you can pick up a set of reusable 1-oz glass nasal spray bottles. These are super-handy to have around the house. We use and reuse ours constantly.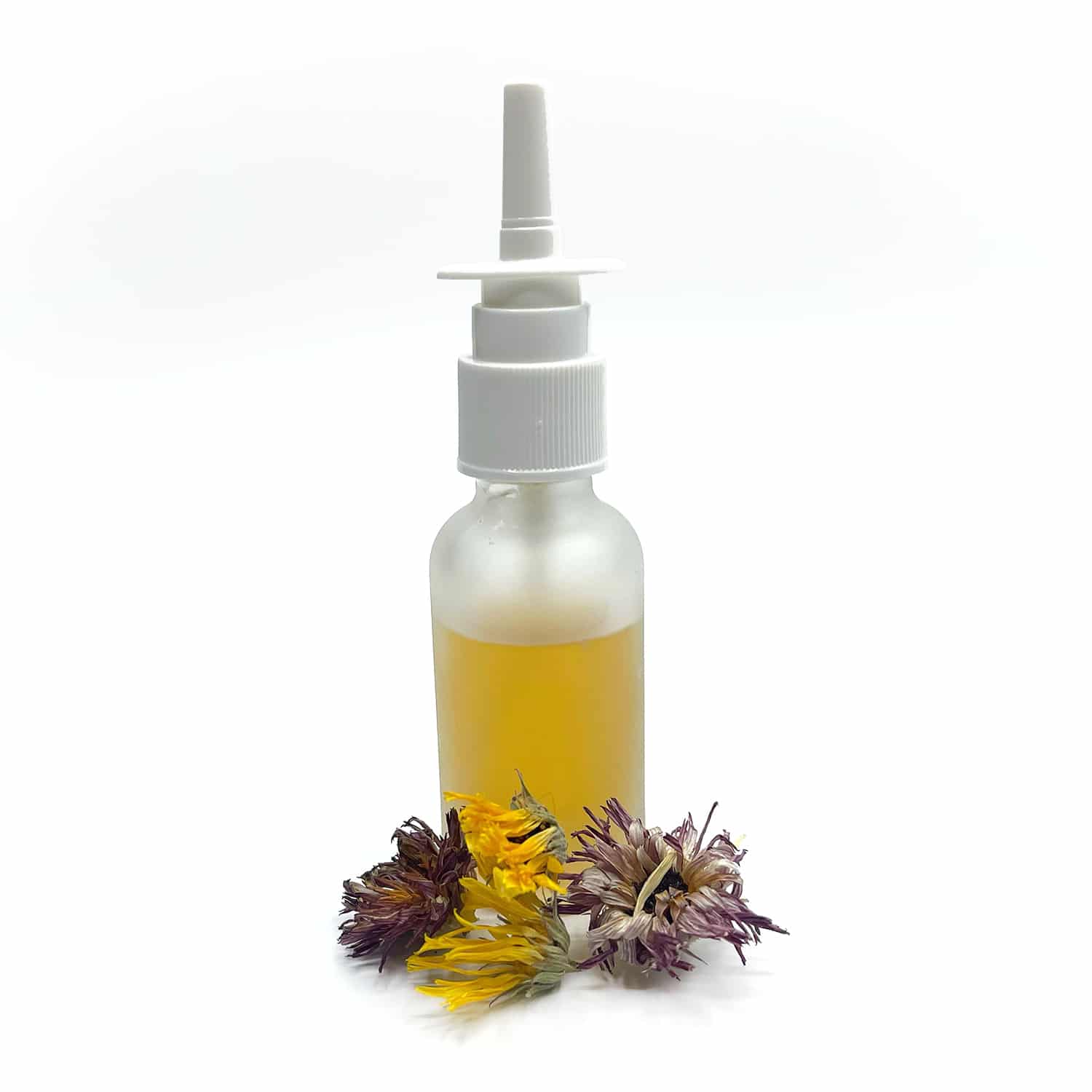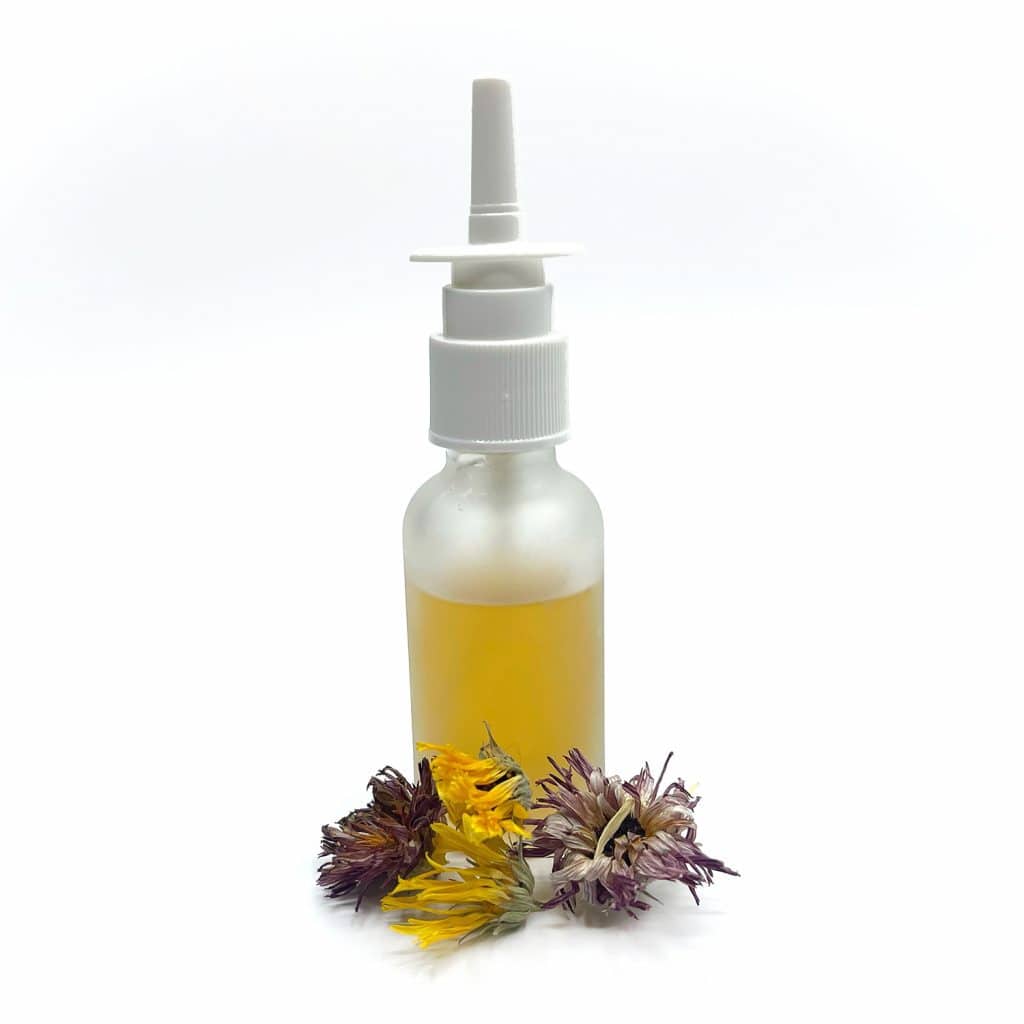 Since this is an herbal infusion, it will have a much shorter shelf life than a simple saline solution using distilled water. I suggest storing your nasal spray in the refrigerator between uses and discarding after a week.
This recipe should be helpful for anyone dealing with dry, raw sinuses that are susceptible to nosebleeds. If you try it, let me know in the comments!
Print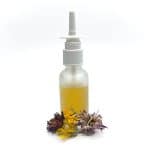 Saline Nasal Spray with Yarrow, Horsetail & Calendula
---
4 oz distilled water

1 tsp horsetail, dried or fresh

1 tsp yarrow, dried or fresh

1 tsp calendula, dried or fresh

1/8 tsp – 1/4 tsp non iodized salt (I used pink Himalayan) *

1/4 tsp xylitol powder
---
Instructions
Place herbs into a small glass jar and add 1/2 cup of hot water, just off the boil. Cover and allow to steep for 5 or 10 minutes.
Strain out the herbs, making certain all traces of plant matter are removed.
Stir in salt and xylitol (if using) until fully dissolved.
When your solution is completely cooled, fill your nasal spray bottle.
This recipe actually makes enough to fill a few 1-oz bottles. Make a bottle for each family member or store excess product in the refrigerator for up to a week. Nasal sprays should also be stored in the refrigerator between uses and discarded within a week. ♥
Notes
* For children younger than five years old, use an isotonic solution of no more than 1% (1/8 tsp salt)
I recommend glass containers for storing homemade lotions and potions. Glass doesn't leach chemicals and it's easier to clean/sterilize after the product is used up and you're ready to refill.