As our days get busier, we are far more likely to reach for pre-packaged mixes and other convenience foods to lighten our load and make dinner prep a bit easier. These are some of my favorite homemade kitchen helpers you can make in advance and keep handy for those extra-hectic evenings… or even the non-hectic ones. Work smarter, not harder!
Calling all spicy food lovers! 
I adore spicy foods. There's something about it that makes me feel vital and alive. 
Besides being positively addicting, capsaicin — the constituent in chili peppers that makes them spicy — confers a number of health benefits. It's said to stimulate blood flow to the brain, digestive organs and skin. Chili peppers are rich in flavonoids and are believed to have valuable antioxidant properties, protecting cell health — particularly in the circulatory system. Capsaicin may also be helpful in supporting blood sugar balance.
Allow me to introduce you to your new culinary best friend: Spicy Chili Crisp.
Spice spice baby
This recipe calls for one somewhat unusual ingredient that many people won't have handy in their pantry: Szechuan pepper (Zanthoxylum bungeanum).
Szechuan peppercorns, sometimes spelled 'Sichuan' are neither peppers nor true peppercorns. Commonly used in Chinese, Nepali and Tibetan cuisine, the spice actually comes from the outer husks of the berry from the Zanthoxylum bungeanum tree. These husks have a unique flavor profile, quite different from other types of pepper — citrusy and slightly sweet with a unique numbing sensation on the tongue.
Remember the "buzz buttons" aka spilanthes (Acmella oleracea) we played with last summer? If you've ever chewed on a spilanthes flower, then a Szechuan pepper's numbing/tingling action will feel very familiar. The primary numbing agent in Szechuan pepper is the alkylamide hydroxy-alpha-sanshool, but it also contains spilanthol (also an alkylamide with similar properties) in smaller amounts. Spilanthes, on the other hand, contains spilanthol as its primary numbing compound. Buzz buzz!
In Traditional Chinese Medicine (TCM), the dried fruit of the Zanthoxylum bungeanum plant is used to treat a variety of ailments, including digestive disorders, toothache, rheumatism and circulatory problems. Both capsaicin and hydroxy-alpha-sanshool have been studied for their anti-inflammatory, analgesic (pain relieving) and antioxidant effects as well.
Now you could technically make this chili crisp recipe without the Szechuan pepper, but I strongly recommend you don't. It adds flavor and dimension that can't really be duplicated by anything else. Mountain Rose Herbs carries them in 4-ounce and 1-pound packages. It's worth it!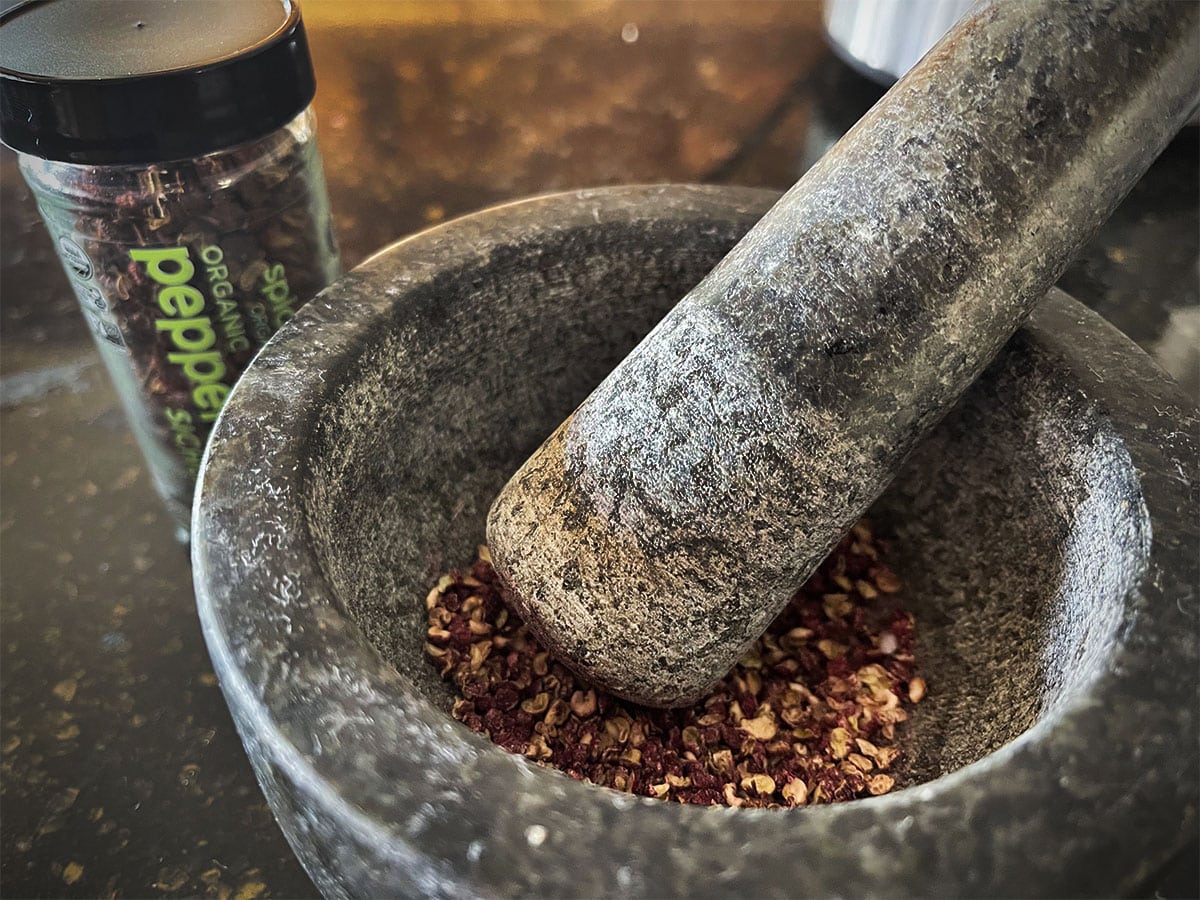 How to use chili crisp
This fiery, savory, crunchy condiment is good on virtually EVERYthing…
toss it into steamed vegetables, (PF Changs-style spicy green beans anyone??)
add to scrambled eggs or brush it onto grilled salmon, chicken, beef or pork
great on rice and drizzled on Asian-style noodles such as ramen, udon or pho
add a spoonful to olive oil and Italian spices and serve with fresh sourdough as a punched up herbal bread dip
mix it with homemade mayonnaise to jazz up a boring potato salad
blend with vinegar to create a spicy vinaigrette for salad dressing and marinades
I've even tried chili crisp on chunks of fresh mango (delicious!) and rumor has it it's even great on ice cream. (wut?)
Fair warning: It would be wise to exercise moderation until you're familiar with the heat level — this stuff packs a punch!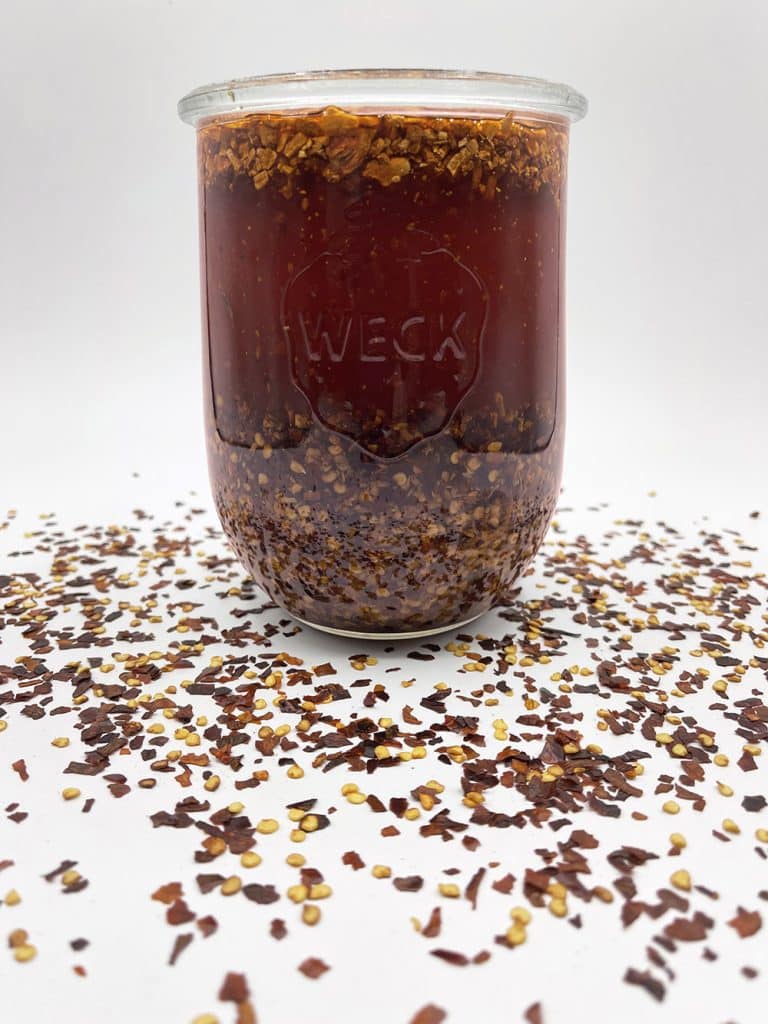 Print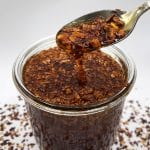 Spicy Chili Crisp
---
---
Instructions
In a small heavy-bottomed saucepan, heat coconut oil to 225-250F.
Meanwhile, if you have whole Sichuan pepper, grind them in an electric coffee grinder or mortar and pestle.
Combine chili pepper flakes, ground Szechuan pepper, sugar, salt and ginger in a 1 quart jar; set aside.
Add onion flakes and garlic to the hot oil and cook, stirring frequently, until they're light golden brown and fragrant. (Be ready — this can happen very quickly!)
Remove from heat and strain oil into the jar with the chili flake mixture; reserve the crispy onion and garlic bits in the strainer and allow them to cool and crisp up.
When the chili oil has cooled a bit, add the olive to the jar, along with the crispy onion and garlic bits; give it a final stir to combine.
Your chili crisp will be ready to use immediately, but the flavors will continue to develop over time. Store with a tightly fitting lid. ♥
Notes
This recipe can also be made with fresh chopped onion, garlic and cayenne peppers, but that version would not be shelf stable and would need to be used fairly quickly to prevent risk of botulism.