Between my herbalist apprenticeship and getting my gardens planted, I've spent a great deal of time the last few weeks outside donating blood to the no-see-ums.
I have a hard time finding insect repellant that I don't mind wearing. Natural products can be hit or miss, and even when they work, they leave me counting the minutes until I can scrub it all off.
I wanted to make a homemade insect repellant from wildcrafted and easily obtained botanicals that repels bothersome insects, but not me.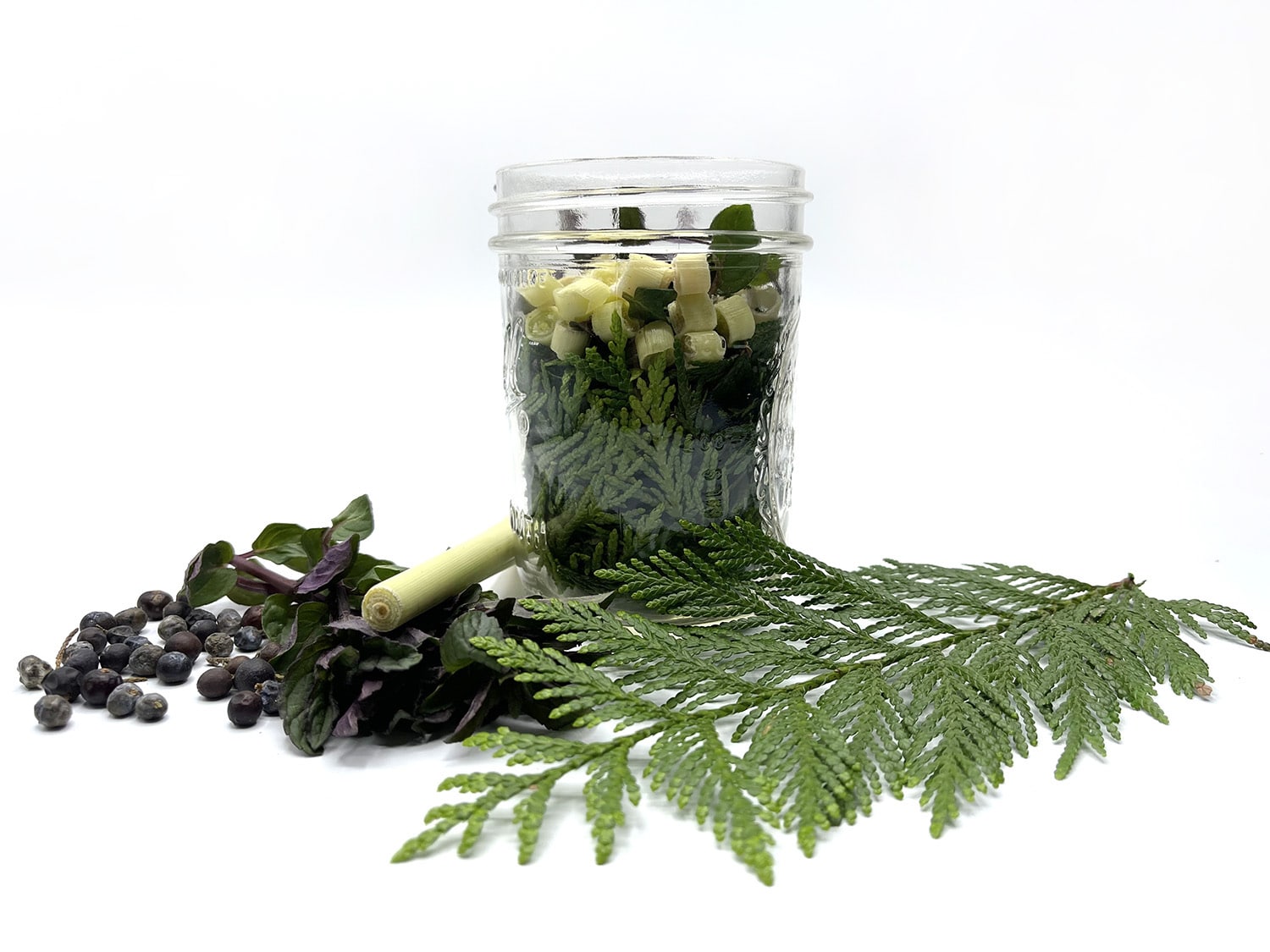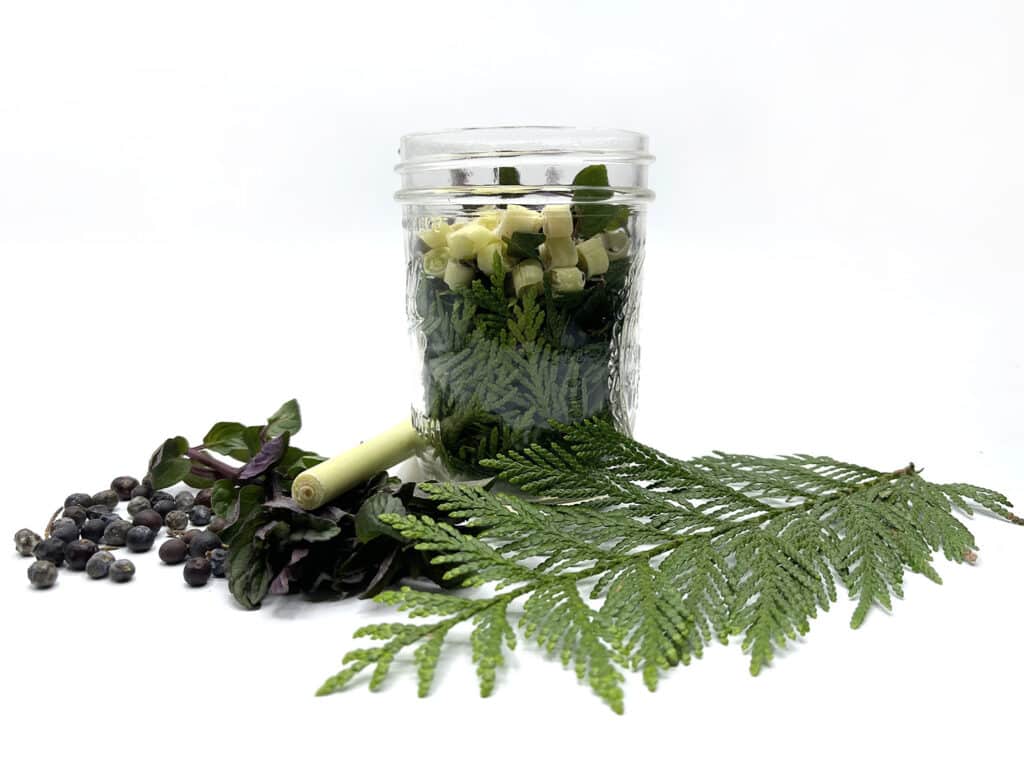 Witch Hazel
Alcohol is, hands down, the best menstruum to extract the insect-repelling constituents from these plants, but it's a less than ideal ingredient for something you're going to wear on your skin. Because alcohol is so drying and damaging to the epidermis, I chose skin-friendly witch hazel (Hamamelis virginica) as the base of my bug spray.
Bonus: witch hazel's anti-inflammatory and toning (astringent) actions will soothe any existing insect bites you might already have. Winning!
Juniper + cedar
Juniperus scopulorum, also known as Rocky Mountain juniper is the most common juniper in western North America. If you live east of the Rocky Mountains, Juniperus virginiana is what you're likely to find growing around you. Commonly referred to as the Eastern red cedar, Juniperus virginiana is not a true cedar, despite its common name.
There actually are no 'true' cedars (Cedrus spp.) native to North America. (So technically speaking, cedar blanket chests should be called 'juniper chests' because most of them are lined with Juniperus virginiana and not actual cedar.)
The western red cedar (Thuja plicata) of the Pacific/inland Northwest US is also not a true cedar, but a member of Cupressaceae, the same cypress family that includes juniper.
The name 'cedar' is applied to quite a few coniferous evergreens with similarly aromatic wood. Fortunately, those aromatic qualities are what we're looking for. Thuja and Juniperus possess a number of insect repelling essential oils such as alpha/beta-thujone* and alpha-pinene, making them a perfect candidate for a wildcrafted bug spray.
Plus, their fresh, woody scent smells simply amazing. ♥
Lemongrass
Lemongrass (Cymbopogon flexuosus) is another well studied insect repellant. Its active constituent citral alpha-pinene has been found to be impart a high percentage of protection against mosquitos for 2.5 up to 12 hours according to a number of field and laboratory studies. It also smells awesome. Lemons can only wish they smelled like fresh lemongrass.
Cinnamon
There are studies that show that certain binary combinations of essential oils have particular value as insect repellants. Lemongrass and cinnamon are one such combo, however, according to the study, the effectiveness may be lessened by the addition of additional ingredients, presumedly because it dilutes the most effective essential oil constituents. That may be so, but I don't see the harm in throwing a cinnamon stick into the recipe. Because I'm stubborn and because cinnamon smells wonderful! (Are you picking up on a trend here?)
Peppermint
Pretty much everyone loves the scent of peppermint (Mentha piperita), but fortunately for us, mosquitoes do not agree.
Peppermint has shown promise as an effective mosquito repellant. In addition to acting as a larvicide, Mentha piperita also demonstrated strong repellent action against adult mosquitoes when applied on human skin. Another study compared peppermint's repellant actions to DEET-level effectiveness.
Great big barrel-o-peppermint: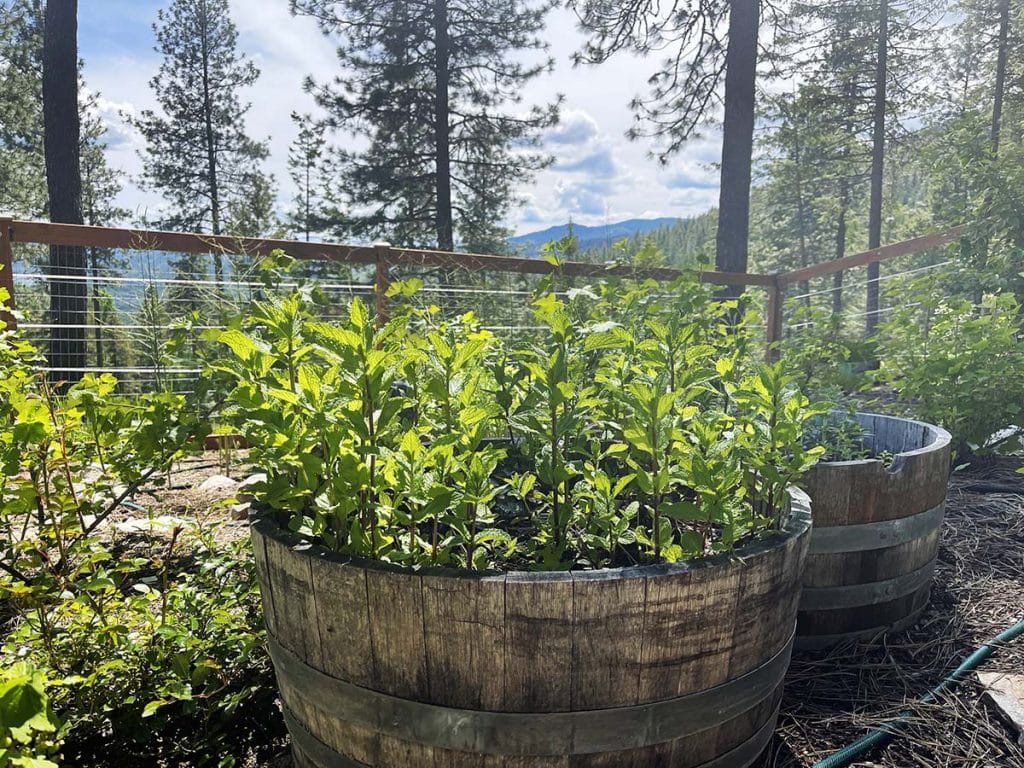 Lavender
The essential oil of lavender (Lavandula angustifolia) contains a constituent called linalool, a terpene responsible for lavender's lovely fragrance. People love it. Mosquitoes hate it.
The EPA (Environmental Protection Agency) actually recognizes linalool as an active ingredient to keep mosquitoes away while outside. It's even used in malaria hotspots where mosquito repelling is serious business.
I did not have any fresh lavender flowers ready to use, so I opted for the essential oil instead. Please note that if you're going to use essential oils in this recipe, you must dissolve them into a carrier first. Essential oils will not dissolve into witch hazel alone.  
Since this is a water-based formula with no emulsifier, the carrier will also need be water soluble. High-proof alcohol is a good option. Dissolve your essential oil in 2-3 tablespoons of alcohol, making sure there are no EO droplets floating on the surface undissolved, then add it to the witch hazel maceration.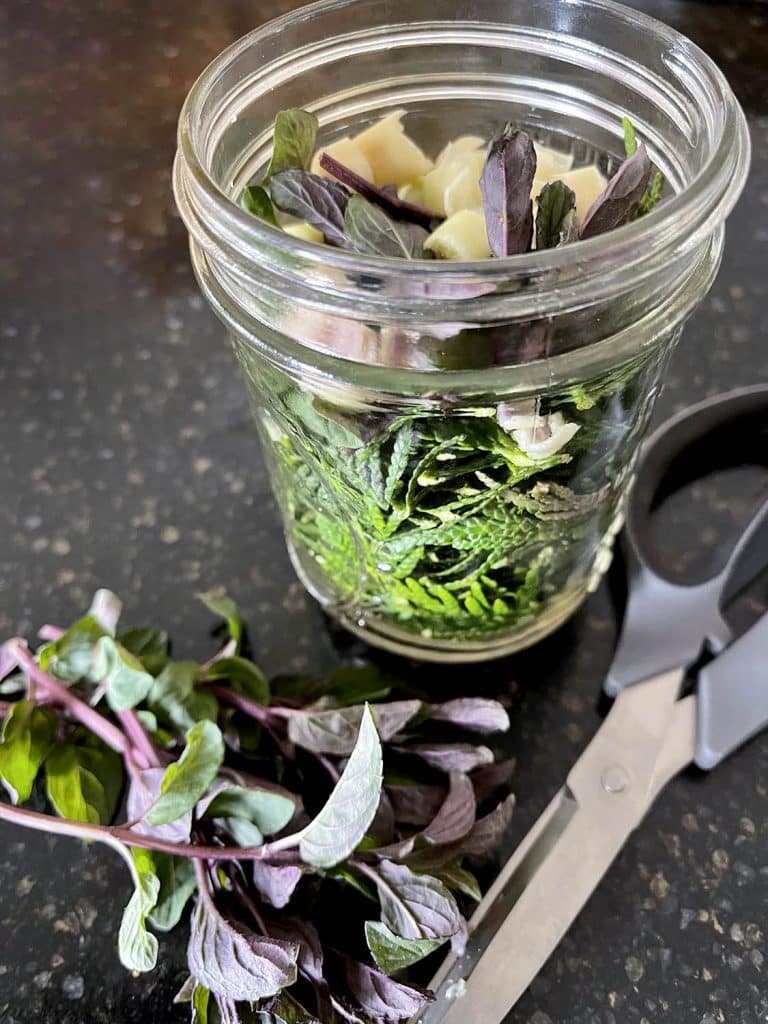 A few notes on making the bug spray
We're not going to strictly measure anything in this recipe. Essentially, get a pint-sized mason jar and stuff it full of ingredients. I would concentrate primarily on the fresh cedar and juniper parts and add the rest as space allows.
We're going to use a sort of "alcohol-intermediary witch hazel infusion" method. I don't know if that's an actual thing, but it makes sense to me that a small amount of high-proof ethyl alcohol will loosen up the plant constituents we want to capture. By morning, most of the alcohol will have evaporated, but the plant constituents will be more accessible to the witch hazel. Probably? I think so, but honestly, I can't find anyone else talking about it to confirm. Gotta love experimenting. ♥
We're also going to use the "blender method" of macerating, which will help the witch hazel to extract as much of the plant's potency as possible.. The blender ensures that the maximum amount of plant surface area is exposed to the menstruum, and also allows you to stuff a bit more plant material into your maceration than would otherwise be possible by simply chopping. 
It's okay if you don't have a high-powered blender that can handle the plant matter. You can do a traditional maceration instead: Finely chop all of the plants, pack them into your jar. Follow the rest of the directions, without the blending step. The final product will not be quite as potent as the blended version, and it may take an extra week or two to be ready, but it will work fine. Store your jar in a cool, dark place for 3-4 weeks, shaking every couple of days.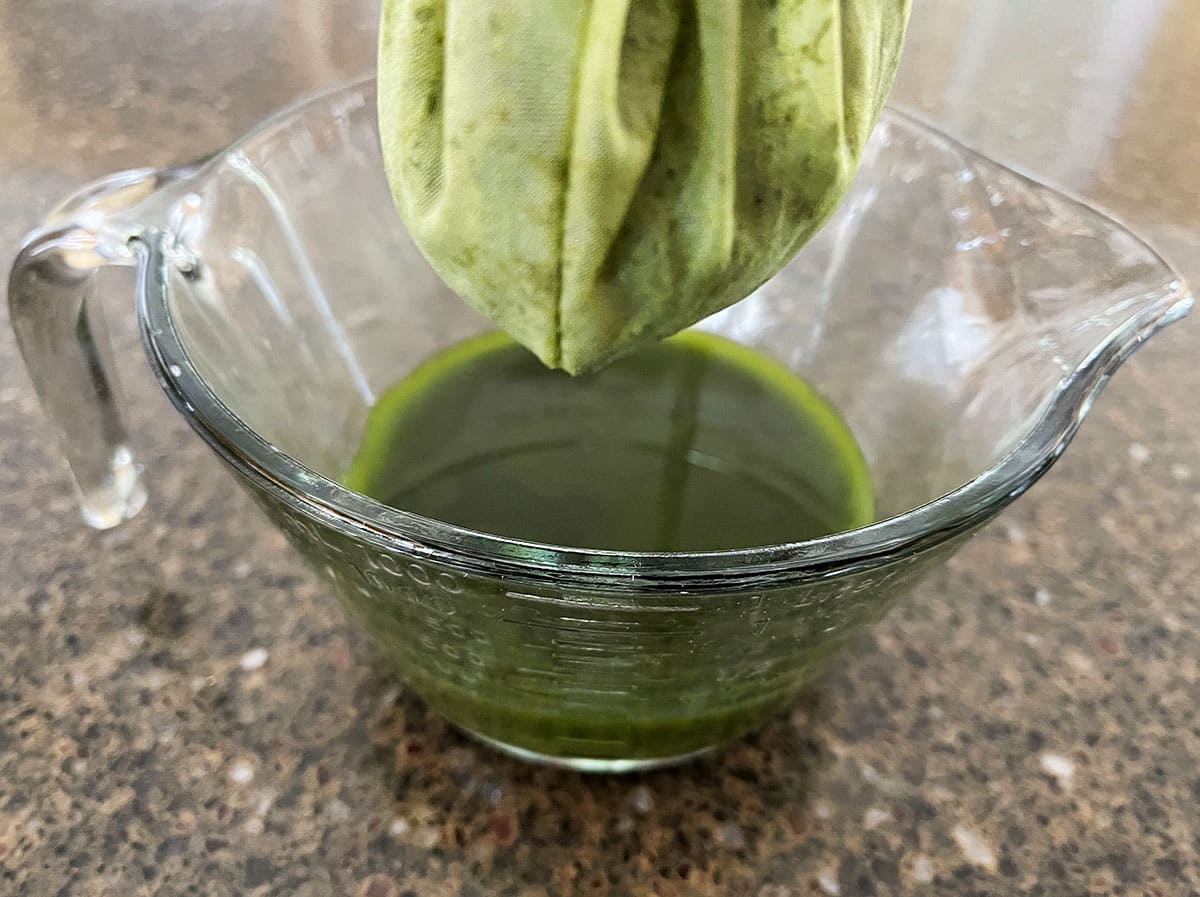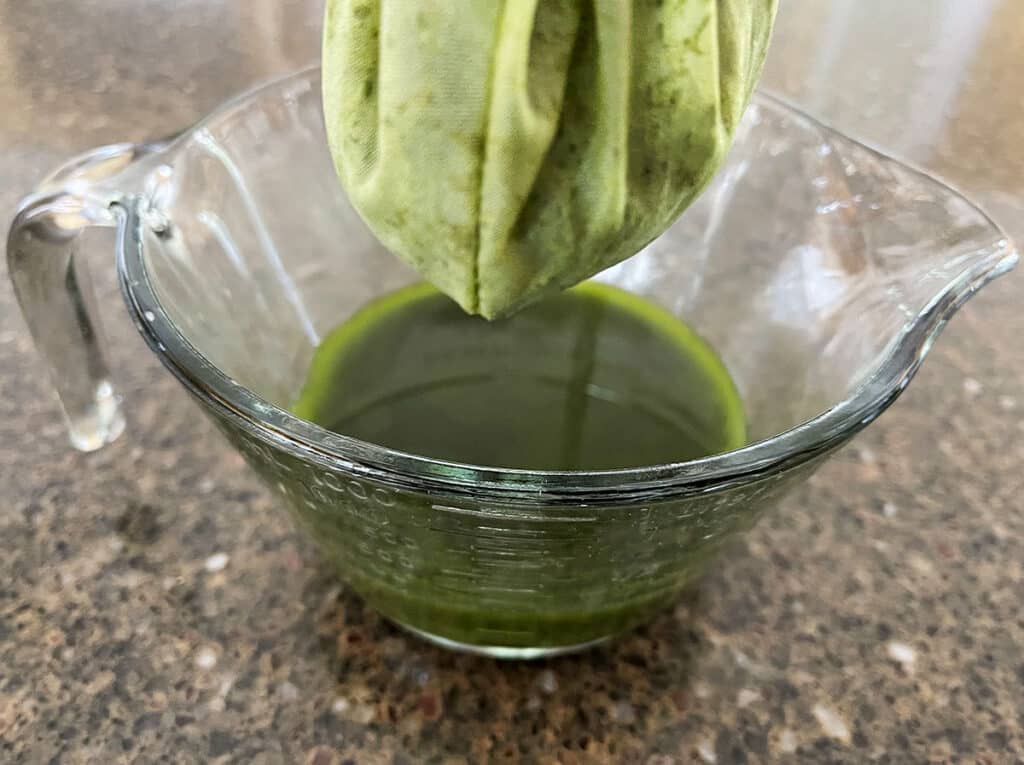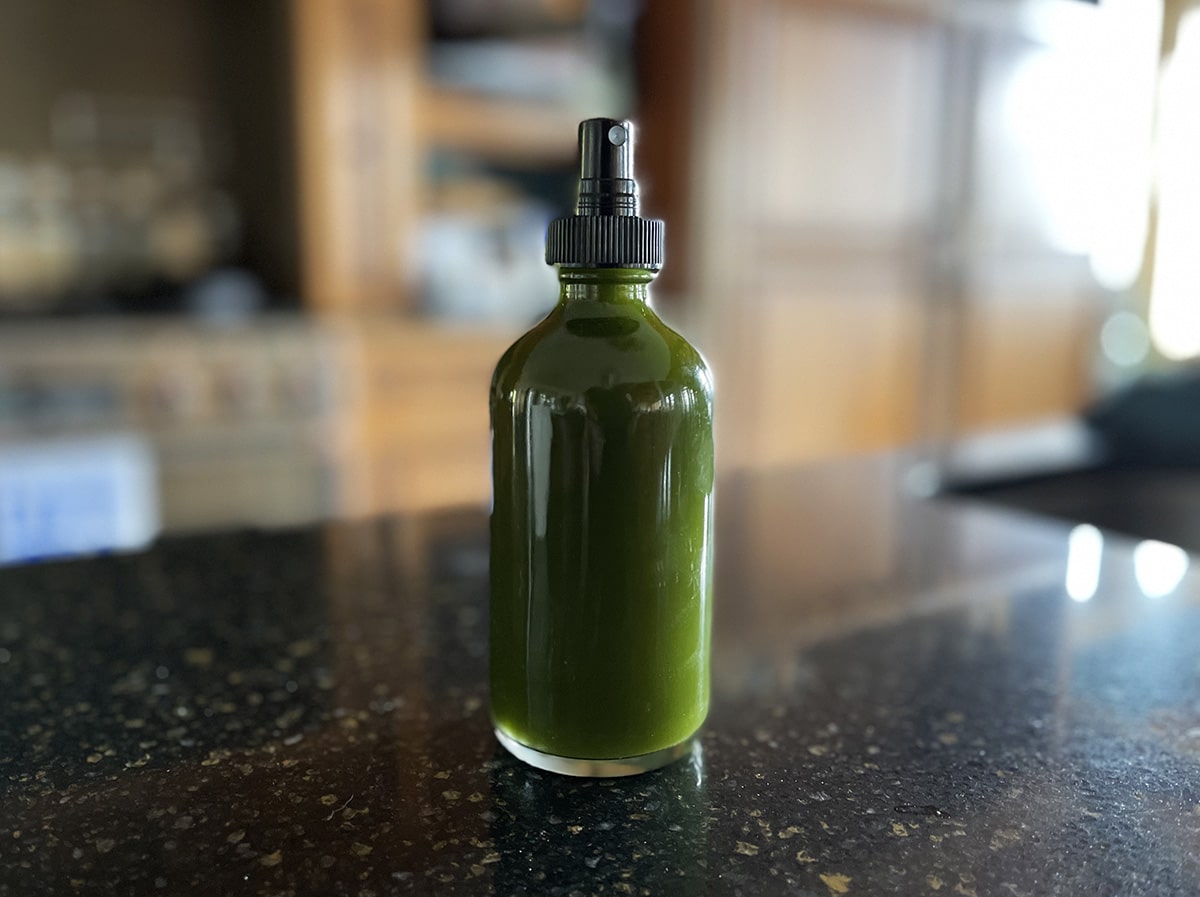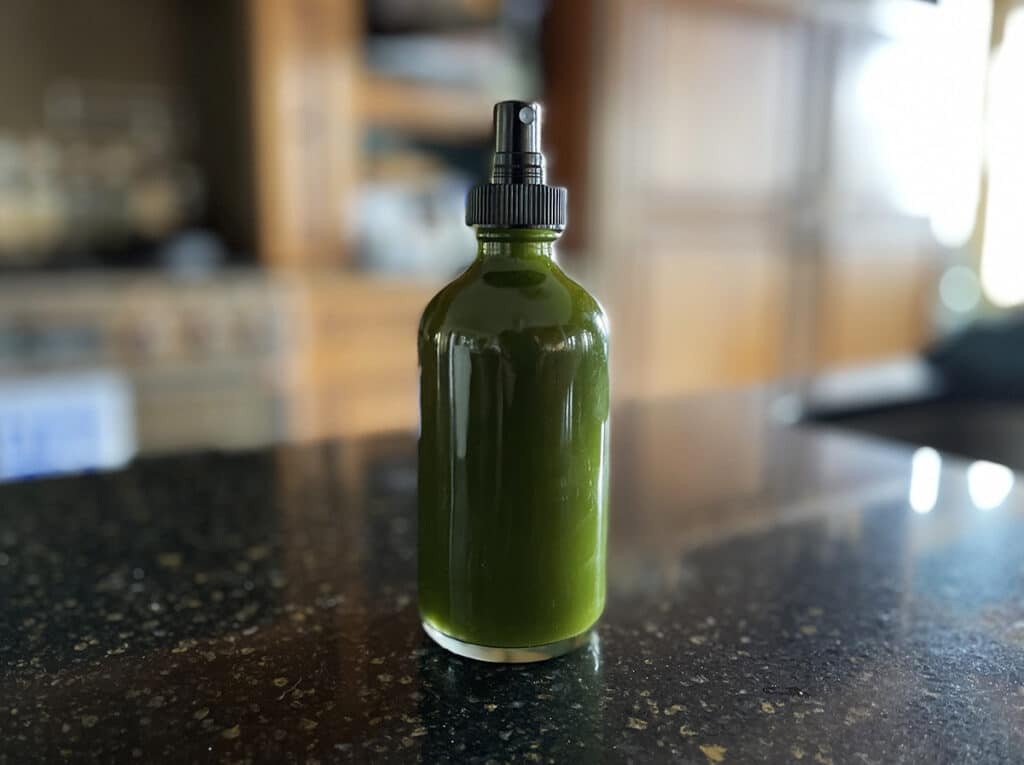 Verdict
I like it! It seems to be working well for me. The only thing I would caution is to be careful around light colored clothing, as the green chlorophyll may stain.
* Thujone is also the active constituent that makes tansy an effective insect repellant. Tansy can be substituted for the cedar leaves in the recipe with similar effects. I personally can't use it because I have some sort of contact allergy to tansy. (Boo.) At first I thought it might be the thujone itself that I was allergic to, but I don't get the same reaction from cedar. YMMV
Print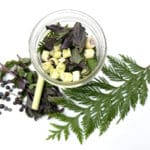 Herbal Insect Repellant
---
1 pint witch hazel

1/4 – 1/3 c high-proof neutral grain alcohol (such as Everclear or isopropyl alcohol)

fresh cedar fronds, cut into pieces

fresh juniper leaves, twigs, berries, cut into pieces

large lemongrass stalk, coarsely chopped

peppermint leaves

cinnamon stick, broken into chunks

lavender essential oil + alcohol to dissolve (optional)

Virginia cedarwood essential oil + alcohol to dissolve (optional)
---
Instructions
Roughly chop botanical ingredients, cutting any tough woody stems out of the cedar/ juniper.
Pack a pint-sized mason jar with as many botanical ingredients as will fit.
Barely moisten the plant matter with a shallow layer of high-proof grain alcohol (preferably 190 proof)
Loosely cover the jar with a lid or use a rubber band to secure a scrap of cheesecloth and allow to sit overnight.
Fill jar to the top with witch hazel.
If using, combine essential oil(s) and a small amount of alcohol in a separate bowl/jar and mix until essential oils are completely dissolved before adding to the jar.
Dump jar contents into a high-powered blender, throwing in a bit more chopped plant matter for good measure; blend until you have a gorgeous green slurry.
Return slurry to the macerating jar, cover tightly and shake.
Store jar in a cool, dark place for 2-3 weeks, shaking every couple of days.
When maceration time is up, strain out the plant pulp using a coffee filter or nut milk bag, squeezing to extract all of the green liquid into a clean glass jar.
Transfer to airtight glass spray/mister bottles.
Spray arms and legs before heading outdoors. ♥
Notes
Use caution using this bug spray around light colored clothing, as the green chlorophyll may stain.
I recommend glass containers for storing homemade lotions and potions. Glass doesn't leach chemicals and it's easier to clean/sterilize after the product is used up and you're ready to refill.
If you do choose to use a plastic container, be aware that essential oils tend to react with plastic, so even if you can get it "clean," your container will likely not be reusable.