I'm one of those weird people who insists on having about 47 chapsticks or lip balms in strategic places around the house. And in the car, in my desk, in multiple purses, my gym bag, my pocket, melted in the dryer (oops…)
Can you relate?
This stuff feels ah-mazing on dry, chapped lips. It has just enough wax to form a good protective barrier, but it's not at all waxy feeling.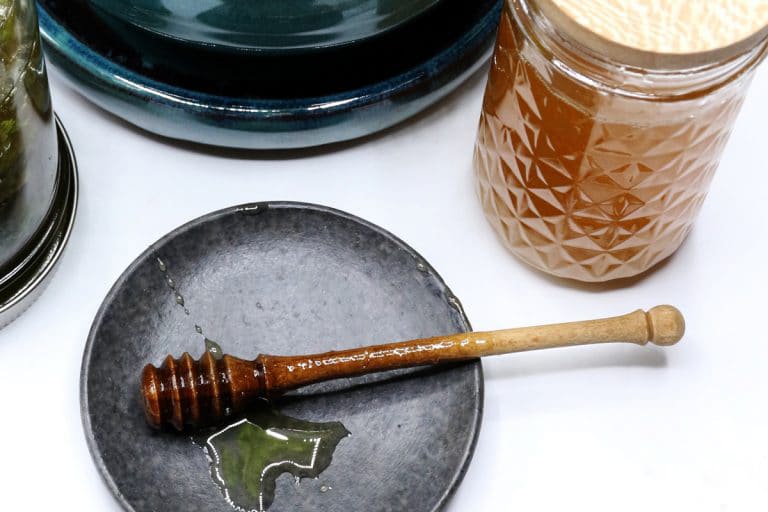 I didn't actually start out intending to make a lip butter. It was a happy accident that happened while trying to perfect a lip gloss recipe — a special request from a friend that I'm still working on. Long story short, I had an "okay" lip gloss in the works, but I didn't care at all for the taste. While thinking about what to do about the flavor, I made myself a cup of tea with honey and it came to me…
Honey
Honey is well known for its skin healing properties. It's a natural humectant that attracts water to the skin and holds it there, helping to keep lips moisturized and protected. Raw, unpasteurized honey is chock full of vitamins, minerals, enzymes and antioxidants that nourish your skin from the outside in. Natural enzymes act as a gentle exfoliant and antioxidants protect skin against the free radical damage and slows down the aging process, warding off wrinkles and fine lines. Raw, unpasteurized honey also contains beneficial bacteria that helps to balance the microbiome living on your skin. One specific kind of honey, Manuka honey, is so effective at rapidly healing wounds that it's even being used by doctors in clinical settings.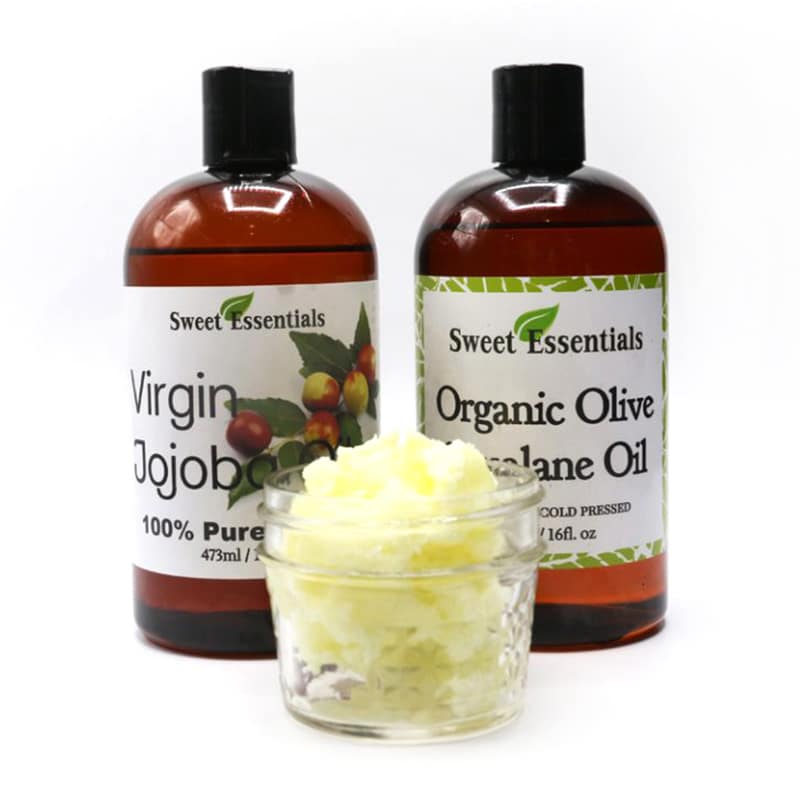 Tallow, jojoba & squalane (oh my!)
If you've read the deodorant, no-petroleum jelly or anti-aging serum posts, then you've already familiar with my undying love of blending tallow, jojoba and squalane as a nourishing skin sebum mimic. If you missed it, or need a refresher, the no-petroleum jelly post goes into the most detail on the whys and hows.
Our lips have it kind of rough, so they need extra love. Their stratum corneum (outer protective layer of the epidermis) is far thinner than anywhere else on the body. They also do not have sebaceous glands of their own to make protective sebum. These three oils together create a skin-loving formula that soak into the skin like nothing else I've tried, and they work just as well on the lips as they do on other skin.
Castor oil
Introduced to the cosmetic world by the Egyptians thousands of years ago, castor oil is made from cold pressing the seeds of the Ricinus communis plant. It has a unique, thick, glossy texture that's difficult to substitute with other oils. In addition to adding body and a pretty, shiny gloss to lip formulations, castor oil is rich in monounsaturated ricinoleic acid (about 90%), making it a very stable addition to our tallow, jojoba squalane trio.
Studies show that castor oil is especially useful as a wound dressing, helping to heal wounds by reducing dryness, preventing the buildup of dead skin cells and stimulating new tissue growth. What it can do for wounds it can also do for chapped, cracked or sunburnt lips… creating a moist, protective barrier that promotes healing and prevents damaged tissue from drying out.
(Speaking of healing tissue and preventing dryness, if you want to supercharge this recipe even further, pick one or more of these oils to infuse with calendula. Calendula's vulnerary action speeds healing of cracked, chapped lips and is a soothing choice for a lip balm.)
Trial & error
After a couple of batches of too-thin and not-so-great-tasting lip balm, I tried adding honey and created an emulsion using cera bellina wax, a derivative of beeswax with gelling and emulsifying properties. (Honey actually has emulsifying properties of its own, so if you prefer good ol' fashioned beeswax, that will work too.)
I tried replacing all the liquid oils except the tallow and castor with honey in my first batch, but it turned an opaque white and was far too hard to be of use. Dialing back the honey and adding back some of the liquid oils softened the product enough to use. It took a few more adjustments to get the texture I was looking for, but it finally came together. 
I've lost count, but I might be on my 63rd jar of this stuff by now. ♥
Print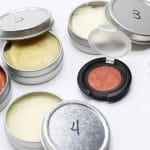 Honey-Mint Lip Butter
---
---
Instructions
Combine all ingredients except honey, micas and essential oil in a small glass beaker or measuring cup.
Heat over a double boiler (or other gentle heat source) until the oils and waxes are completely melted and liquid.
Add (room temperature) honey, jojoba and squalane, and blend with a small whisk or mini mixer until the emulsion begins to lighten in color and thicken.
Add essential oil and micas if using. Blend again until the balm resembles a thick gel.
Transfer to pot or cosmetic container of choice. Makes enough for a 1/2-oz jar ♥
Notes
Although honey is unlikely to cause allergic reactions, if you're allergic to pollen or other bee-related products, use honey on your skin with caution.
If you have particularly dry, chapped lips, choose a different essential oil, since the menthol in peppermint is drying and can leave lips more chapped than before.
I recommend glass containers for storing homemade lotions and potions. Glass doesn't leach chemicals and it's easier to clean/sterilize after the product is used up and you're ready to refill.
If you do choose to use a plastic container, be aware that essential oils tend to react with plastic, so even if you can get it "clean," your container will likely not be reusable.