Larabars are many a GAPS dieter's go-to snack for a reason. They're simply made with just a few real-food ingredients. 
Larabars that contain only nuts, dried fruit and coconut are GAPS compliant. Dried fruit and soaked nuts are introduced during or after stage 6, depending on individual tolerance. Save the bars with chocolate chips for later. Cocoa is *technically* not allowed on GAPS, but Dr. Campbell-McBride posted an update in the FAQs on her website allows for the reintroduction of cocoa on Full GAPS once digestive symptoms are gone. (YMMV)
As far as a healthy snack goes, they're *almost* perfect. I have only a few quibbles —
they're kinda expensive
they're not organic
the nuts are not properly prepared (soaked)
Fortunately, it's not at all difficult to make your own Larabar-style nut bars at home. All you need is a food processor and a warm place to let the bars dry.
Step 1: soaking the nuts
So why go to the trouble of soaking nuts in the first place? 
In a nutshell (see what I did there?) seeds contain phytic acid, enzyme inhibitors and other antinutrients that protect them from predators by suppressing the action of digestive enzymes such as pepsin, trypsin and amylase. Without these enzymes, the seed or nut (which is also a seed) becomes much harder to break down and hopefully (from the seed's point of view) able to survive the digestive tract and go on to reproduce at a later date. 💩
When we eat an ungerminated nut or seed, phytic acid passes through the digestive tract, binding to and chelating nutritive minerals like magnesium, calcium, copper and zinc,  and prevents them from being absorbed in the intestine. Phytic acid can also inhibit digestive enzymes such as pepsin, amylase, and trypsin, which can further contribute to mineral deficiencies when consumed in significant amounts.
The soaking process mimics natural germination and signals the plant to shut down these defense systems, which are no longer needed once the plant has fulfilled its prime directive to reproduce.
(Check out The Health Benefits Of Soaking Nuts & Seeds for more on why it's important to soak nuts and seeds before eating them.)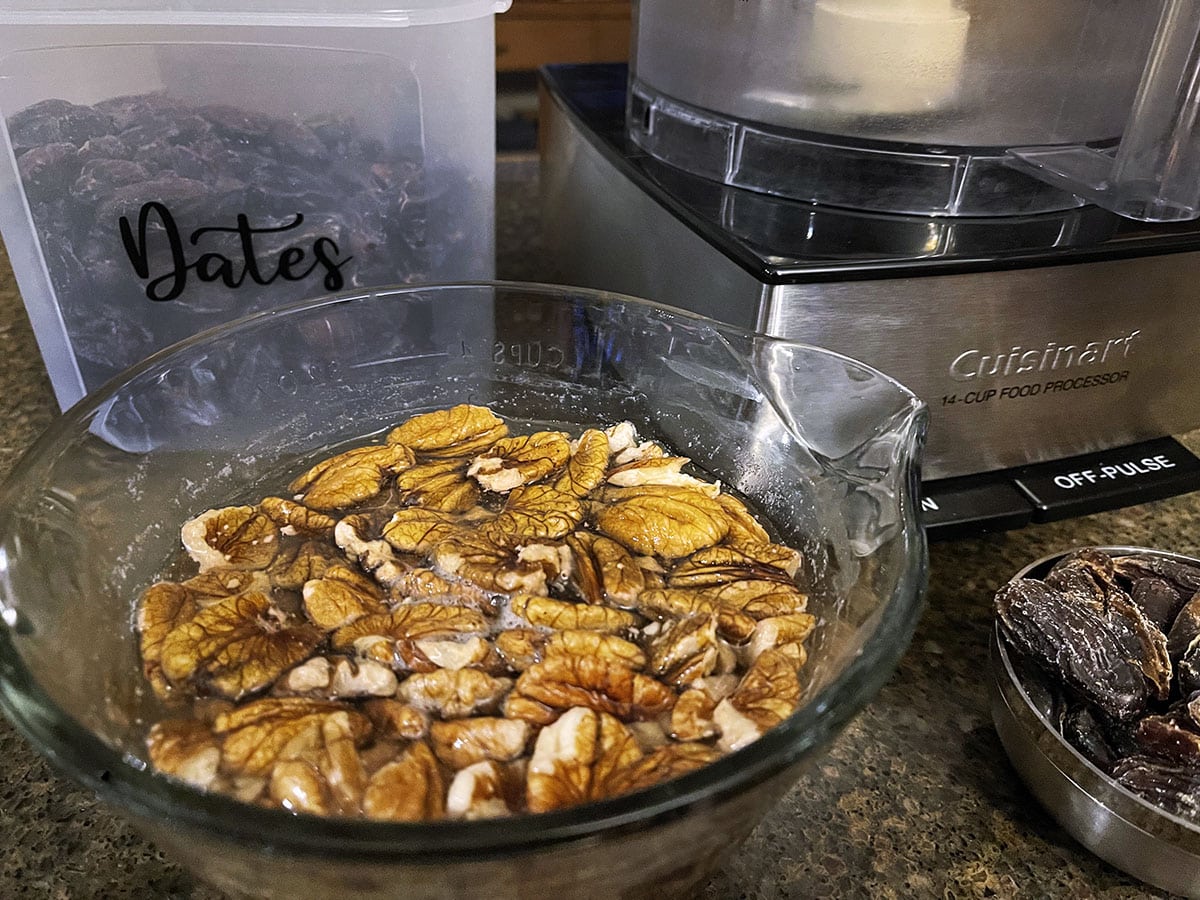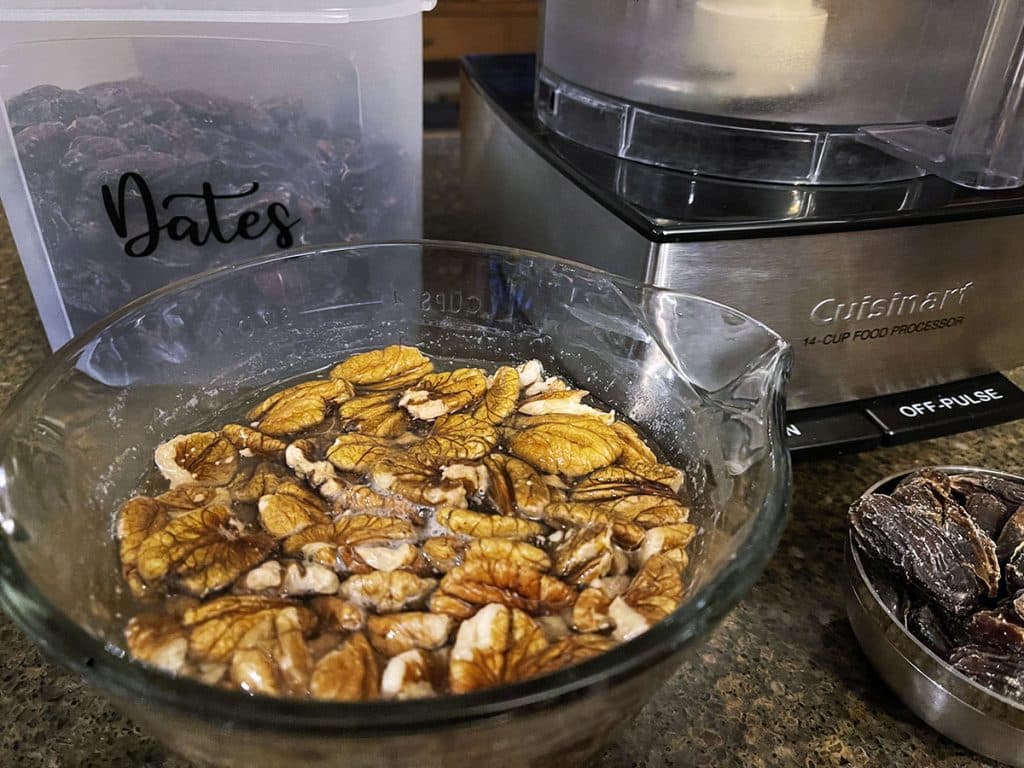 Sourcing high quality raw, organic nuts and soaking them first takes an already stellar product and makes it, in my humble opinion, darn close to perfect.
Larabar's "Cashew Cookie" bar is an easy recipe to start with. It only has two ingredients — cashews and dates (okay, actually three if you count the salt in the soaking water). Cashews are also one of the nuts with the fastest soaking times for a faster payoff.
Refer to the following cheatsheet for suggested soaking times for different varieties of nut or seed: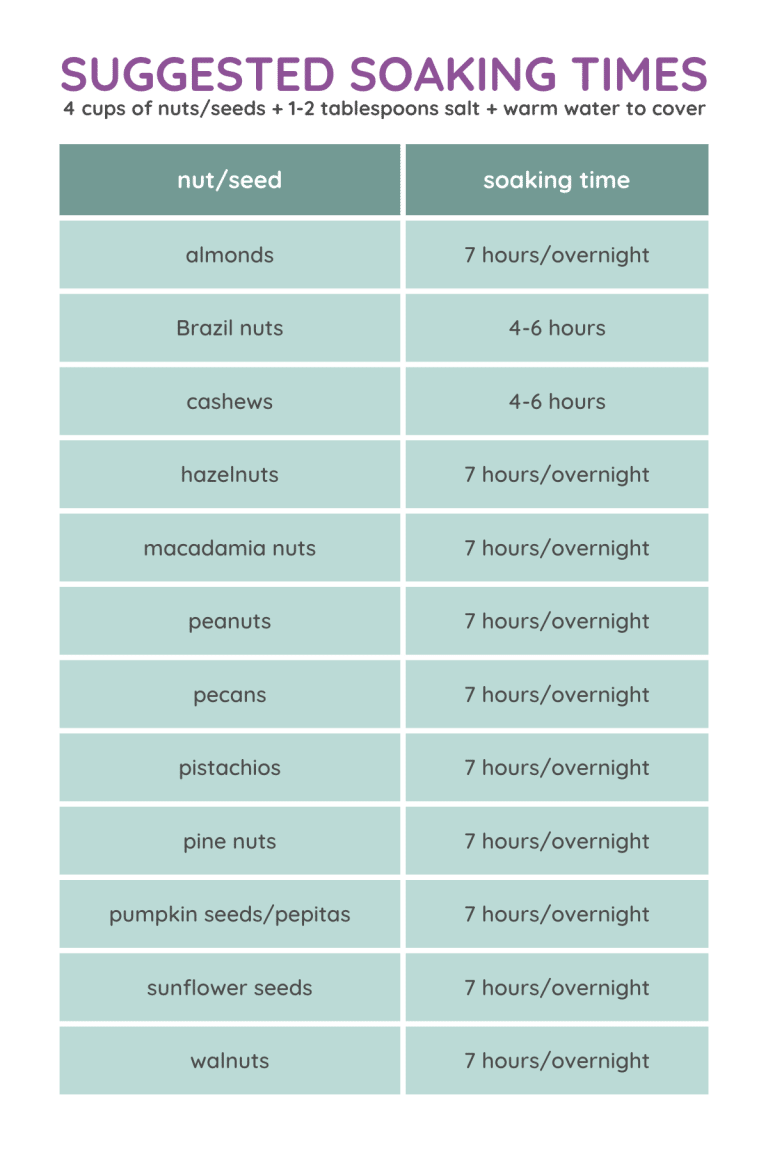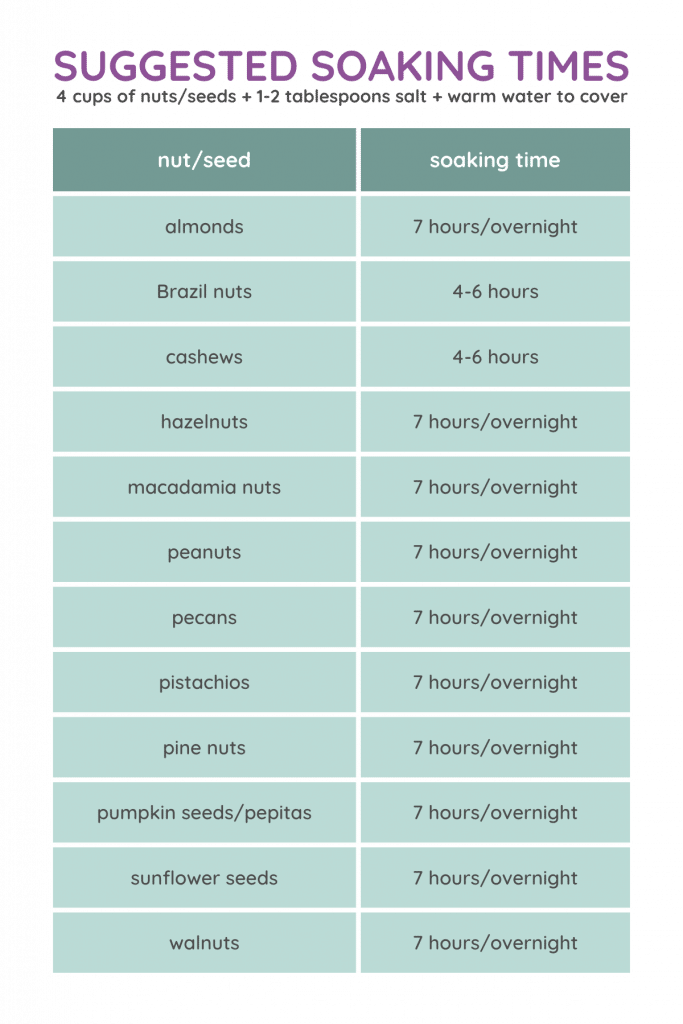 Step 2: putting it all together
Once your nuts have been soaked and drained, you're ready to combine everything in the food processor.
Depending on how soft and pliable your dates are, you may also need to soak them in water to soften them up a bit before processing. Mine had been in the pantry awhile and were a bit brittle. 5-10 minutes in a bowl of water improved their texture tremendously.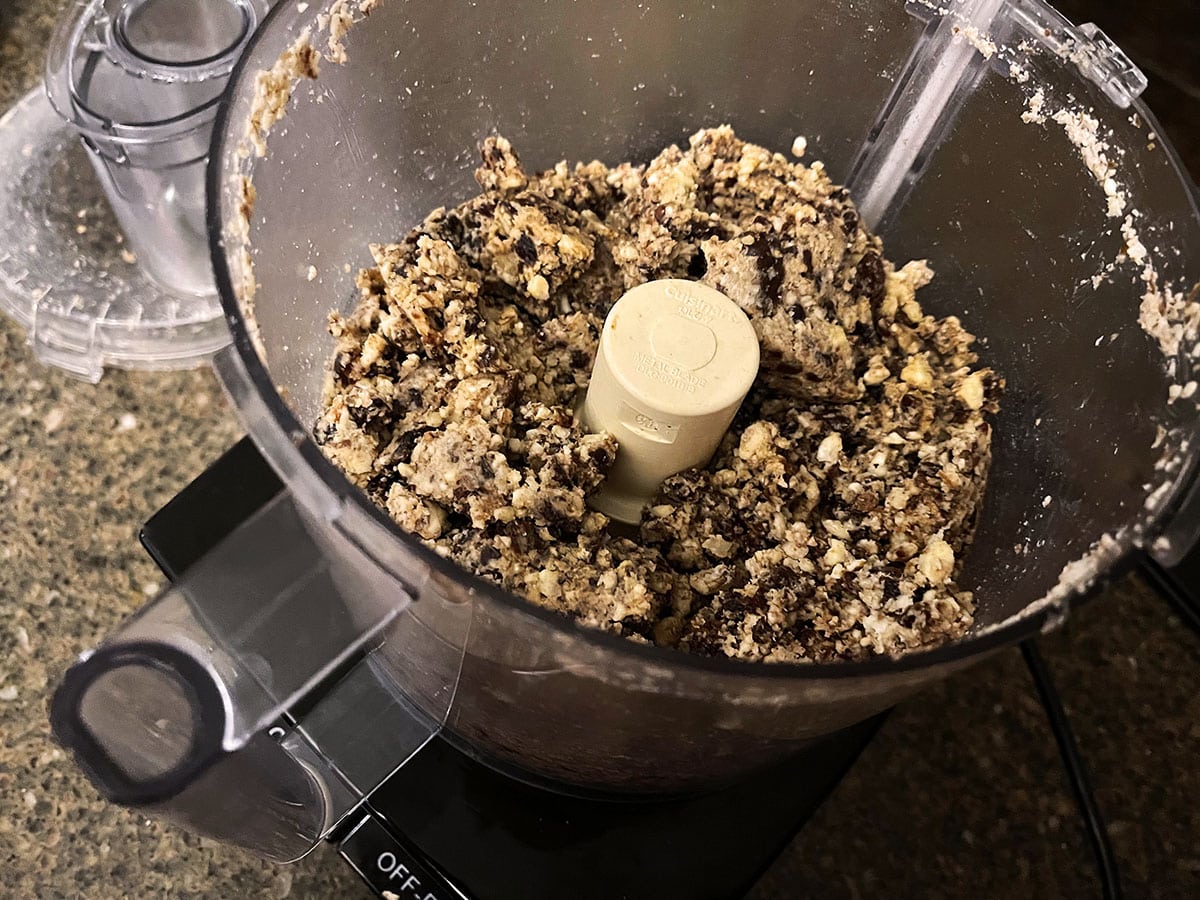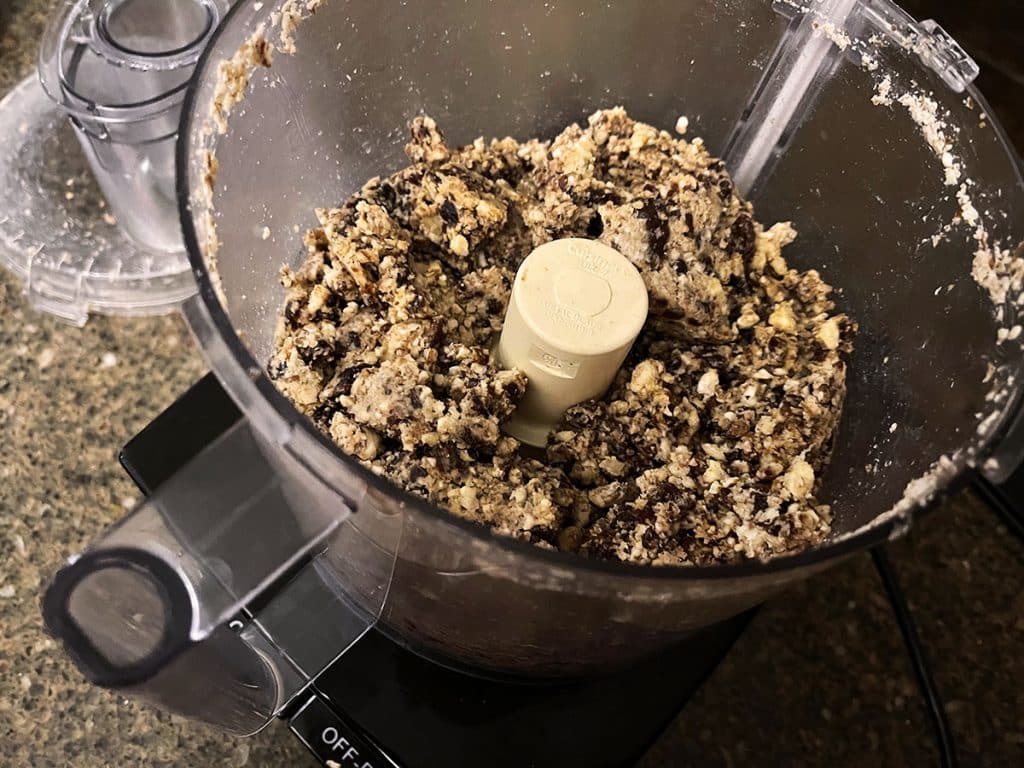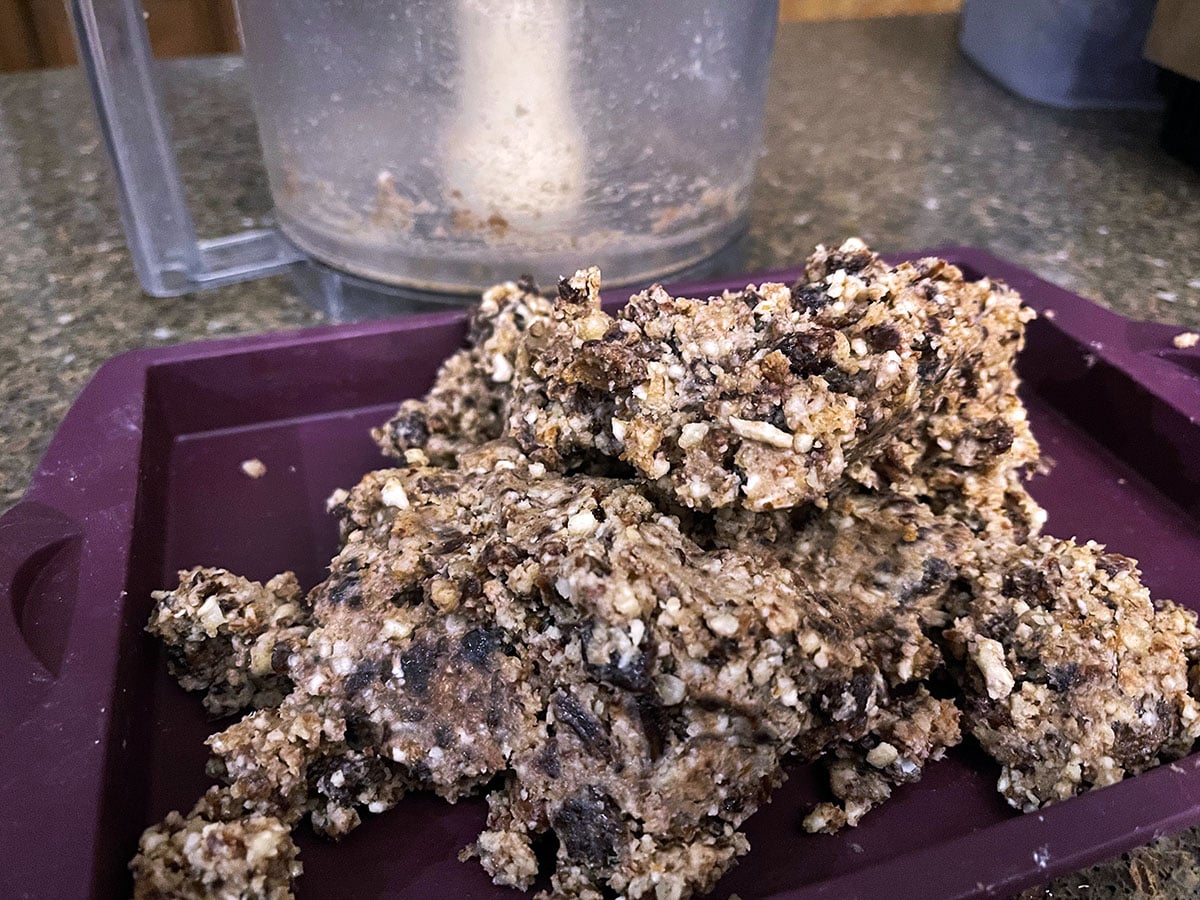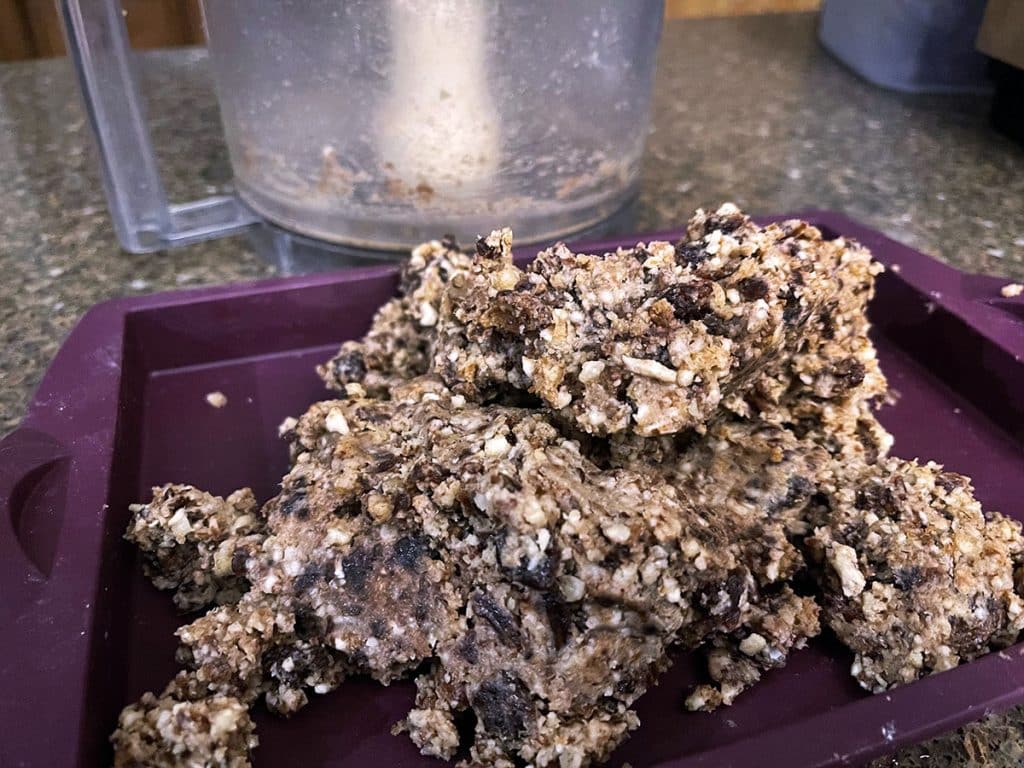 I'd recommend starting with a 1:1 ratio of dates to nuts. You can scale back the dates if you prefer less sweet. I used approximately 2 cups of soaked nuts to 2 cups of pitted dates for my 8″ x 11″ pan. Run the food processor until the nuts and dates start to come together into a rough but cohesive dough. You may have to manually unstick the dough if it gets stuck in the processor's blade. 
Using your hands, evenly press the nut dough into a silicone or parchment lined pan. I have a couple of 8″ x 11″ Tupperware silicone pans that work perfectly for this purpose, but any similarly sized pan should work as long as you line it with something nonstick.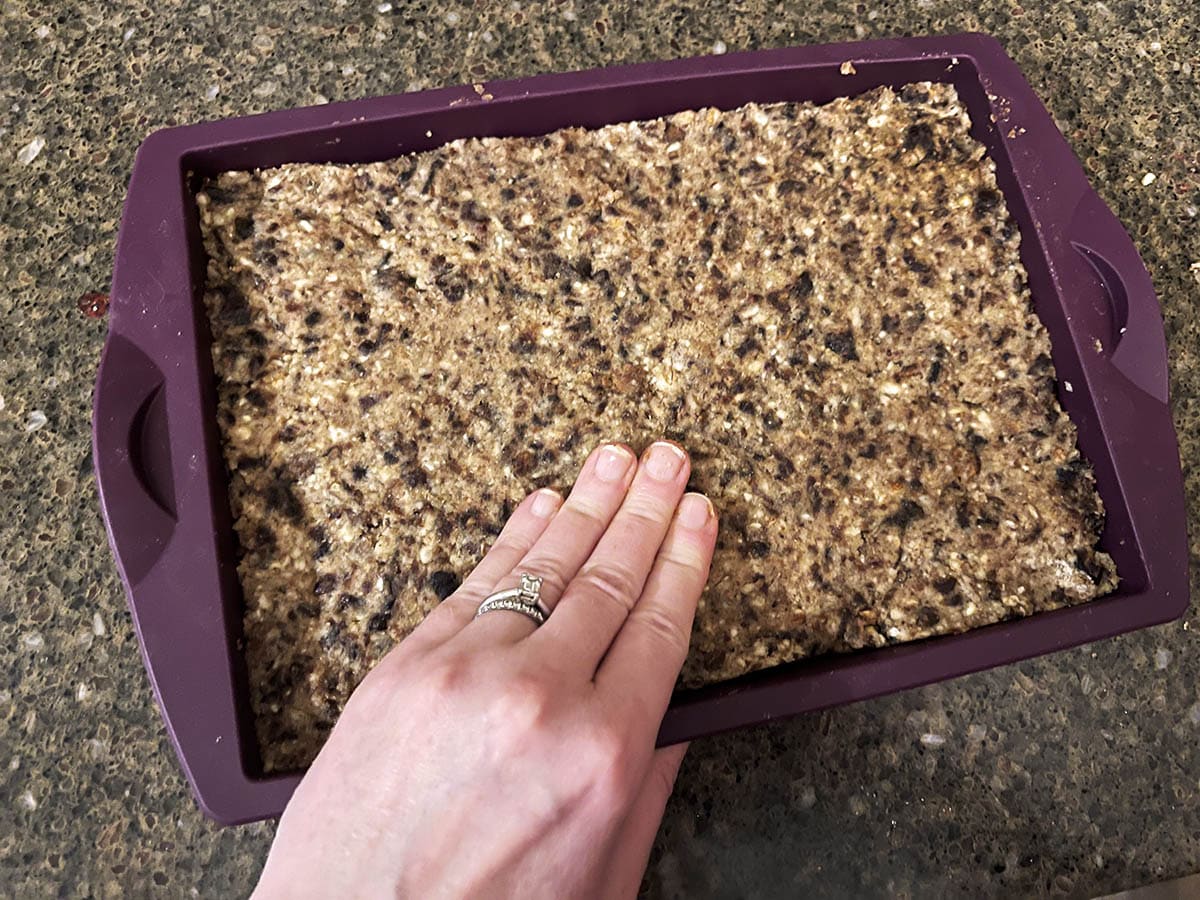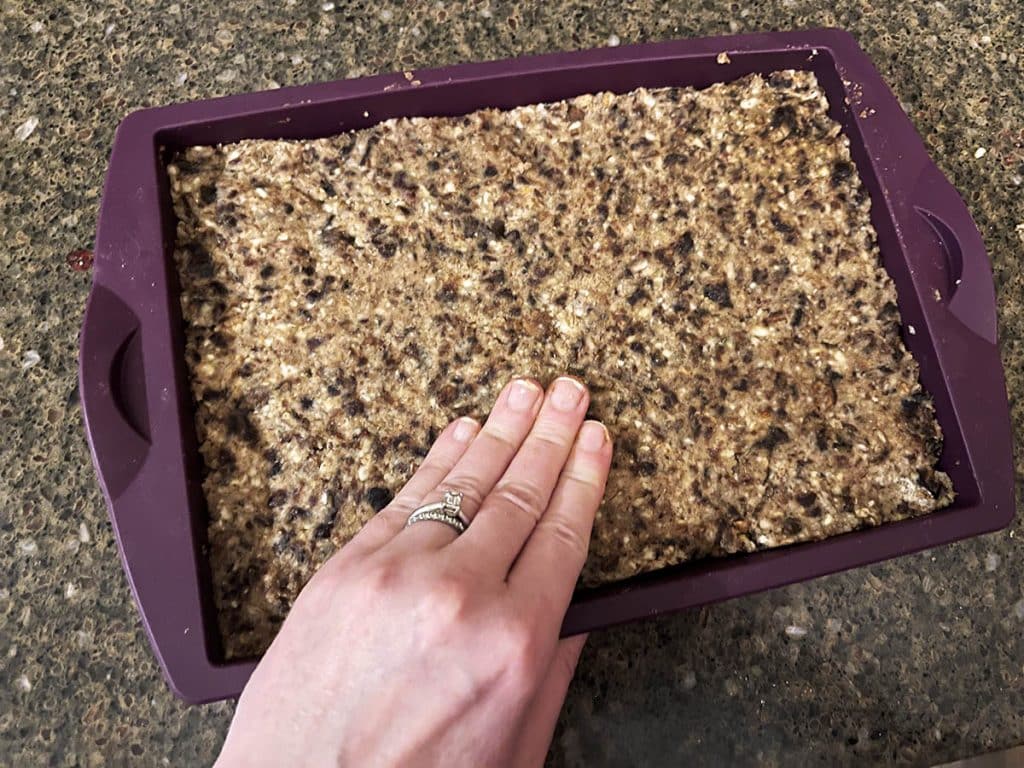 Step 3: dehydrate it
You'll want to dehydrate your bars at no more than 115F to ensure that no nutrients and beneficial enzymes are destroyed by the heat.
If you don't have a dehydrator, a low-temperature oven with the door cracked can work. Certain toaster ovens and some of the newer Instant Pots also come with a 'dehydrate' setting.
When the top of your bars appear dry, carefully flip the block over to allow airflow to the other side as well. It should pop out of the pan easily, but if you find it sticking, carefully run a knife around the edges to loosen things up.
I dried mine for about 16 hours — approximately 8 hours per side. Depending on how big your pan is, and how thick the block is, drying times will vary.
Step 4: cut them into bars
When your big, beautiful block-o-Larabar is dry, use a sharp knife to cut it into bars. Thanks to the chewy dates and fat content in the nuts, the block will still be a bit flexible, so cutting should be a breeze. I made mini bars about 1/3 the size of a store-bought Larabar.
These should keep for several months if stored in an airtight container in cool, dry location, but I can almost guarantee they will be eaten long before that. ♥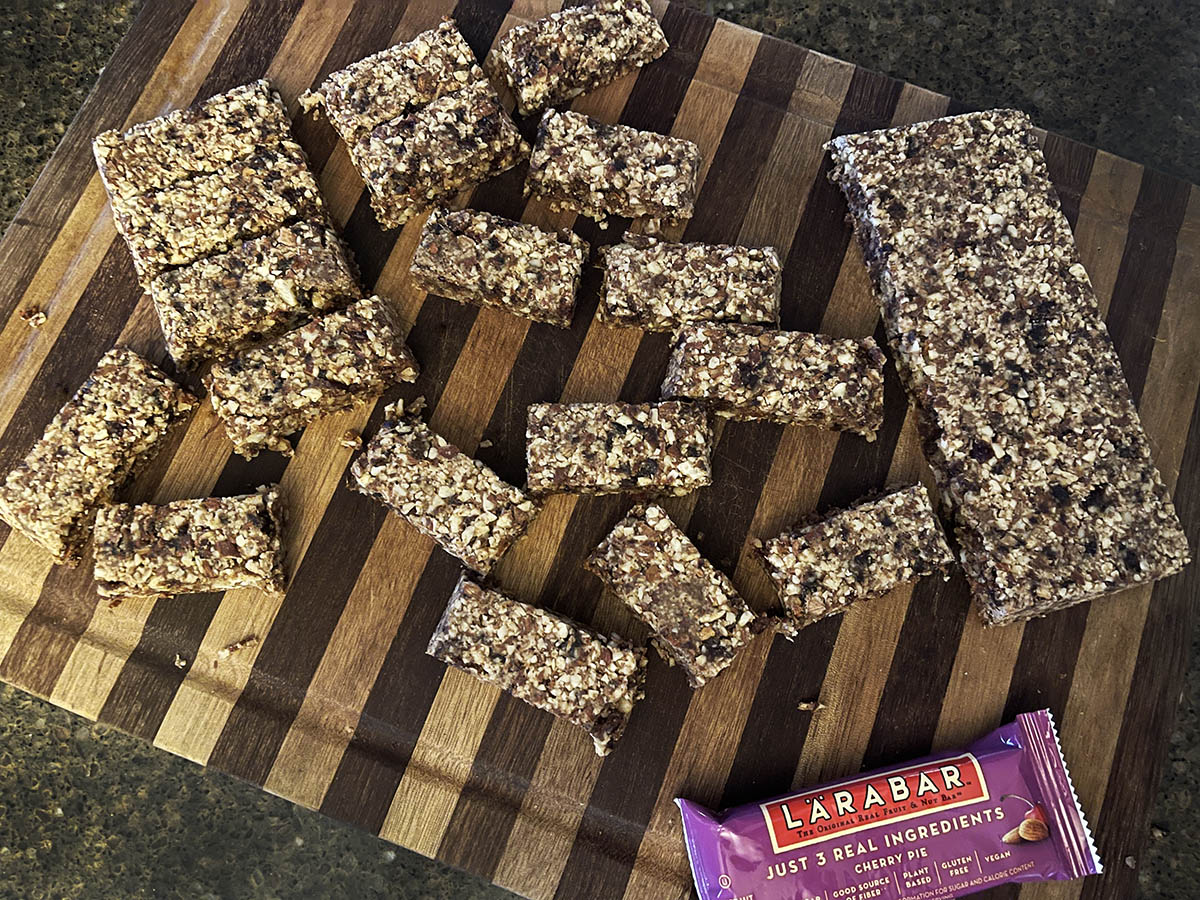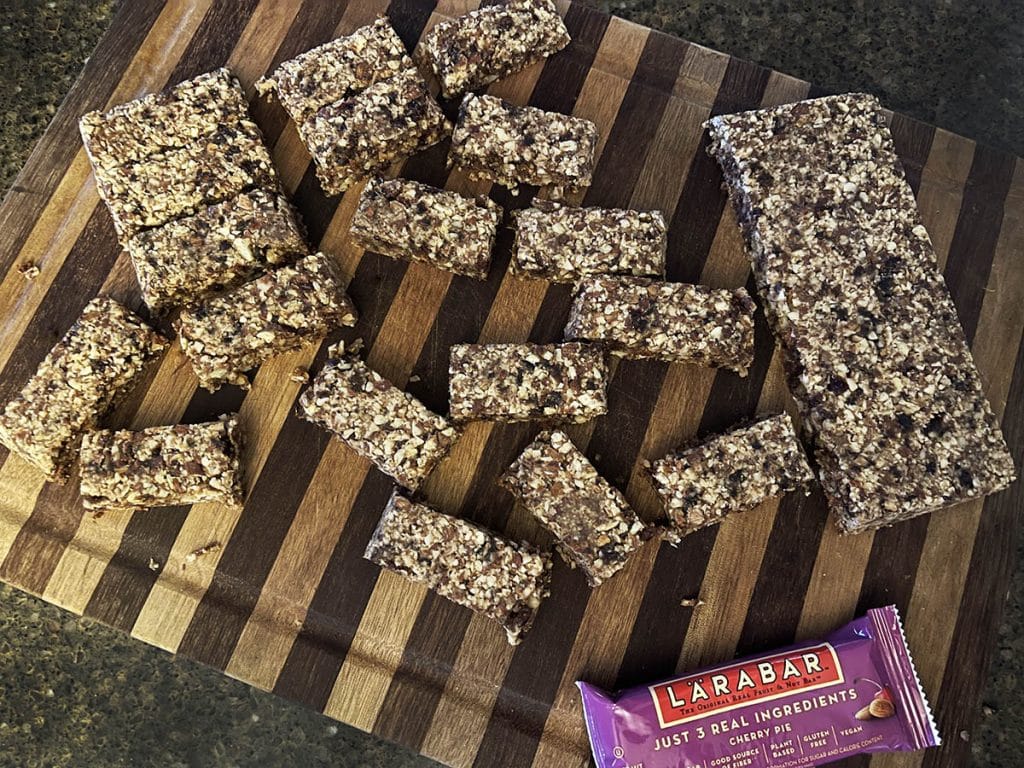 Print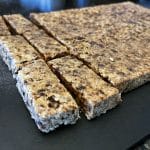 Larabar Inspired Date Bars
---
Cashew Cookie
Pecan Pie
Peanut Butter Cookie
Coconut Cream Pie
Cherry Pie
---
Instructions
In a medium sized bowl, combine nuts and 2 T salt and cover in filtered water. Nuts with similar soaking times can be soaked together. Soak for the recommended amount of time (see above chart).
Pliable, soft dates work best for this recipe; if your dates are hard or brittle, soak them in warm water for a few minutes to soften.
Discard soaking water from both nuts and dates.
In a food processor, combine nuts, pitted dates and any remaining ingredients and process until the nuts and dates form a cohesive dough. If the dough gets stuck in the blade before you're done, scrape the sides of the processor with a spatula to loosen and redistribute.
Press dough evenly into a 8″ x 11″ silicone pan or a similarly sized parchment-lined pan.
Dehydrate at 110-115F for approximately 16 hours, flipping the nut/date block halfway through.
When dry, cut into bars; will keep in an airtight container for several months.