As our days get busier, we are far more likely to reach for pre-packaged mixes and other convenience foods to lighten our load and make dinner prep a bit easier. These are some of my favorite homemade kitchen helpers you can make in advance and keep handy for those extra-hectic evenings… or even the non-hectic ones. Work smarter, not harder!
Onion soup mix is one of those versatile multitaskers that's good for so much more than just soup. It's fast and easy to make and tastes so much better than the store-bought stuff. No contest. And this version gets an extra boost of nutrition with an herbal "secret" ingredient…
NETTLE!
It's a bit cliché since nearly all herbalists say this, but nettle (Urtica dioica) is easily one of my favorite and most used herbs. It's an easy one to incorporate into recipes because of its lovely salty/mineral-y flavor. Nettles are considered a nutritive herb, high in zinc, potassium, calcium, chromium, magnesium, manganese, phosphorus and vitamins A, C, E and K. Fresh nettle can be used anywhere you would normally use spinach, but for this recipe, I want the mix to be shelf stable, so I'm using dried.
A bit more about nettle:
There are literally a million + 1 ways to use onion soup mix. Okay fine, maybe not "literally." There might actually be MORE than a million and one ways to use it – including as a sour cream-based vegetable dip, onion gravy, meatloaf, salad dressing, Swedish meatballs, chicken, pot roast, Salisbury steak… the list goes on and on. And on and on…
Print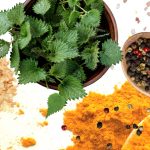 Herbal Onion Soup Mix
---
---
Instructions
Mix all ingredients together and store in an air tight container.
Store in an airtight container in a cool, dry place. 
Use 4-5 tablespoons in a recipe in place of 1 packet of onion soup mix.