Are you ready to SPICE up your wellness routine? 🌶️🌶️🌶️
Created in the early 80s by herbalist Rosemary Gladstar, fire cider is a traditional herbal tonic that combines a base of raw, unfiltered apple cider vinegar and local honey infused with a variety of stimulating herbs and spices. The fiery concoction is designed to boost digestion, improve circulation and support overall immune function. It's often used as a preventative measure during cold and flu season, as well as a therapy to help alleviate symptoms.
Over the years, fire cider has taken on a life of its own, gaining popularity among herbalists and natural health enthusiasts alike. It's one herbal preparation I try to always keep on hand!
Free fire cider
In recent years, fire cider has become the subject of controversy over a trademark dispute. In 2012, a company trademarked the term "fire cider" and began to sell a commercial version of the remedy. This was met with backlash from the herbalist community, who argued that fire cider was a traditional remedy that belonged to the public domain.
In 2019, the trademark holders filed a lawsuit against three herbalists who were selling their own versions of fire cider under the same name. The herbalists argued that "fire cider" was a generic term used for decades by the herbalist community to refer to a type of herbal tonic and that no one could legally own the term. The controversy over fire cider sparked a larger conversation about the commodification of traditional knowledge and the importance of protecting traditional remedies from corporate ownership.
While Rosemary Gladstar was not directly involved in the lawsuit, she was an active supporter of the "Free Fire Cider" movement, which sought to keep the term "fire cider" in the public domain and prevent it from being trademarked. Gladstar advocated for the traditional use of common names for herbal remedies, rather than allowing them to be claimed as exclusive property by individuals or companies.
After two years of litigation and a strong public backlash, the lawsuit was dropped and the term "fire cider" was returned to the public domain — a huge victory for the herbalist community! ♥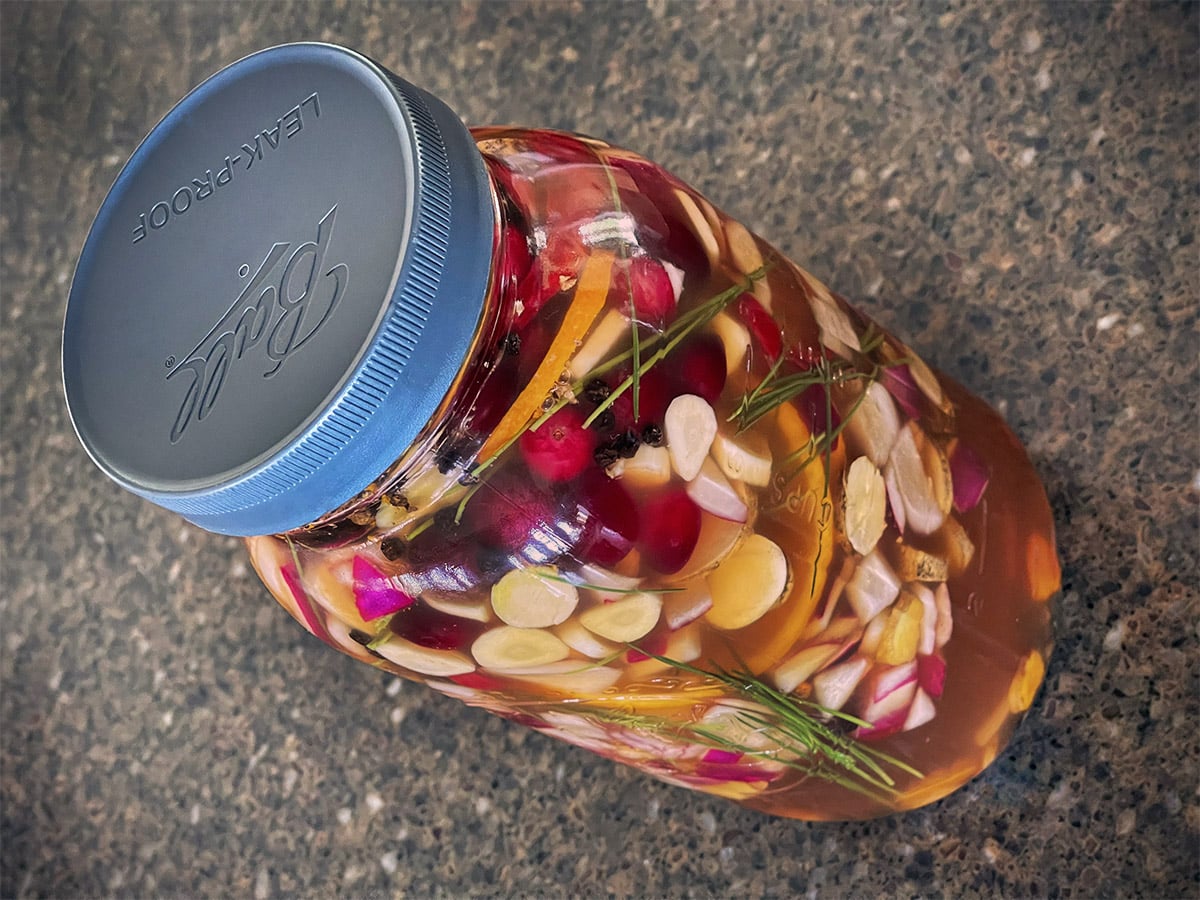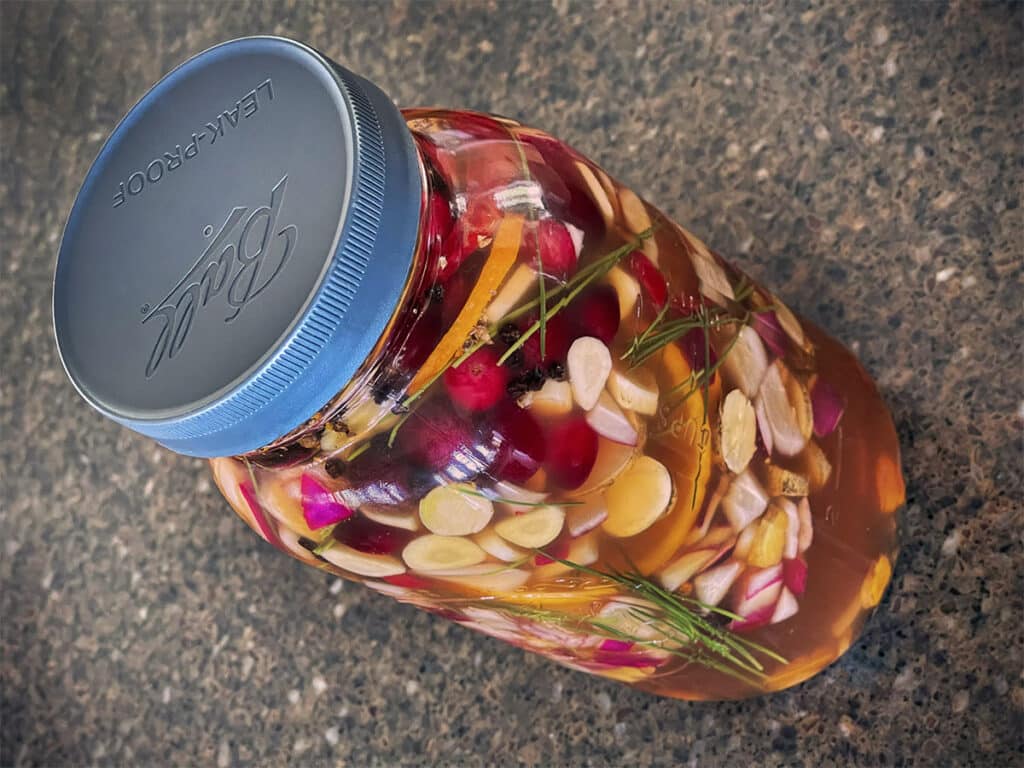 An unusual oxymel
Fire cider is an acetic infusion made by steeping various herbs and spices in vinegar. The vinegar serves as a solvent (menstruum), extracting the beneficial compounds from the plant material and preserving them.
Acetic infusions have been used in traditional medicine for centuries, particularly in Ayurvedic and Traditional Chinese Medicine (TCM). In Ayurveda, vinegar is believed to stimulate digestion, while in TCM, vinegar is thought to help balance the body's energy and promote circulation.
Technically, fire cider could be considered a type of oxymel — a term for an herbal preparation that combines vinegar, honey and medicinal herbs or fruit. The word "oxymel" comes from the Greek words "oxy" meaning sour and "meli" meaning honey. Unlike most oxymels, however, fire cider contains a variety of pungent and spicy herbs like horseradish and cayenne pepper, which are not commonly found in your standard oxymel.
Deconstructing fire cider
Most fire cider recipes contain several key ingredients that are believed to be particularly beneficial, though fire cider can be adapted to suit your individual health goals and flavor preferences. Rosemary's original recipe only contained horseradish, onion, garlic, cayenne and ginger steeped in ACV with honey. By design, it was intended to include ingredients commonly found in any kitchen:
Garlic Monograph
Ginger Monograph
Cayenne Monograph
Horseradish Monograph
There is no shortage of variations you can try to customize your fire cider to your liking. The recipe we use most often incorporates things like turmeric, black peppercorns, citrus fruits, cranberries and sometimes pine needles and a bit of hibiscus for color:
Turmeric Monograph
Black Pepper Monograph
Cranberry Monograph
Pine Monograph
These are a few of my favorite fire cider ingredients, but it's by no means an exhaustive list. Other optional add-in to consider include: 
dried elderberries, lemon wheels, rose hips, burdock root, hawthorn berries, cinnamon chips/sticks, parsley, cilantro, echinacea, astragalus root, rosemary, lavender, dandelion root, thyme, pineapple, experiment with different types of peppers… 
The list of possibilities goes on and on. You do you.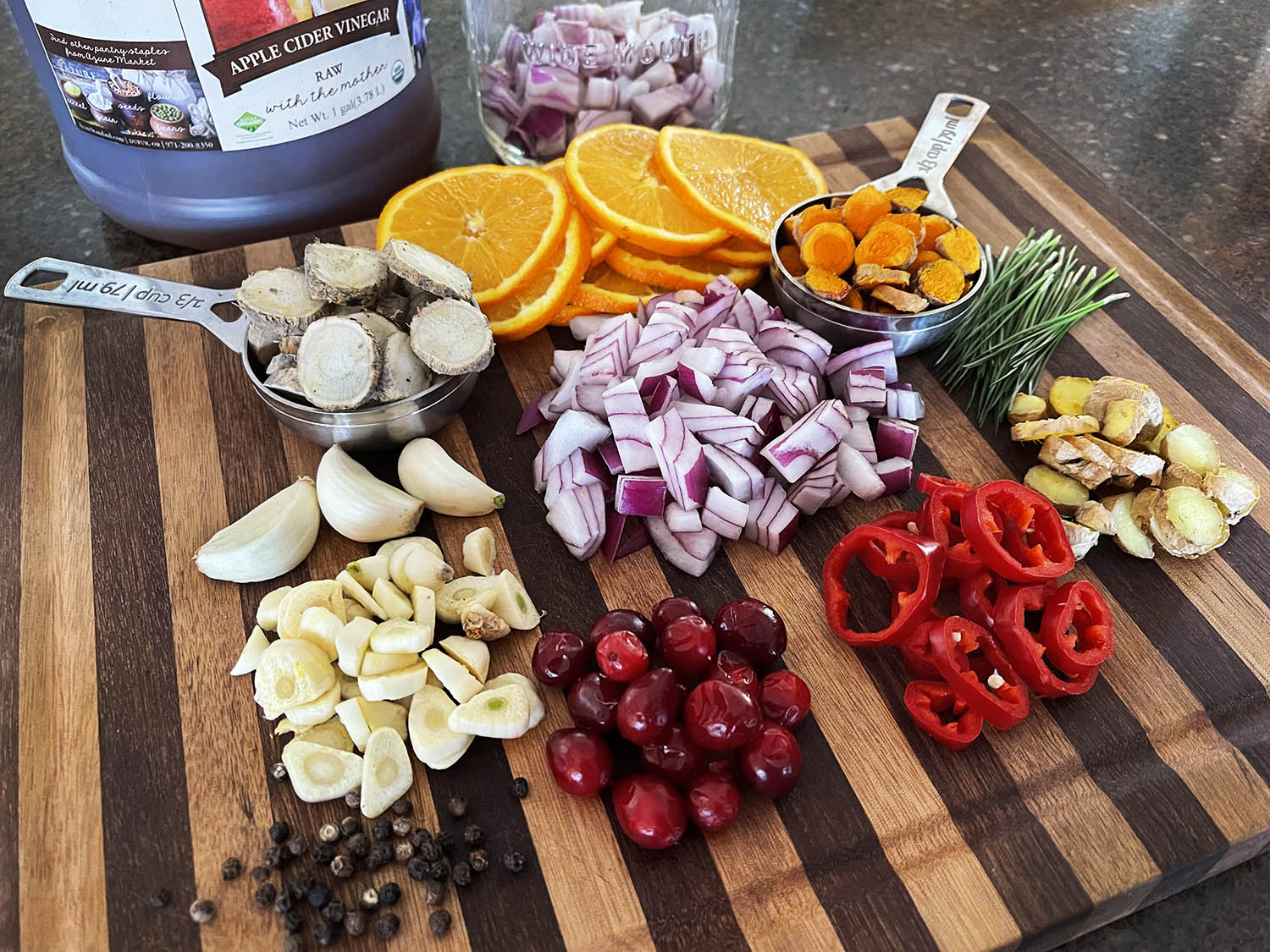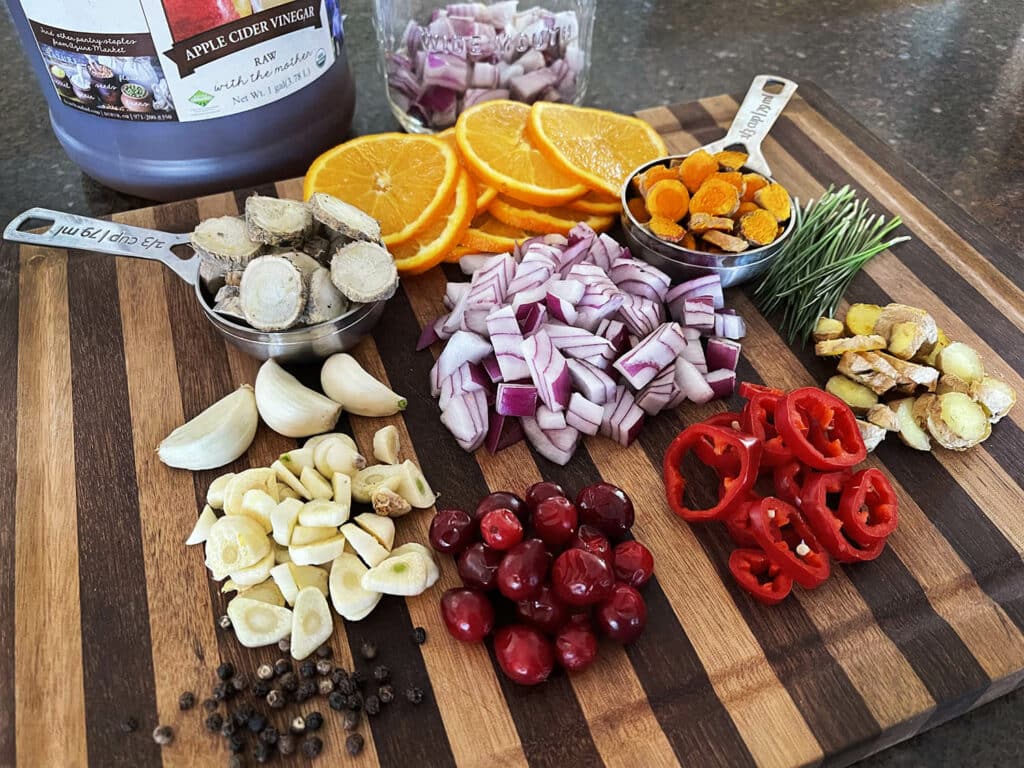 These ingredients are typically chopped, grated or pulsed in a food processor (open all those doors and windows!) then combined with raw apple cider vinegar and allowed to infuse for several weeks.
Raw, unfiltered apple cider vinegar is probiotic and contains beneficial bacteria and yeasts that are believed to support gut health and immunity. It also contains the enzymes amylase and lipase, which supports digestion. ACV contains various polyphenols, including catechin, epicatechin and chlorogenic acid, which have antioxidant and anti-inflammatory properties. ACV also contains minerals such as potassium, calcium and magnesium, which are important for nerve and muscle function and bone health.
Some of these health-promoting compounds may be reduced or eliminated if the ACV is heated or pasteurized, so be sure to look for raw, unfiltered ACV to maximize your fire cider's health benefits.
After the herbs have had a chance to do their thing in the vinegar, the fire cider is sweetened with raw honey to taste. Unlike most empty-calorie sweeteners, raw honey is full of beneficial things. It's a good source of nutrients, including B vitamins iron, calcium and magnesium. It also contains a number of enzymes that aid digestion and help to break down food. Raw honey has antioxidant and anti-inflammatory properties that can protect the body against free radical damage and help to reduce inflammation. It has also demonstrated antibacterial and antimicrobial properties, which can help to fight infections.
The resulting tonic is a potent blend of spicy, tangy flavors and health-boosting compounds. Use it in marinades and salad dressings. Take it prophylactically during the winter months to help keep your immune system optimized. Take it daily at the onset of a cold or flu.
Storage & spoilage
Fire cider may be stored at room temperature, preferably in a cool and dark place. The acidic nature of apple cider vinegar helps preserve the ingredients and inhibit the growth of harmful bacteria. If you made an extra large batch or are not using your fire cider often enough, refrigeration can help prolong its shelf life, especially if you used a lot of citrus, berries and "juicy" ingredients.
Regardless of the storage method, it's always a good idea to regularly check the aroma, taste and appearance of your fire cider. Trust your senses. If you notice any signs of spoilage, such as mold or an off-putting smell, discard the fire cider and make a fresh batch.
Do you make fire cider? 
Tell us about your favorite ingredients and how you like to use it! ♥
Print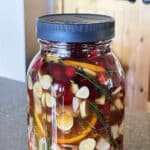 Redhead's Fire Cider
---
6 garlic cloves, sliced

1 medium red onion, roughly chopped

2–3" piece of fresh ginger, sliced

1–2 fresh cayenne peppers, chopped (substitute any hot pepper)

1/4 c fresh horseradish, chopped

1/4 c fresh turmeric, chopped

1 medium blood orange, sliced into wheels

1/4 c fresh or frozen cranberries

a few hibiscus flowers (optional for color)

handful, fresh pine needles

pinch, high-mineral salt

raw, unfiltered apple cider vinegar

raw, local-to-you honey
---
Instructions
In a 1-quart (32-oz) mason jar, combine all ingredients, except the honey, adding the vinegar last. As long as everything is washed and clean, there's no need to peel any of the roots.
Allow the mixture to infuse for 2 weeks, shaking daily.
When 2 weeks are up, strain out the solids using a fine mesh strainer or nut milk bag. Discard or compost the plant matter.
Add the honey, mixing well to combine; shake before use.
Notes
May be stored at room temperature in a cool, dark location; store in the fridge for longest shelf life.
Recipe may be doubled to fill a 2-quart (64-oz) mason jar.
Take 1-2 tablespoons mixed in a glass of water daily as a health tonic.