Move over tallow, there's a new (skincare) oil in town!
Actually, it's not new at all…
Meet one of Ayurveda's oldest skin remedies: Shata Dhauta Ghrita, also known as "100 times washed ghee."
Shata Dhauta Ghrita is Sanskrit for 100 times washed ghee.
Shata = hundred
Dhauta = washed
Ghrita = ghee
As the name suggests, Shata Dhauta Ghrita is prepared by washing ghee one hundred times in a pure copper vessel. Traditionally, this is done on the day of a full moon while chanting healing mantras to create a highly therapeutic whipped emulsion.
We are no strangers to ghee in my house. Clarified butterfat is delicious, nutritious and excellent for cooking thanks to its stable fatty acid profile and high smoke point. 
Ghee is a deeply nourishing fat, rich in conjugated linoleic acid (CLA) and fat-soluble vitamins A, D, E and K. It contains 53.9–66.8% saturated fatty acids and the majority of the remainder is monounsaturated, resulting in a highly stable fat that is resistant to oxidation.
According to Sebastian Pole in his book Ayurvedic Medicine: The Principles of Traditional Practice, ghee is an important herbal vehicle because it allows them to be absorbed into the deeper tissues, carrying herbs deep inside the body. Similarly, washed ghee is said to be the only moisturizer able to penetrate through the seven layers of the skin. It is reputed to improve hyperpigmentation, fine lines, blemishes, stretch marks, inflammatory skin issues such as rosacea, sunburns and more.
Ghee is another herbal carrier oil that can be infused with medicinal herbs and is said to nourish the nerves and the mind.
(It also makes the world's BEST buttery tasting "movie theater" popcorn.)
Thanks to prolonged contact with the copper vessel, washed ghee is also infused with copper sulphate, which has been used for thousands of years by various cultures — from the ancient Chinese to the Mayas, Aztecs and Incas to the ancient Romans — for all sorts of skin maladies. It's well studied for its skin-protecting anti-inflammatory and antimicrobial qualities. Copper stimulates new cell growth and protects against free radicals that cause premature aging in photodamaged skin. It also promotes the production of collagen types I, II, and V.
A no-emulsifier emulsion?
It had honestly never occurred to me to use ghee on my skin (which is odd, given my obsession with tallow…) But a 100% natural 2-ingredient lotion requiring no preservative and no emulsifier is just too splendiferous to ignore. I needed to see this for myself.
But how the heck do you get a homogeneous emulsion from oil and water alone? Wouldn't you need an emulsifier for that…?
Before working with 100x washed ghee, I would have confidently told you that a stable emulsion without an emulsifier was just not possible…
But what do I know?
A 2009 case study investigated the science behind Shata Dhauta Ghrita (SDG), and attempted to explain the emulsion-without-an-emulsifier phenomena.
As the ghee repeatedly comes into contact with water and copper particles from the vessel, the ghee particles are hydrolyzed and broken down into their component parts. With each successive wash, the ghee is broken into smaller and smaller particles, allowing the water particles to bond with the lipid particles — a phenomena known as "fat splitting."
"Preparation of SDG can be correlated with the phenomenon of fat splitting. Fat splitting is the process in which, fat is hydrolyzed in the presence of water to yield free fatty acids and glycerols…. If reactants and products are not removed from the sphere of the reaction, an equilibrium depending upon the concentrations of the former will eventually be reached. In practical fat splitting, a high degree of hydrolysis is ensured by using a large excess of water and repeatedly withdrawing the glycerol rich aqueous phase and replacing it with fresh water."
The researchers further explained:
"It has also been found that splitting is accelerated by presence of mineral acids, certain metal oxides and  sulphonic acids. SDG has been mentioned to be prepared in copper vessels. Thus, incorporation of copper metal in the mixture during trituration was indicated by increase in copper content in SDG. Copper can act as a catalyst to promote fat splitting."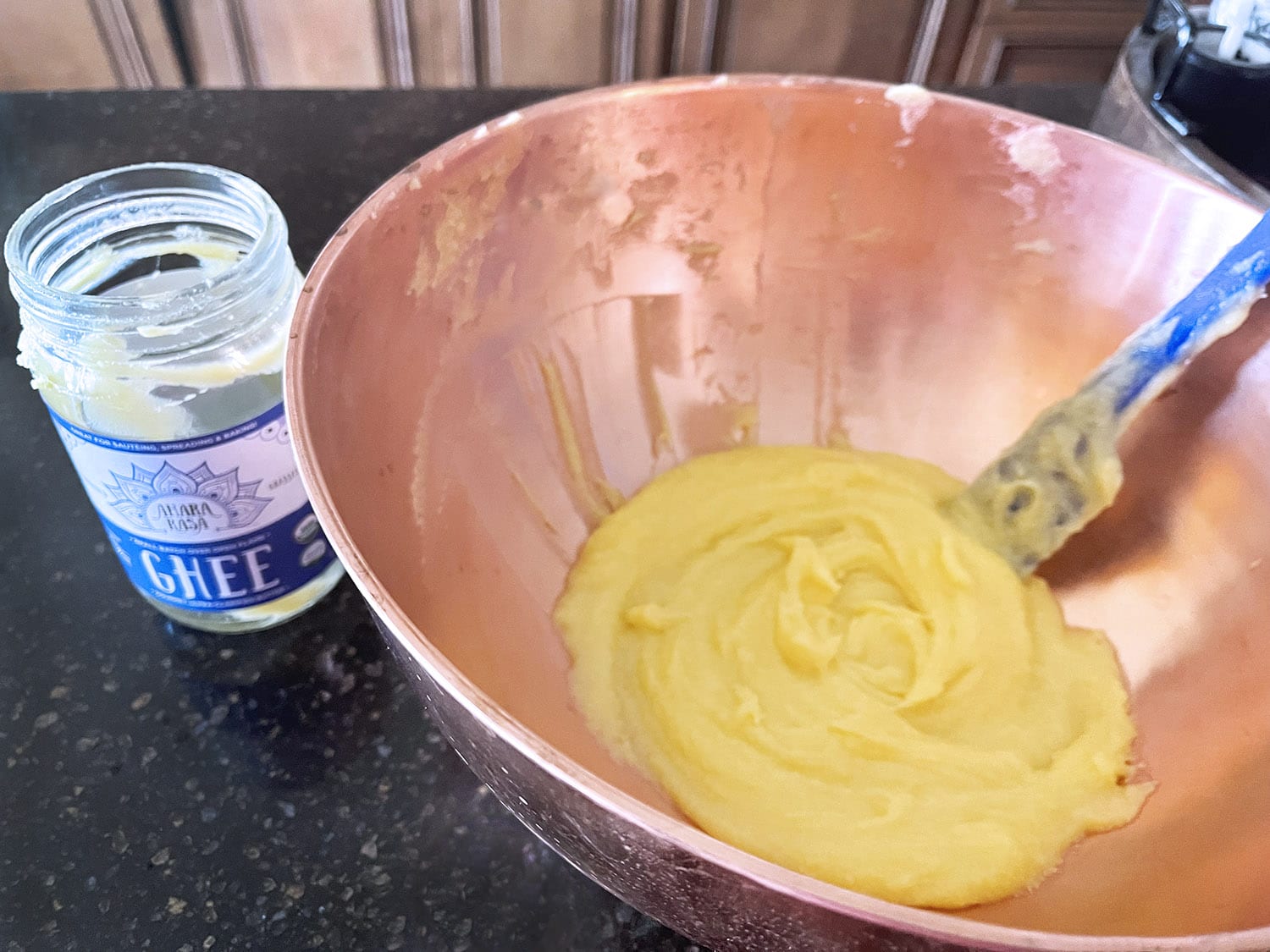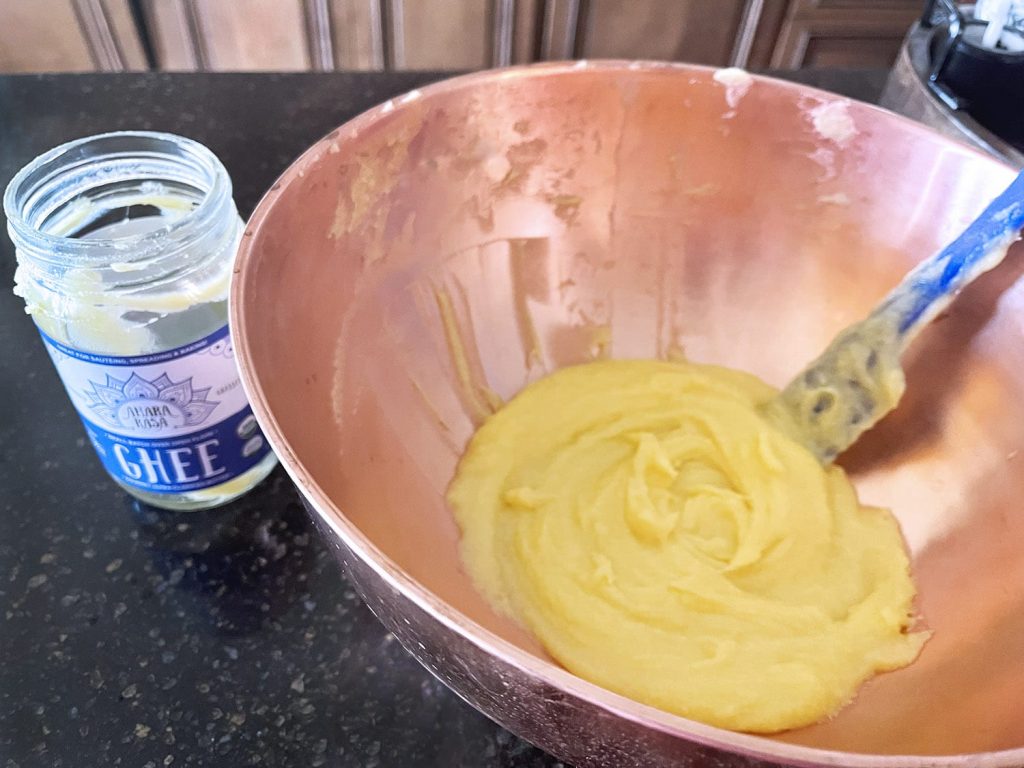 Washing ghee
I purchased a (relatively) inexpensive copper mixing bowl on Amazon. It's a bit thin and doesn't sit flat (place it on a towel for stability), but for the price, it gets the job done. I found conflicting information about whether or not the bowl had lacquer coating (it likely did) so before I used it, I rubbed it down with 100% acetone and ran it through the dishwasher on the hottest cycle a couple of times. 
The copper serves an important purpose in the hydrolyzing process, so you don't want any kind of protective coating getting between your copper bowl and your ghee.
I found a number of YouTube tutorials using electric mixers, but decided to go for the authentic experience and wash my ghee by hand. I did not have a copper agitator so I used a silicone spatula instead. Within the first several minutes of mixing and washing, the ghee began to lose its characteristic yellow color and turn white. 
(By the way, this is kind of a rotten trick to play on family members who might notice you mixing something creamy, apparently delicious and frosting-like in the kitchen. Sorry guys, this is not for eating!)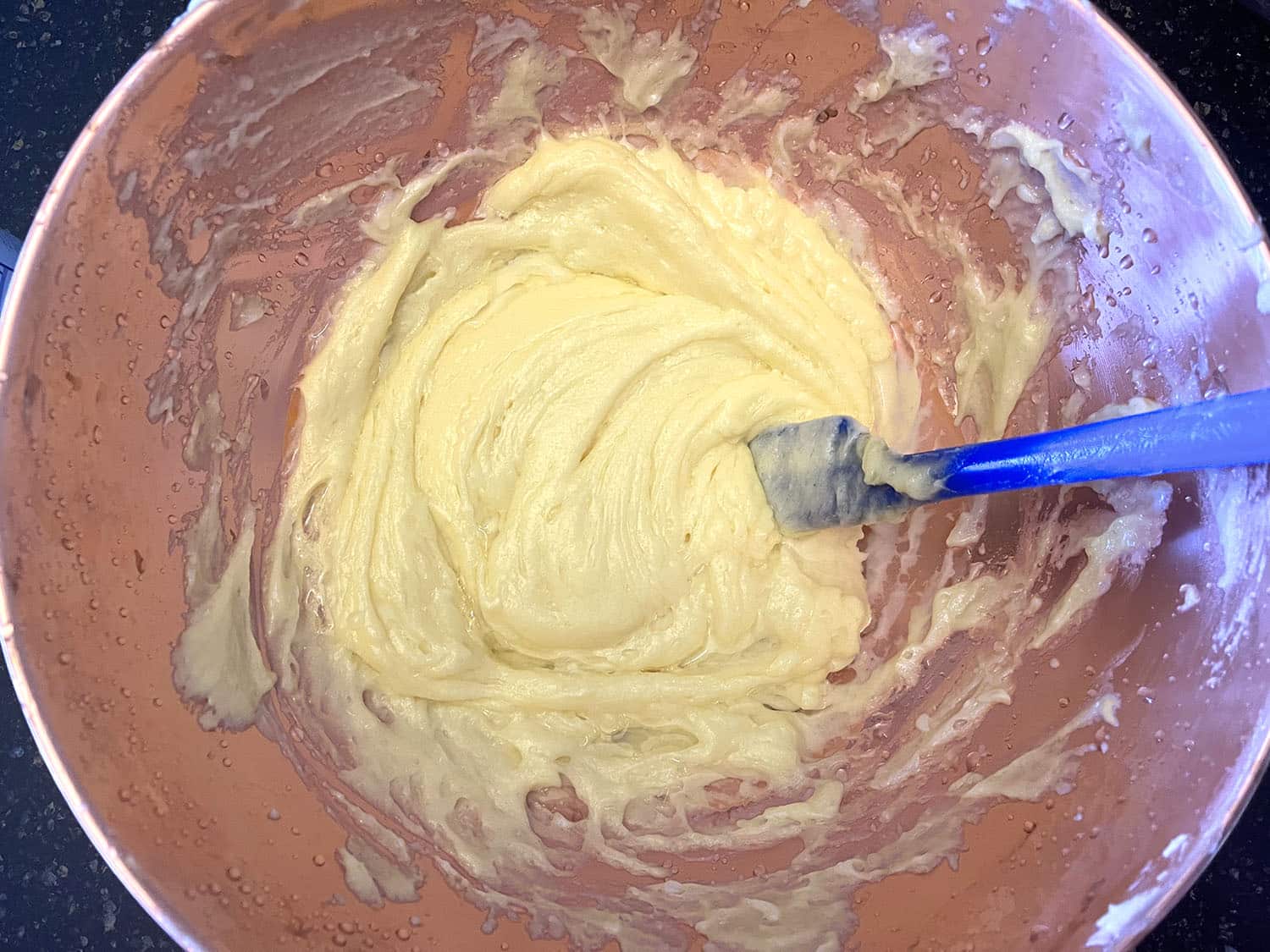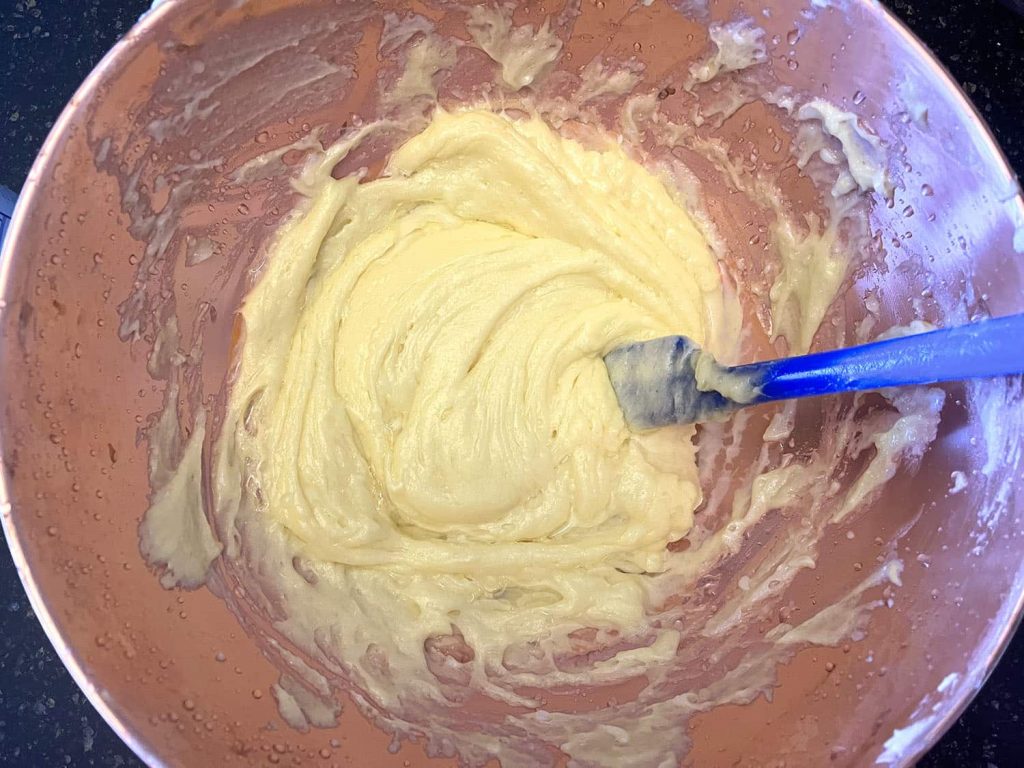 Rinse & repeat
I doubt I made it to anywhere near 100 washes. I lost count somewhere after 20. By my first break, the ghee appeared nice and fluffy, but it still wasn't as smooth as the sample of real Shata Dhauta Ghrita I had purchased from Etsy. It also still smelled faintly of butter, so it was clear I wasn't done yet.
Back to the copper bowl. At this point, I switched to a mechanical egg beater to continue the tritutating and washing process. Several mixing sessions (and many breaks) later, I finally had the almost white, odorless whipped lotion I was shooting for.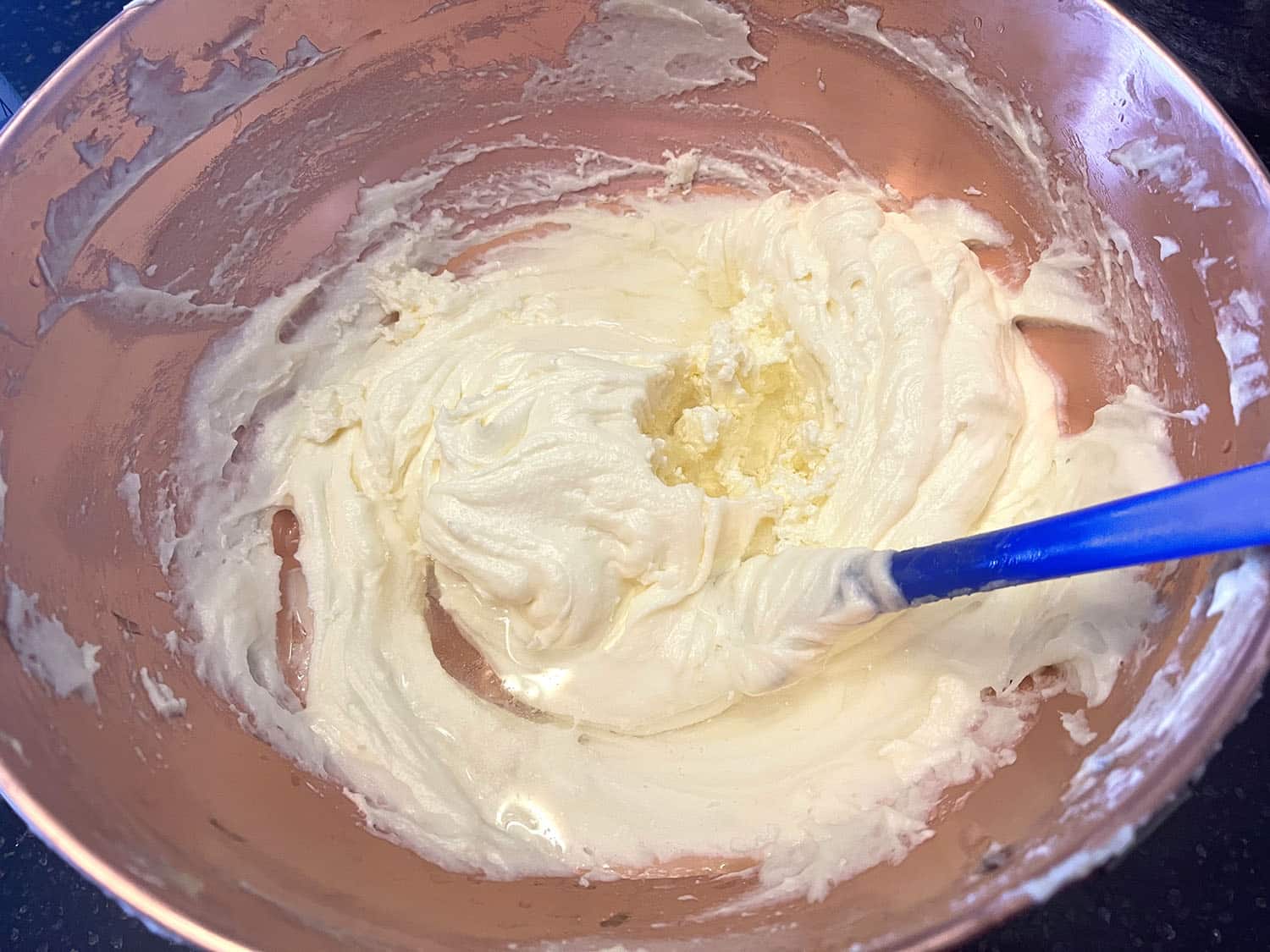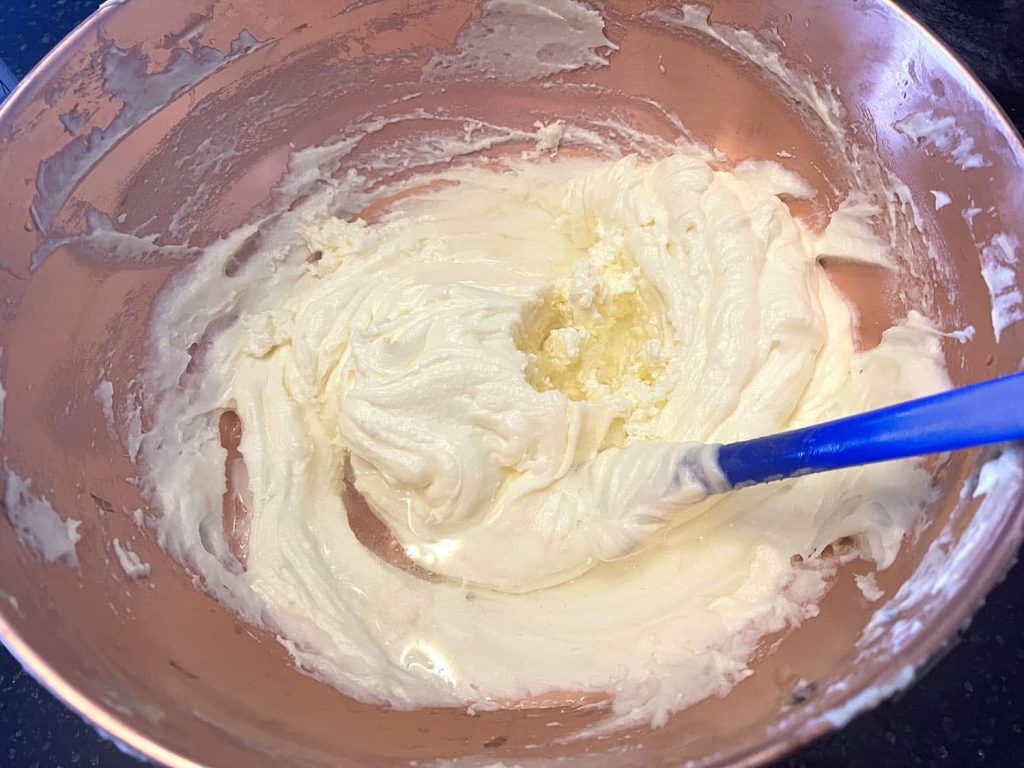 I blended in a bit of sandlewood essential oil and spooned the washed ghee into 4-ounce tubs for storage.
A 16-ounce jar of ghee turned into approximately 30 ounces of product. So the emulsifying process almost doubles the volume. That's a whole lotta Shata Dhauta Ghrita! 
I would recommend starting a bit smaller than I did. Maybe try 1 cup of ghee and work up from there.
The next time I make washed ghee, I plan to infuse it first. Ghee is said to have a catalytic effect on herbs and make them more potent. I'm imagining comfrey-infused 100x washed ghee using a bit of lavender or rose hydrosol to finish off the last couple of washes. 
Oh yeah.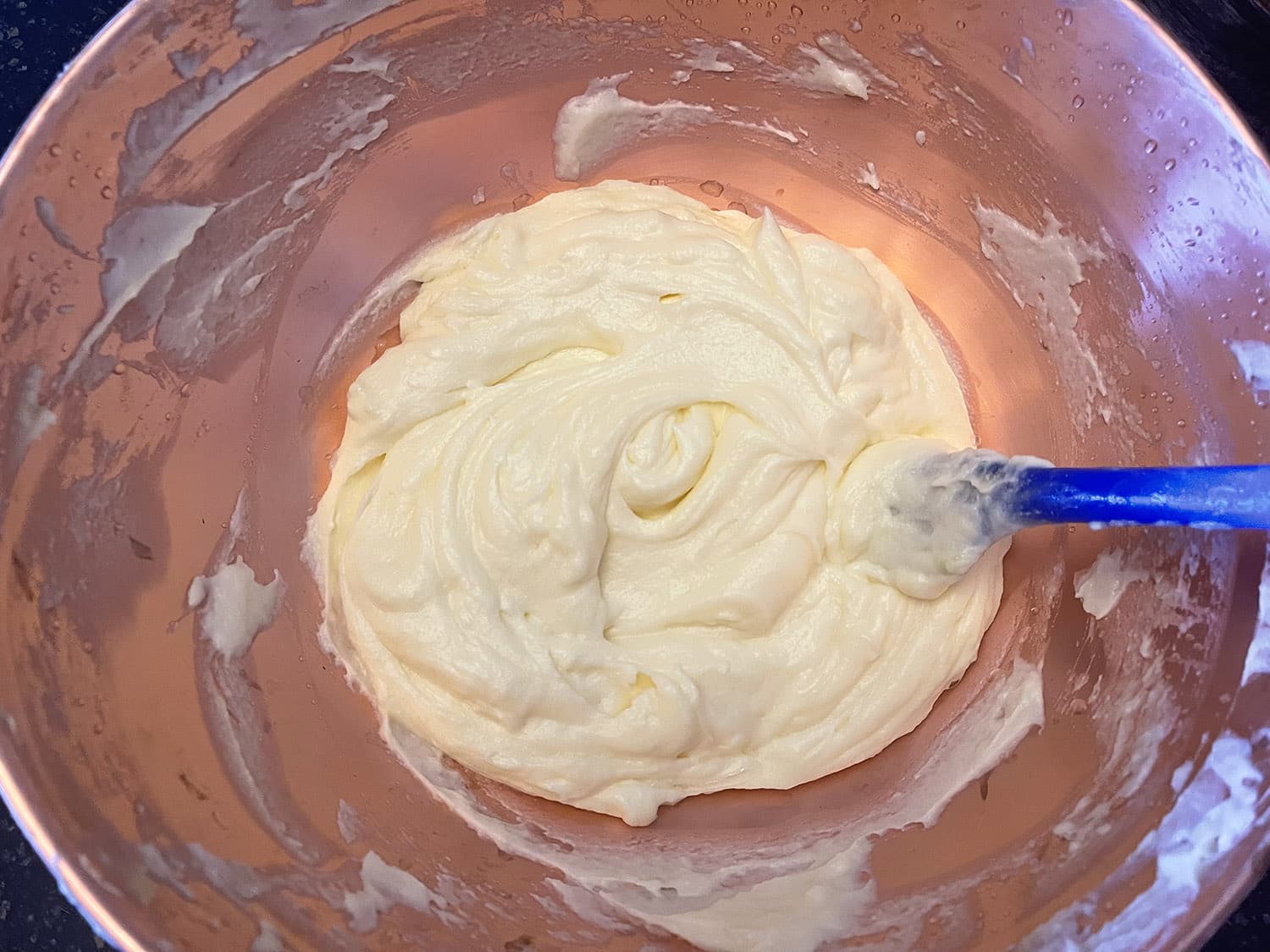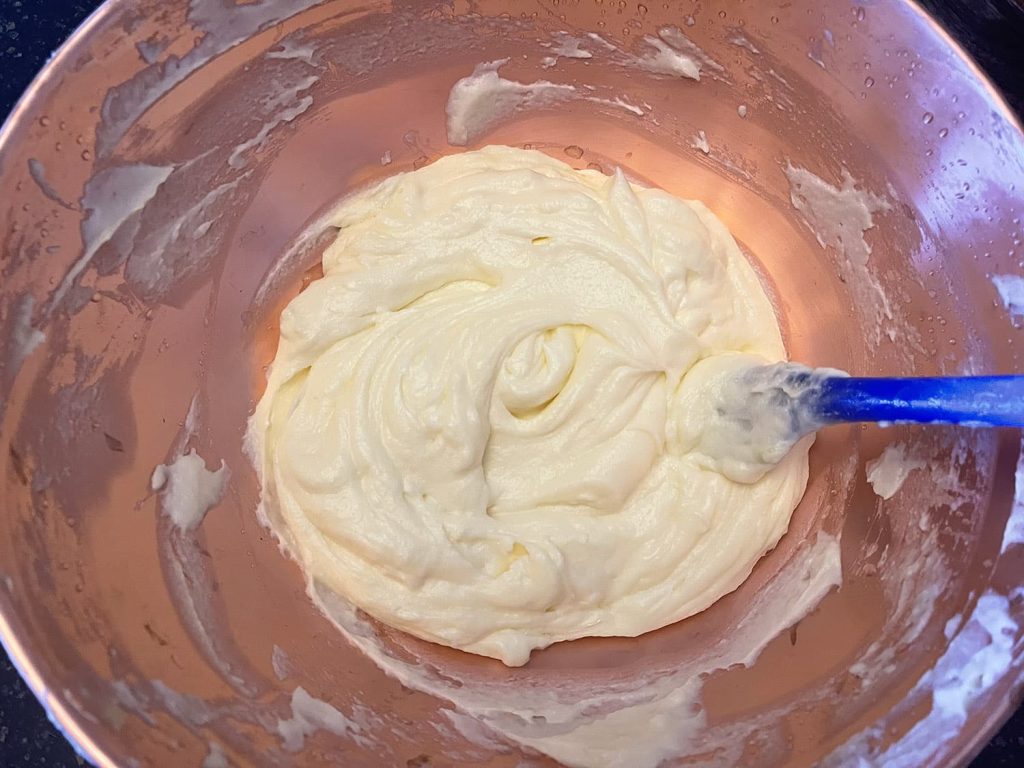 Eshabwe
Incidentally, while researching 100x washed ghee, I also stumbled across something called Eshabwe — a ghee butter sauce prepared for special ceremonies and meals where ghee is washed in cold salt water, until it transforms into a smooth creamy white sauce.
So pretty much the same process as making Shata Dhauta Ghrita, but no essential oils and add salt to the water. Yum!
You know I can't resist. Stay tuned…